Science fiction
By The Writers Store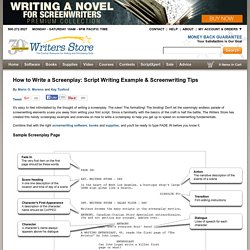 Catch-22
Catch-22 is a satirical and somewhat historical novel by the American author Joseph Heller . He began writing it in 1953, and the novel was first published in 1961. It is set during World War II in 1943 [ 2 ] and is frequently cited as one of the great literary works of the twentieth century. [ 3 ] It uses a distinctive non-chronological third-person omniscient narration, describing events from different characters' points of view and out of sequence so that the time line develops along with the plot.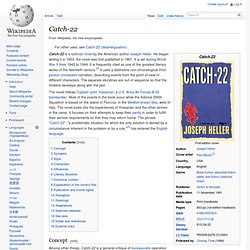 Dune is a science fiction franchise that originated with the 1965 novel Dune by Frank Herbert . Dune is frequently cited as the best-selling science fiction novel in history. [ 1 ] [ 2 ] Dune won the 1966 Hugo Award [ 3 ] and the inaugural Nebula Award for Best Novel , [ 4 ] and was later adapted into a 1984 film as well as a 2000 television miniseries . Herbert wrote five sequels , and the first two were presented as a miniseries in 2003. The Dune universe has also inspired some traditional games and a series of video games .
Dune (franchise)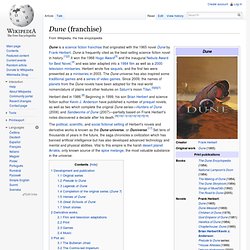 TV Tropes , also known as Television Tropes and Idioms , is a wiki [ 1 ] that collects and expands on various conventions and devices ( tropes ) found within creative works.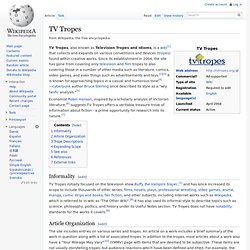 TV Tropes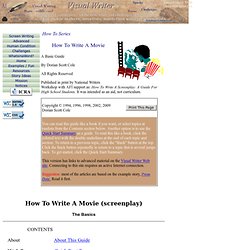 How To Write A Movie (screenplay) - The Visual Writer
How To Series How To Write A Movie A Basic Guide
Jules Verne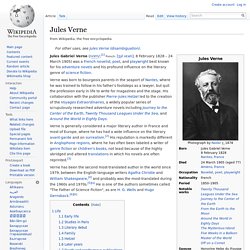 Jules Gabriel Verne ( French pronunciation: [ʒyl vɛʁn] ) (8 February 1828 – 24 March 1905) was a French writer who pioneered the science fiction genre. [ 1 ] He is best known for his novels Twenty Thousand Leagues Under the Sea (1870), Journey to the Center of the Earth (1864), From the Earth to the Moon (1865), and Around the World in Eighty Days (1873). Many of his novels involve elements of technology that were fantastic for the day but later became commonplace. Verne is the second most translated author in the world (following Agatha Christie ), [ 2 ] and his works appear in more translations per year than those of any other writer. [ 3 ] Verne is one writer sometimes called "The Father of Science Fiction," as are H.
A literary technique (also known as literary device ) is any standardized method an author uses to convey his or her message. [ 1 ] [ edit ] Literary techniques pertaining to setting A literary element are things that have to do with the plot.
Literary technique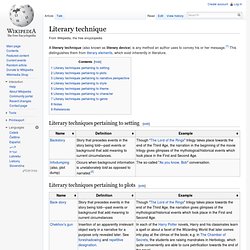 Retroactive continuity
Retroactive continuity , or retcon for short, [ 1 ] is the alteration of previously established facts in the continuity of a fictional work. [ 2 ] There are various motivations for retconning. The changes may occur to accommodate sequels or derivative works, allowing newer authors or creators to revise the diegetic (in-story) history to include a course of events that would not have been possible in the story's original continuity. Retconning can also allow the reintroduction of popular characters, resolution of errors in chronology, updating of a familiar series for modern audiences, or simplification of an excessively complex continuity structure.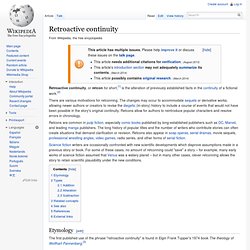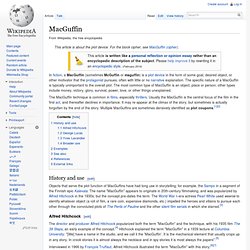 In fiction , a MacGuffin (sometimes McGuffin or maguffin ) is a plot device in the form of some goal, desired object, or other motivator that the protagonist (and sometimes the antagonist ) is willing to do and sacrifice almost anything to pursue, protect or control, often with little or no narrative explanation as to why it is considered so important. [ citation needed ] The specific nature of a MacGuffin may be ambiguous, undefined, generic, left open to interpretation, or otherwise completely unimportant to the overall plot. The most common type of MacGuffin is an object, place or person, the exact details of which are not integral to the narrative. However, a MacGuffin can sometimes take a more abstract form, such as money, victory, glory, survival, power, love, or even something that is entirely unexplained, as long as it strongly motivates key characters within the structure of the plot.
MacGuffin
Plot twist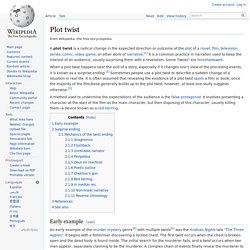 A plot twist is a change in the expected direction or outcome of the plot of a novel , film , television series , comic , video game , or other work of narrative . [ 1 ] It is a common practice in narration used to keep the interest of an audience, usually surprising them with a revelation. Some "twists" are foreshadowed . When a plot twist happens near the end of a story, especially if it changes one's view of the preceding events, it is known as a surprise ending .
Chekhov's gun is a metaphor for a dramatic principle concerning simplicity and foreshadowing . It suggests that if one shows a loaded gun on stage in the first act of a play, it should be fired in a later act; otherwise, the gun should not be shown in the first place. The principle was articulated by Russian playwright Anton Chekhov and reported in various forms.
Chekhov's gun
Suspension of disbelief or willing suspension of disbelief is a term coined in 1817 by the poet and aesthetic philosopher Samuel Taylor Coleridge , who suggested that if a writer could infuse a "human interest and a semblance of truth" into a fantastic tale, the reader would suspend judgment concerning the implausibility of the narrative. Suspension of disbelief often applies to fictional works of the action , comedy , fantasy , and horror genres. Cognitive estrangement in fiction involves using a person's ignorance or lack of knowledge to promote suspension of disbelief. The phrase "suspension of disbelief" came to be used more loosely in the later 20th century, often used to imply that the burden was on the reader, rather than the writer, to achieve it. This might be used to refer to the willingness of the audience to overlook the limitations of a medium, so that these do not interfere with the acceptance of those premises.
Suspension of disbelief
A fix-up (or fixup ) is a novel created from short fiction that may or may not have been initially related or previously published.
Fix-up
The Bicentennial Man
" The Bicentennial Man " is a novelette in the Robot series by Isaac Asimov . It was awarded the Hugo Award and the Nebula Award for best science fiction novelette of 1976. According to the foreword in Robot Visions , Asimov was approached to write a story titled "Bicentennial Man" for a science fiction collection, along with a number of other authors who would do the same, in honor of the bicentennial of the United States.
The Robots of Dawn (1983)
Robot series (Asimov)
Foundation series
Auguste Villiers de l'Isle-Adam
The Future Eve
Last and First Men
Olaf Stapledon
Edgar Rice Burroughs
Peter F. Hamilton
Arthur C. Clarke
Rendezvous with Rama
Nebula Award for Best Novel
Frank Herbert
Dune (novel)
Nebula Award