Prepping for the Job Market
The Biggest Interview Mistakes HR Experts See (and How To Avoid Them)
14 Common LinkedIn Mistakes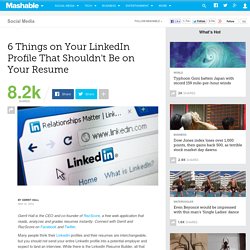 Gerrit Hall is the CEO and co-founder of RezScore, a free web application that reads, analyzes and grades resumes instantly.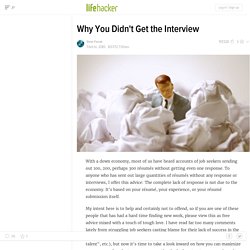 Why You Didn't Get the Interview
Pick up a business-related magazine and count the euphemisms for "cheap" and "interchangeable" employees. Ak ANYONE you know who is over the age of 38 if they have heard of being "overqualified." Poll your unemployed friends and see if there is a correlation between "Lots of skills and experience," and "Can't seem to find anything." Check LinkedIn profiles of companies with new hires, and count how many hires have more than one non-intern or barista level entry in their profile. I am neither kidding nor engaging in hyperbole.
Times, they are a'changin'.
The font that should not be on your résumé—and other tips for job seekers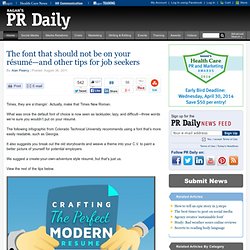 Heather R. Huhman is the founder and president of Come Recommended, a content marketing and digital PR consultancy for organizations with products that target job seekers and/or employers. You can connect with Heather and Come Recommended on Twitter and Facebook.
6 Mobile Apps for Your Job Hunt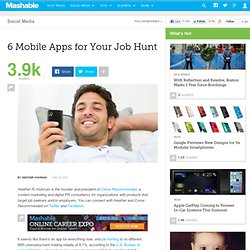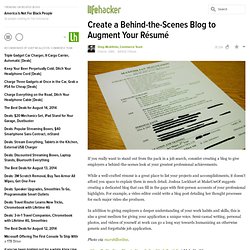 Create a Behind-the-Scenes Blog to Augment Your Résumé
Nonsense like this is why I dread the job search more than anything on earth. At your first job after college, you should build enough bridges that afterwards, a resume is a mere formality. My last job interview was with a boss from a previous company, who moved onward.
Most resumes end up at the bottom of a pile, and that happens because most resumes are boring and look the same. Ideally you want to avoid this, but being unique means taking some risks.
Make Your Resume Stand Out by Focusing Your Job Title on the Job You're Applying For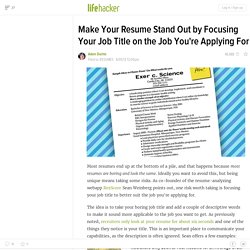 How You Answer An 'Illegal' Question During An Interview
Is it just me or does LH pride them selves with giving bad advice all the time? When I'm hiring I don't look for the pushy guy emailing 5 seconds after we talked.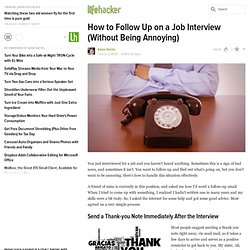 When your interviewer wraps up your job interview by asking if you have any questions, you might think that he or she is finished assessing you, but that's not quite the case. Interviewers draw conclusions about you based on the questions you ask—or don't ask. You don't want to give the impression that you're not very interested in the job, or that you're only concerned about the compensation.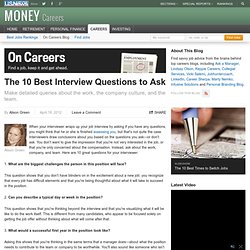 How to Fix Internet Embarrassments and Improve Your Online Reputation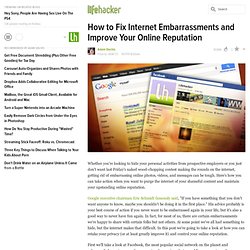 I agree with all that's in the article, and I have actually done some of this. First of all, I'm not on Facebook, which helps tremendously. When I got my current job last month, I wondered why searching my name on Google Image Search came up with an inordinate amount of pictures of scantily clad women.
How Well Do You Rank in Google? BrandYourself Grades Your Ego Search and Helps Improve Your Results
10 Things to Never Put on Your Resume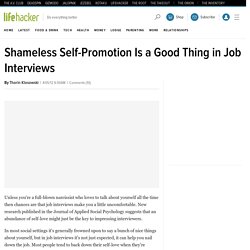 Shameless Self-Promotion Is a Good Thing in Job Interviews
I'll agree with this more. I think the self-promotion comes in more for me during the prep process when I'm anticipating their questions because I want to think of 10 different examples of how awesome I've been.
This series is brought to you by TurboTax Federal Free Edition.
10 Body Language Mistakes That Sabotage Most Interviews
10 Body Language Mistakes That Sabotage Most Interviews
Top Executive Recruiters Agree There Are Only Three True Job Interview Questions - Forbes
Preparing for a job interview? Read these 6 tips first
I used to be pretty sure that the only way to get a raise working in media was to switch jobs. This led to several job changes throughout my career, which, of course, included the requisite interviews to get those jobs.
Job interviews can be challenging, in part because there is so much that can go wrong. There is dressing appropriately, of course, and ensuring that your resume is up-to-date and error-free.
Learn how to earn $125 or more per hour as a freelancer - Click Here
5 Things To Look for in a Great Job Interview