Prepping for the Job Market
The Biggest Interview Mistakes HR Experts See (and How To Avoid Them)
14 Common LinkedIn Mistakes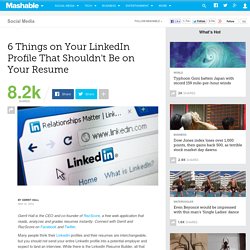 Gerrit Hall is the CEO and co-founder of RezScore , a free web application that reads, analyzes and grades resumes instantly.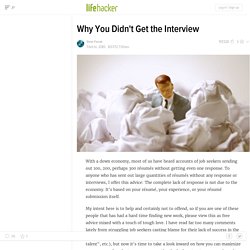 Why You Didn't Get the Interview
With a down economy, most of us have heard accounts of job seekers sending out 100, 200, perhaps 300 résumés without getting even one response. To anyone who has sent out large quantities of résumés without any response or interviews, I offer this advice: The complete lack of response is not due to the economy. It's based on your résumé, your experience, or your résumé submission itself. My intent here is to help and certainly not to offend, so if you are one of these people that has had a hard time finding new work, please view this as free advice mixed with a touch of tough love. I have read far too many comments lately from struggling job seekers casting blame for their lack of success in the search ("it wasn't a real job posting", "the manager wasn't a good judge of talent", etc.), but now it's time to take a look inward on how you can maximize your success.
Times, they are a'changin'.
The font that should not be on your résumé—and other tips for job seekers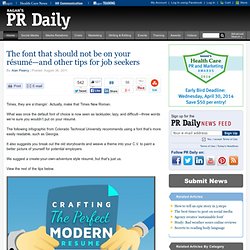 Heather R. Huhman is the founder and president of Come Recommended , a content marketing and digital PR consultancy for organizations with products that target job seekers and/or employers. You can connect with Heather and Come Recommended on Twitter and Facebook .
6 Mobile Apps for Your Job Hunt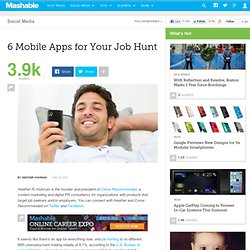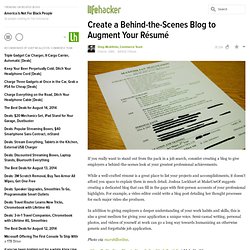 Create a Behind-the-Scenes Blog to Augment Your Résumé
If you really want to stand out from the pack in a job search, consider creating a blog to give employers a behind-the-scenes look at your greatest professional achievements. While a well-crafted résumé is a great place to list your projects and accomplishments, it doesn't afford you space to explain them in much detail. Joshua Lockhart at MakeUseOf suggests creating a dedicated blog that can fill in the gaps with first-person accounts of your professional highlights.
Most resumes end up at the bottom of a pile, and that happens because most resumes are boring and look the same . Ideally you want to avoid this, but being unique means taking some risks.
Make Your Resume Stand Out by Focusing Your Job Title on the Job You're Applying For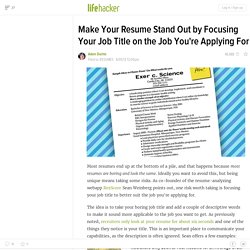 How You Answer An 'Illegal' Question During An Interview
You just interviewed for a job and you haven't heard anything. Sometimes this is a sign of bad news, and sometimes it isn't.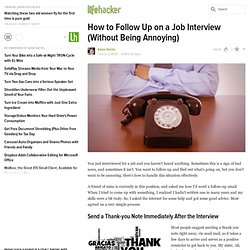 When your interviewer wraps up your job interview by asking if you have any questions, you might think that he or she is finished assessing you , but that's not quite the case. Interviewers draw conclusions about you based on the questions you ask—or don't ask. You don't want to give the impression that you're not very interested in the job, or that you're only concerned about the compensation.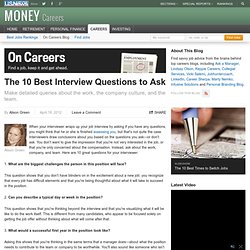 How to Fix Internet Embarrassments and Improve Your Online Reputation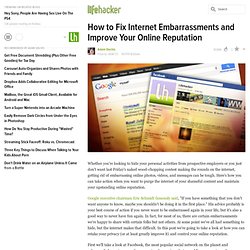 Whether you're looking to hide your personal activities from prospective employers or you just don't want last Friday's naked wood-chopping contest making the rounds on the internet, getting rid of embarrassing online photos, videos, and messages can be tough. Here's how you can take action when you want to purge the internet of your shameful content and maintain your upstanding online reputation. Google executive chairman Eric Schmidt famously said , "If you have something that you don't want anyone to know, maybe you shouldn't be doing it in the first place."
When you share a name with a drug dealer, have an embarrassing photo showing up on Google, or just don't have the most ideal search results when somebody looks up your name, it can be hard to get a job.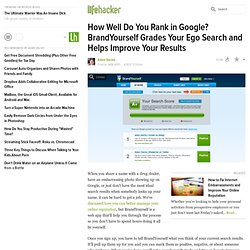 How Well Do You Rank in Google? BrandYourself Grades Your Ego Search and Helps Improve Your Results
10 Things to Never Put on Your Resume
Shameless Self-Promotion Is a Good Thing in Job Interviews
Unless you're a full-blown narcissist who loves to talk about yourself all the time then chances are that job interviews make you a little uncomfortable. New research published in the Journal of Applied Social Psychology suggests that an abundance of self-love might just be the key to impressing interviewers.
This series is brought to you by TurboTax Federal Free Edition .
10 Body Language Mistakes That Sabotage Most Interviews
10 Body Language Mistakes That Sabotage Most Interviews
Top Executive Recruiters Agree There Are Only Three True Job Interview Questions - Forbes
Preparing for a job interview? Read these 6 tips first
I used to be pretty sure that the only way to get a raise working in media was to switch jobs. This led to several job changes throughout my career, which, of course, included the requisite interviews to get those jobs.
Job interviews can be challenging, in part because there is so much that can go wrong. There is dressing appropriately, of course, and ensuring that your resume is up-to-date and error-free.
5 Things To Look for in a Great Job Interview