Prepping for the Job Market
Congratulations Graduate! Eleven Reasons Why I Will Never Hire You. The Biggest Interview Mistakes HR Experts See (and How To Avoid Them) 14 Common LinkedIn Mistakes. 6 Things on Your LinkedIn Profile That Shouldn't Be on Your Resume. Gerrit Hall is the CEO and co-founder of RezScore, a free web application that reads, analyzes and grades resumes instantly.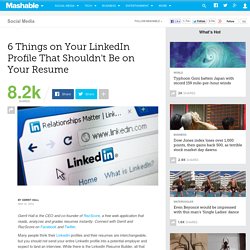 Connect with Gerrit and RezScore on Facebook and Twitter. Many people think their LinkedIn profiles and their resumes are interchangeable, but you should not send your entire LinkedIn profile into a potential employer and expect to land an interview. While there is the LinkedIn Resume Builder, all that does is reformat your existing profile into a resume — it's not tailored enough to show the value you could bring to the specific job you're applying for. Why You Didn't Get the Interview. The font that should not be on your résumé—and other tips for job seekers. Times, they are a'changin'.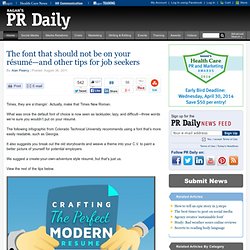 Actually, make that Times New Roman. What was once the default font of choice is now seen as lackluster, lazy, and difficult—three words we're sure you wouldn't put on your résumé. The following infographic from Colorado Technical University recommends using a font that's more easily readable, such as Georgia. It also suggests you break out the old storyboards and weave a theme into your C.V. to paint a better picture of yourself for potential employers. 55 Examples of Light and Clean Resume Designs. 6 Mobile Apps for Your Job Hunt. Heather R.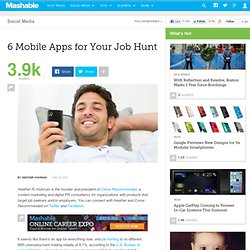 Huhman is the founder and president of Come Recommended, a content marketing and digital PR consultancy for organizations with products that target job seekers and/or employers. You can connect with Heather and Come Recommended on Twitter and Facebook. Create a Behind-the-Scenes Blog to Augment Your Résumé. Nonsense like this is why I dread the job search more than anything on earth.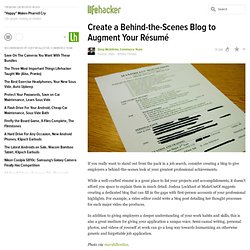 At your first job after college, you should build enough bridges that afterwards, a resume is a mere formality. My last job interview was with a boss from a previous company, who moved onward. The interview was more of us catching up after not seeing each other for a while. Of course if you are changing industries then all bets are off on that front. If you work at a large company, and plan on staying in that industry, the turnover rates can be pretty high, and you will often know many people at many places. Make Your Resume Stand Out by Focusing Your Job Title on the Job You're Applying For. How You Answer An 'Illegal' Question During An Interview. How to Follow Up on a Job Interview (Without Being Annoying) The 10 Best Interview Questions to Ask.
When your interviewer wraps up your job interview by asking if you have any questions, you might think that he or she is finished assessing you, but that's not quite the case.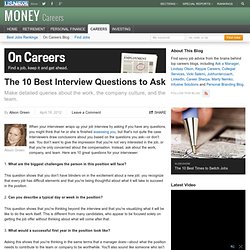 Interviewers draw conclusions about you based on the questions you ask—or don't ask. You don't want to give the impression that you're not very interested in the job, or that you're only concerned about the compensation. How to Fix Internet Embarrassments and Improve Your Online Reputation. I agree with all that's in the article, and I have actually done some of this.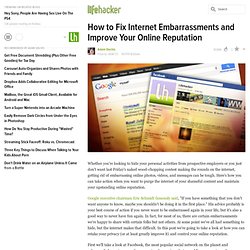 First of all, I'm not on Facebook, which helps tremendously. When I got my current job last month, I wondered why searching my name on Google Image Search came up with an inordinate amount of pictures of scantily clad women. How Well Do You Rank in Google? BrandYourself Grades Your Ego Search and Helps Improve Your Results. 10 Things to Never Put on Your Resume.
Shameless Self-Promotion Is a Good Thing in Job Interviews. I'll agree with this more.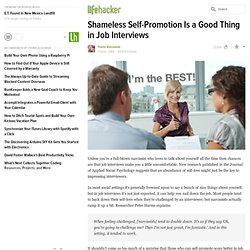 I think the self-promotion comes in more for me during the prep process when I'm anticipating their questions because I want to think of 10 different examples of how awesome I've been. For the actual interview, I just emphasize those examples and comment a little extra. Like, I had an interview with a company that is notoriously goal-based (you have daily, weekly, monthly, and quarterly sales quotas that come into play for your bonus and your managers' bonuses), so I talked about taking way too many classes at once with a full-time job.
They asked about handling a customer service issue, and I told them about a family that I took care of when the housekeeping staff didn't clean their room and we had no other available ones. At the end of both of these, I said something along the lines of, "It was nice to feel proud of myself for handling more than I knew I could. " 10 Body Language Mistakes That Sabotage Most Interviews. This series is brought to you by TurboTax Federal Free Edition.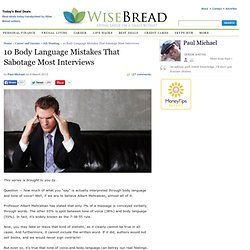 Question — how much of what you "say" is actually interpreted through body language and tone of voice? Well, if we are to believe Albert Mehrabian, almost all of it. Professor Albert Mehrabian has stated that only 7% of a message is conveyed verbally, through words. 10 Body Language Mistakes That Sabotage Most Interviews. Top Executive Recruiters Agree There Are Only Three True Job Interview Questions. Simon Sinek: How great leaders inspire action. Preparing for a job interview? Read these 6 tips first. I used to be pretty sure that the only way to get a raise working in media was to switch jobs.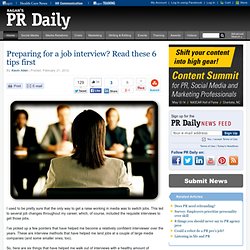 This led to several job changes throughout my career, which, of course, included the requisite interviews to get those jobs. I've picked up a few pointers that have helped me become a relatively confident interviewer over the years. These are interview methods that have helped me land jobs at a couple of large media companies (and some smaller ones, too). So, here are six things that have helped me walk out of interviews with a healthy amount of confidence: 1. What You Wish You'd Known Before Your Job Interview [Infographic] 35 Brilliant Resume Designs at DzineBlog.
Learn how to earn $125 or more per hour as a freelancer - Click Here Looking for hosting?.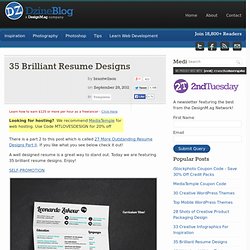 We recommend MediaTemple for web hosting. Use Code MTLOVESDESIGN for 20% off There is a part 2 to this post which is called 27 More Outstanding Resume Designs Part II. Designer Resumes. It's extremely hard to find a job these days! The market is slow, the economy is bad, and the competition is fierce. To get a job you will have to stand out of the crowd. The following resumes go against everything my business teacher taught me. She taught us to never place a picture of yourself, use clip art, use icons, graphics, or make it colorful. 30 Creative Resume (CV) Designs for Inspiration. Some time ago we have posted an article containing information on how to correctly write a resume.
The content of your resume is definitely very important, but you should also care about its looks. Remember that this is the first thing that a potential employer will see about you and a good impression is essential. Moreover if you are a designer, then your resume should definitely be as creative as your portfolio is. You cannot use your CV just like a tool to store information and showcase it to your future employers from time to time. Great Resume Designs that Catch Attention–and Got People Hired. Inspiration June 21, 2011 When applying for a job, you have no choice but to do your best to outshine competition. Even before winning an interview, your qualifications (or in some instance, your character) are already judged by the resume you've submitted.
It is then important to make your resume or CV as honest, concise, and striking as possible. If you are looking forward to a creative position, you will be expected to come up with something grand and extra creative as well. Take a look at how other designers compose their creative resumes. 20 Creative Resume Designs Which Will Amaze Any Potential Employer. 5 Things To Look for in a Great Job Interview.
---