One to One with iPads
Why Apple's new Device Enrollment Program is a game changer for IT. Apple's new Device Enrollment Program (DEP) is a significant new enterprise initiative that removes one of the biggest, if not the biggest, roadblocks to iOS device deployments within businesses or schools: The need to touch each device to ensure that it is fully managed and locked down.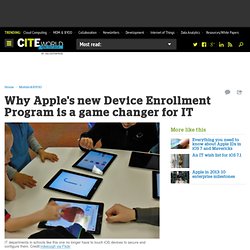 The Device Enrollment Program was announced yesterday along with a slew of new IT-focused documentation and tweaks to managing Apple IDs for K-12 students and Apple's app volume purchase/licensing program. It offers the ability to configure iOS devices as supervised without using Apple Configurator, allowing for over-the-air management with these evice management capabilities. As such, this can be considered one of the most groundbreaking iOS management additions since Apple introduced MDM support nearly four years ago. (At Least) 101 Tips for Going 1:1 or BYO. Hoping to avoid a crash-and-burn scenario?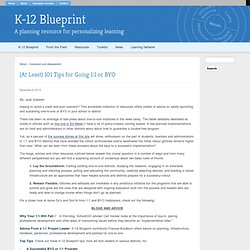 This annotated collection of resources offers oodles of advice on safely launching and sustaining one-to-one or BYO in your school or district. There has been no shortage of bad press about one-to-one initiatives in the news lately. 1-to-1 Essentials Program. Helping schools, families, and students harness the power of 1-to-1 devices responsibly.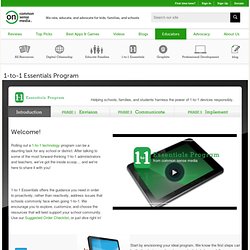 Rolling out a 1-to-1 technology program can be a daunting task for any school or district. After talking to some of the most forward-thinking 1-to-1 administrators and teachers, we've got the inside scoop ... and we're here to share it with you! 10 Steps to a Successful School iPad Program. Portions excerpted from new book, "iPad in Education for Dummies" by Sam Gliksman iPads have certainly become a highly desired commodity in education.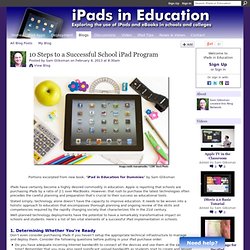 Apple is reporting that schools are purchasing iPads by a ratio of 2:1 over MacBooks. However, that rush to purchase the latest technologies often precedes the careful planning and preparation that's crucial to their success as educational tools. Stated simply, technology alone doesn't have the capacity to improve education.
Central York High School - Grade 9 iPad Pilot. Central York School District believes learning with technology is a vital component of a 21st century education experience.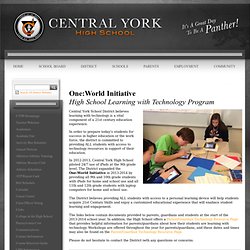 In order to prepare today's students for success in higher education or the work force, the district is committed to providing ALL students with access to technology resources in support of their education. In 2012-2013, Central York High School piloted 24/7 use of iPads at the 9th grade level. The District expanded the One:World Initiative in 2013-2014 by providing all 9th and 10th grade students with iPads for home and school use and all 11th and 12th grade students with laptop computers for home and school use. A Principal's Perspective: Preparing to Distribute Student iPads? Yes, let's give students iPads so they can be smarter and learn better.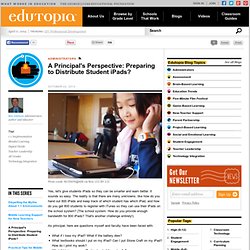 It sounds so easy. The reality is that there are many unknowns, like how do you hand out 800 iPads and keep track of which student has which iPad, and how do you get 800 students to register with iTunes so they can use their iPads on the school system? (The school system: How do you provide enough bandwidth for 800 iPads? 4 Research-Backed Steps for Effective Principal Leadership of 1-1 implementation. Principals and School-Leaders: The quality of your leadership, and the particular choices you make and priorities you set, make a significant difference in the success of a 1-1 device implementation.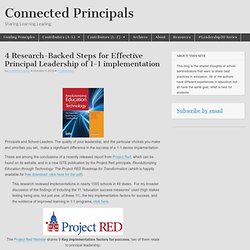 These are among the conclusions of a recently released report from Project Red, which can be found on its website, and in a new ISTE publication by the Project Red principals, Revolutionizing Education through Technology: The Project RED Roadmap for Transformation (which is happily available for free download: click here for the pdf). This research reviewed implementations in nearly 1000 schools in 49 states. For my broader discussion of the findings of including the 11 "education success measures" used (high stakes testing being one, but just one, of these 11), the key implementation factors for success, and the evidence of improved learning in 1:1 programs, click here.
The Project Red Website shares 9 Key implementation factors for success; two of them relate to principal leadership: The IPad Trial – Half Term Report. eBackpack. Posted by sevhandenise on Sunday, September 23rd 2012 Our first App of the week is eBackpack !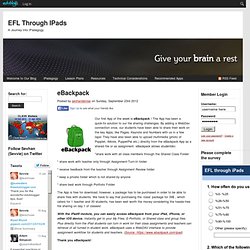 The App has been a quick-fix solution to our file sharing challenges. 1:1 iPads in Elementary Part 1 – An Unexpected Journey by @DanCallahan. Today I handed out 100 iPads to teachers that will shortly be in the hands of students.
This is huge, and so my job has just become bigger and more interesting than I entirely anticipated when I became an elementary school Instructional Technology Specialist. In the hopes of making something of this journey, I'm going to do my best to document as much of what I'm doing this year as I possibly can.
iPad in Education - About. Prior to purchasing the iPad, you will want to determine the purpose of your purchase.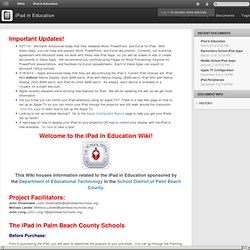 You can go through the Planning Guide below to think about everything prior to your purchase. Then you can determine exactly what you will need to purchase on the Considering Purchasing an iPad page. Finally you can take a look at cases and peripherals to enhance the iPad experience. A case is highly recommended! Want Increased Student Achievement Using iPads? Apple reports that 1.5 million iPads are used in K12. Given that there are approximately 55 million students in K12, the iPad has penetrated K12 faster than any other computing technology. And the tech tsunami doesn't seem to be slowing down. We have seen this type of excitement before with desktops and then again with laptops, although their rates of growth in K12 were slower.
Each time the expectations for what the computing device would do for education were sky high, and each time there was disappointment. Who can forget Winnie Hu's May 2007 New York Times article, "Seeing No Progress, Some Schools Drop Laptops"? Becoming a 1:1 School Series. Managing: The Nuts & Bolts of an iPad Classroom.
Awhile ago, I wrote about the beginning of the one-to-one iPad journey in my classroom. I have always appreciated when others have shared not only their pedagogy, but the organization of their tools or classroom as well. I've also had more people ask me questions about my set-up than how I use iPads to actually teach in my classroom, so here's my "share". Purchasing the iPads was the easy part. Managing them is another matter. Dean Shareski says that "iPads are meant to be owned, not managed." Study Finds Benefits In Use of iPad As Educational Tool. Thanks to Simon Thomas of 9ine Consulting, who reached out last week to share this exciting report. 9ine Consulting worked with NAACE (a.k.a. "the ICT Association") to produce this study. The study looks at the use of iPads at the Longfield Academy, where a large scale 1 to 1 iPad program was implemented last year. A brief overview of this groundbreaking study is provided below.
Some Background Longfield Academy in Kent, England is a recently built school covering years 7 through 13 (ages 11 to 18). How the iPad Can Transform Classroom Learning. Technology Services / BISD iPad 1:1 Initiatives. Pandora For Ed Apps: eSpark Nabs $5.7M From 500 Startups, Others, Hires Facebook Mobile Vet As CTO. An Apple for the teacher: are iPads the future in class? | Teacher Network Blog | Guardian Professional. Technology meets Education » What are the effects of iPads on Teaching and Learning? Description of Research Plan/ Methods. Mason County High School - iPad Information. MCHS students to have iPad access this school year. Data and Analysis of a High School 1:1 iPad Program. « iPad and Education – No Longer A Debate! 14 Smart Tips for Using iPads in Class.
The iPad and Parental Engagement in Education. 5 Tips to Prepare Teachers for 1:1 iPad Projects | Terice T. Schneider's Digital Home. iPad | BPS Educational Technology Team. iPad Wallpaper Template for Photoshop. Top 10 Things NOT to do in a 1:1 iPad Initiative «
---