Bedroom and others...
ORGANIZATION STATION: GET YOUR HAIR STUFF IN CHIC ORDER. Photos & post by Kristin Ess If you're a girl on the go, you're probably familiar with the magical mystical "bathroom tornado".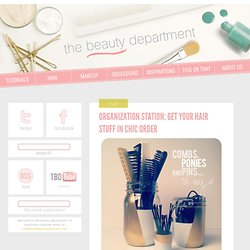 It comes through scattering everything everywhere, leaving no bobbypin unturned. Before & after: painted pattern floor. When floors are in bad condition and refinishing or renovating seems out of the question, people often try to downplay their floors by painting them a neutral color or hiding them under various rugs.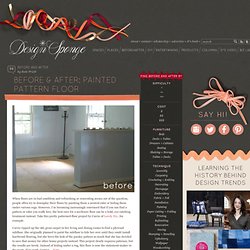 However, I'm becoming increasingly convinced that if you can find a pattern or color you really love, the best cure for a mediocre floor can be a bold, eye-catching treatment instead. Take this pretty patterned-floor project by Carrie of Lovely Etc., for example. Carrie ripped up the old, gross carpet in her living and dining rooms to find a plywood subfloor. She originally planned to paint the subfloor to tide her over until they could install hardwood flooring, but she loves the look of the paisley pattern so much that she has decided to save that money for other home projects instead.
This project clearly requires patience, but the results are lovely. Design*Sponge » Blog Archive » diy project: window films. This month's material is a simple one…paint!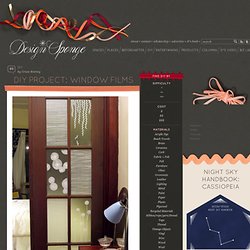 Obviously paint comes in many forms, and one of my favorite craft tools is the paint pen. they have come a long way over the years, and the newest paint pens provide a really clean, fluid line of paint and are great for drawing with. in our home we needed some window films to provide privacy, but we also wanted them to let light through. using contact paper and a white paint pen, i've created some decorative window films that are easy to change, replace, move, etc. if you don't feel super comfortable with your drawing skills, you can easily print out images or text and trace them onto the contact paper. happy crafting! -kate CLICK HERE for the full project after the jump! No paint artwork in 15 minutes | Makeunder My Life. Simple white canvases above my bed.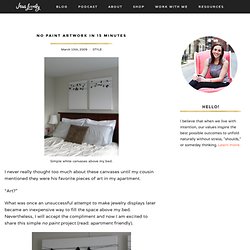 I never really thought too much about these canvases until my cousin mentioned they were his favorite pieces of art in my apartment. "Art?" What was once an unsuccessful attempt to make jewelry displays later became an inexpensive way to fill the space above my bed. Nevertheless, I will accept the compliment and now I am excited to share this simple no paint project (read: apartment friendly). I bought two $22 primed canvases from Blick, a spool of textured charcoal thread, and a foot of charcoal starched linen-like fabric.
Fórmula para hacer jabón sin sosa cáustica :: Propiedades de la saponaria officinalis, nombre científico de la hierba jabonera. En el proceso de elaboración del jabón, se emplea generalmente un álcalis, como la sosa cáustica, para la saponificación de las grasas.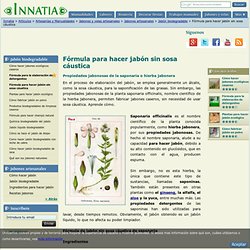 Sin embargo, las propiedades jabonosas de la planta saponaria officinalis, nombre científico de la hierba jabonera, permiten fabricar jabones caseros, sin necesidad de usar sosa cáustica. Aprende cómo. Saponaria officinalis es el nombre científico de la planta conocida popularmente, como hierba jabonera, por sus propiedades jabonosas. De hecho el nombre saponaria, alude a su capacidad para hacer jabón, debido a su alto contenido en glucósidos, que en contacto con el agua, producen espuma. Making Vanilla Soap Using The Melt And Pour Process. I have always loved Cinnamon-Raisin bread, so I went and found a basic recipe and then added the most wonderful ingredients to make it extra special.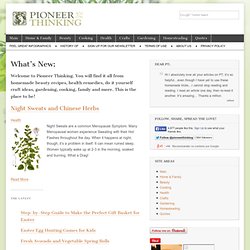 I love tons of flavor in my foods, and this bread reflects my tastes completely. If you also love bold flavors, then this is a recipe for you! Hanging Closet. Hang the rod.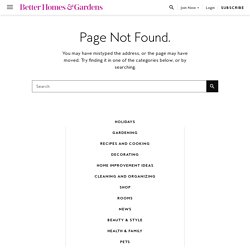 Standing on a ladder, thread the free end of the rope through the first eyebolt. Bring the rod up to the height at which you'd like it to hang (standard closets place hanger bars 65-68 inches above the floor), and then loop the rope under the rod at the midpoint. Design*Sponge » Blog Archive » diy project: toilet paper roll wall art. It's not every day that you find a clever way to reuse something from the bathroom, but tali from growing up creative had a simple but beautiful idea that lets you reuse toilet paper rolls. whether you're looking for a fun afternoon craft to do with little ones or just want to find a way upcycle old toilet paper rolls, this is a perfect afternoon project. i'm tempted to spray paint them in metallic colors to make a holiday-style arrangement… CLICK HERE for the full instructions from tali below!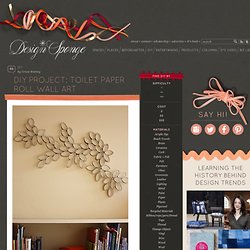 Materials: Toilet Paper rolls Scissors White glue Stapler Paint + brushes Glitter Laundry pins. Design*Sponge » Blog Archive » diy project: jane joss' recycled quilt flowers. Sadly yesterday ran away from me and i wasn't able to post a project from jane joss i'd been excited about all week. jane joss is an alias for alyssa and joslyn krismer, former college roommates turned sisters-in-law (married to twins!).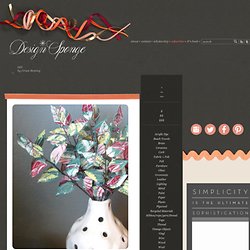 These self-taught seamstresses have a love of cool fabric and create some really incredible crafts and home accessories from their collections of great textiles. inspired by nature and beautiful prints, alyssa and joslyn now create modern fabric arrangements and potted plants which they sew and construct by hand. i've been a fan of their "sweet leaves" collections on etsy for a while and was thrilled when they agreed to share a DIY project inspired by their textile flowers. and the best part about this project?
Design*Sponge » Blog Archive » before & after: mirror made of rulers + telephone bench. I have a special place in my heart for bulk supplies of any kind; in my mind, you can make something awesome out of anything, as long as you have enough of it.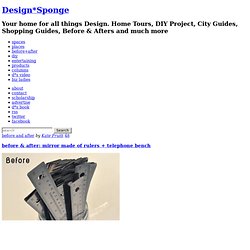 I know that Karen Johnston — the creative talent behind this metal-ruler mirror and many other clever reuse projects — would agree with me. This industrial mirror is actually quite sophisticated, and I love that from afar you can't really tell what it's made of. Design*Sponge » Blog Archive » diy project: brenna's paper capiz shell chandelier. I love wax paper for packing lunches; i wrap sandwiches in a piece of wax paper and tie it like a present with a little cotton string. it's so much better looking than a plastic bag. wax paper comes in handy for more things than i realized, like rolling it up to use for a funnel, or how about rubbing a piece of wax paper on the top of your shower curtain rod to cut down on that terrible screeching in the morning…problem solved. but who knew that if you iron layers of wax paper together it looks remarkably similar to a capiz shell?
This discovery brought me to today's project: the faux capiz chandelier. hung over your dining table, or outside at an outdoor dinner party, it is an easy solution to a dramatic light fixture and will look phenomenal in either setting. i hope you enjoy making your own as much i did! -brenna CLICK HERE for the full how-to after the jump! A bit of green :: Crafts :: Plastic Cup Lamp.
Now that my university is closed for winter holidays, I finally have more free time to do all the crafty things I've been wanting to. One of these is a lamp made from plastic cups I've seen at taf, the art foundation, in the Monastiraki region in the center of Athens. When I first saw it at taf, I was amazed; I looked closely and I couldn't believe my eyes! The object itself is so peculiar, modern and alien-like it could be in any design exhibition. With my best friend's birthday coming up, I decided to make it myself and give it to her as a gift. Make a Perpetual Button Calendar for 2011 (and Beyond) By Diane Gilleland I know calendars (and clocks and address books) are quickly becoming computer-centric tools, but I like the old-school charm of this desk calendar.
Make it once, and you can use it forever – just move the numbers to their correct location each month, and change the nameplate! Materials Picture frame, 11″x14″ or 16″x20″, see belowSheet of foam board or 1/2″-thick corkRuler Craft knife Piece of woven fabric, about 24″x30″ Spray adhesive Masking tape Scissors 42 large buttons, 3/4″ to 1″ in diameter 42 flat-head thumb tacks 5 sheets card stock, for numbers and nameplatesDownloadable name/number template 3/4″ circle punch, optional E-6000, or similarly strong glue Water-soluble fabric marker Fine-point Sharpie 2 squares of wool or acrylic felt 1 sheet of Friendly Felt, or lightweight chipboard Sewing machine and thread 2 sets Velcro dots plus 22 "loop" style dots (the softer half of a Velcro pair)Greeting card envelope.
---