SUSTAINABILITY
The Age of Sustainable Development. Global Footprint Network :: HOME - Ecological Footprint - Ecological Sustainability. Sustainable Man | Promoting Sustainable Lives & Communities. PRESS RELEASES - Press release - Speech: Sustainability and reporting: Europe at the forefront. European Commission Michel BARNIER European Commissioner for the Internal Market and Services.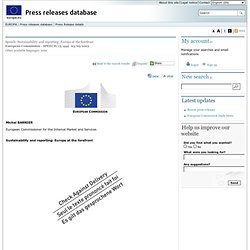 The Sustainability Umbrella. Company Information | About Us | World Centric. Our Vision and Mission World Centric is a socially responsible company that provides zero waste solutions to reduce environmental impact.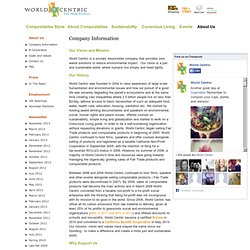 Our vision is a just and sustainable world, where humans live simply and tread lightly. Www.alcoa.com/sustainability/en/pdfs/2011_Sustainability_Highlights_Report.pdf. Wanda Organic | Soil & Plant Health. Congratulations!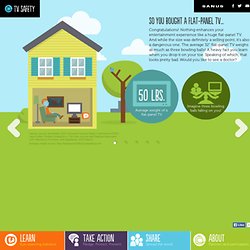 Nothing enhances your entertainment experience like a huge flat-panel TV. And while the size was definitely a selling point, it's also a dangerous one. The average 32" flat-panel TV weighs as much as three bowling balls! Puntmuragl.org | coming soon. Sustainability_text. "Sustainability: A Comprehensive Foundation" is a free, open-source textbook available for viewing online or as a download for use on e-readers or printing.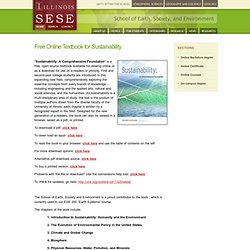 First and second-year college students are introduced to this expanding new field, comprehensively exploring the essential concepts from every branch of knowledge – including engineering and the applied arts, natural and social sciences, and the humanities. As sustainability is a multi-disciplinary area of study, the text is the product of multiple authors drawn from the diverse faculty of the University of Illinois: each chapter is written by a recognized expert in the field. Designed for the new generation of e-readers, the book can also be viewed in a browser, saved as a pdf, or printed.
Introduction to Sustainability. Www2.iynf.org/sites/default/files/GTB_web.pdf. Sustainable Solutions Tour. Green Living Tips - BuyGreen.com - Your Trusted Source for Green and Eco-Friendly Products. - Instead of meeting with clients use your smart phones power and have some "face time" with them without leaving your office. - Use a bike for short trips.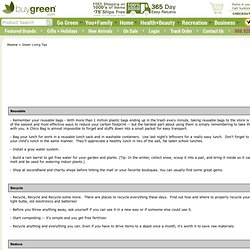 It takes a certain amount of dedication to permanently give up a car in favor of a bike, but even an eco-slacker can make it work for short trips that don't require hauling a lot of stuff: picking up milk at the local grocery store, after-dinner ice cream at your favorite dessert spot, your morning yoga class, brunch with friends at the coffee shop. Ride your bike for trips shorter than 2 miles and you could cut your carbon footprint significantly, save money on gasoline and car maintenance, and increase your fitness level -- all at the same time. - If you have to make an appliance purchase, try to make sure it is Energy Star Rated to save on your bill and to help the planet use less resources to run everyday items. - Choose solar items instead of gas, electric powered items to run your household items. About | Green Build TVGreen Build TV. GBTV was created as a hands-on vehicle, providing case study applications to help both professional builders and consumers wade through the ever-growing list of sustainable products and services available.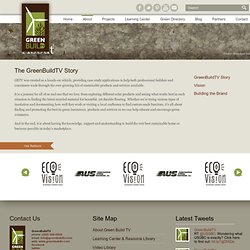 It is a journey for all of us and one that we love; from exploring different solar products and seeing what works best in each situation to finding the latest recycled material for beautiful, yet durable flooring. Whether we're trying various types of insulation and documenting how well they work or visiting a local craftsmen to find custom made furniture, it's all about finding and promoting the best in green businesses, products and services so we can help educate and encourage green commerce. And in the end, it is about having the knowledge, support and understanding to build the very best sustainable home or business possible in today's marketplace. Sustainable denim manufacturing process creates 'green' jeans. Like sausage, making denim jeans isn't pretty.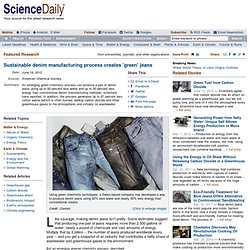 Some estimates suggest that producing one pair of jeans requires more than 2,500 gallons of water, nearly a pound of chemicals and vast amounts of energy. Multiply that by 2 billion -- the number of jeans produced worldwide every year -- and you get a snapshot of an industry that contributes a hefty share of wastewater and greenhouse gases to the environment.
But an emerging greener chemistry process, described recently at the 16th annual Green Chemistry & Engineering Conference, could help change all of that. DSE-SUSTENTABILIDAD. Knowledge database. Action for a sustainable world. The Challenge of Rudolf Steiner - Trailer. Welcome to the Sustainable Business Leader Program! | Sustainable Business Leader Program. GlobeForum's Channel. Green News and Opinion on The Huffington Post. Resilient People, Resilient Planet-- Population Matters. The UN Secretary-General's High Level Panel on Global Sustainability has just released its final report ("Resilient People, Resilient Plant: a future worth choosing").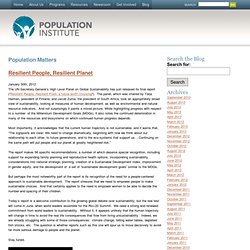 The panel, which was chaired by Tarja Halmen, president of Finland, and Jacob Zuma, the president of South Africa, took an appropriately broad view of sustainability, looking at measures of human development, as well as environmental and natural resource indicators. And not surprisingly it paints a mixed picture. While highlighting progress with respect to a number of the Millennium Development Goals (MDGs), it also notes the continued deterioration in many of the resources and biosystems on which continued human progress depends. Resilient People, Resilient Planet: A Mixed Bag. With this year's United Nations Conference on Sustainable Development meeting – also known as "Rio+20" – fast approaching, Greenpeace senior political advisor Pat Lerner takes an in-depth look at the UNSG's High Level Panel report on Global Sustainability "Resilient People, Resilient Planet: A future worth choosing": It had been billed ahead of time as "a second Brundtland Report [1]", designed to be visionary and describe a future 20 years from now, "a future worth choosing."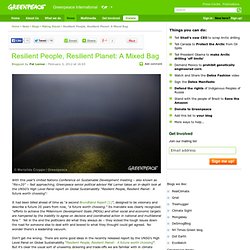 Its mandate was clearly recognized: "efforts to achieve the Millennium Development Goals (MDGs) and other social and economic targets are hampered by the inability to agree on decisive and coordinated action in national and multilateral fora." Yet in the end the politicians did what they always do – they kicked the tough issues down the road for someone else to deal with and bowed to what they thought could get agreed.
No wonder there's a leadership vacuum. Www.un.org/wcm/webdav/site/climatechange/shared/gsp/docs/GSP1-6_Background on Sustainable Devt.pdf. International Journal of Sustainable Development, Inderscience Enterprises Ltd. Sustainability...Your Competitive Advantage. SustainEarth.us. International Center for Sustainable Development (ICSD) United Nations Sustainable Development. Green & Sustainable Business News | Triple Pundit. Eco3P.com (eco3p) Hungary Destroys All Monsanto GMO Corn Fields. Hungary has taken a bold stand against biotech giant Monsanto and genetic modification by destroying 1000 acres of maize found to have been grown with genetically modified seeds, according to Hungary deputy state secretary of the Ministry of Rural Development Lajos Bognar.
Unlike many European Union countries, Hungary is a nation where genetically modified (GM) seeds are banned. In a similar stance against GM ingredients, Peru has also passed a 10 year ban on GM foods. Vital Activism: Monsanto Declared Worst Company of 2011. Sustainability is cost efficient. EARTH CHALLENGE. Virgin Unite - The non-profit foundation of the Virgin group.
Hello, we're Virgin Unite, the non-profit foundation of the Virgin Group. We unite great people and entrepreneurial ideas, reinventing how we live and work to help make people's lives better. We believe business can and must be a force for good in the world – and that this is also good for business! How do we do it? First up, we incubate new approaches to leadership such as The Elders, Carbon War Room and The B Team and lead the debate, amplifying Richard's voice on issues that are important to the world. Www.oecd.org/dataoecd/49/62/43727136.pdf. Global Forum on Environment on Eco-Innovation. Documents and Background papers | Related links | Presentations This Forum organised by the OECD took place on 4-5 November 2009 in the OECD Conference Centre, Paris, France. The Forum had three related objectives: Objectives Take stock of what we know on policies to support eco-innovation (based on work done at the OECD and elsewhere); Discuss policy challenges.
Four main policy challenges have been identified so far: - How to make environment and innovation policies mutually supportive? Expert Group members. Martin Charter is the Director of The Centre for Sustainable Design (www.cfsd.org.uk) at University for the Creative Arts (UCA) and a former Visiting Professor of Sustainable Product Design at UCA before joining full-time. Since 1988, he has worked at director level in 'business and environment' issues in consultancy, leisure, publishing, training, events and research. Prior to this he held in a range of management positions in strategy, research and marketing in gardening, construction, trade exhibitions, financial services and consultancy including Save & Prosper Group, Reed International, Creative Marketing Group and Kiveton Park (Holdings) Ltd.
Martin was the launch Director of Greenleaf Publishing, Marketing Director at the Earth Centre, former co-ordinator of one the UK's first green business clubs, more recently he ran a regional network on green electronics (www.cfsd.org.uk/seeba) and currently he directs a network focused on eco-innovation (www.cfsd.org.uk/eco-i-net). Laboratories for the 21st Century (Labs21): Home Page. Green Planet Monitor. Diana Daunheimer and her husband Derek were a typical young couple pursuing their dreams. In the summer of 2002, they moved into a rambling old house just outside the village of Didsbury, an hour's drive north of Calgary, Alberta, in the foothills of the Rocky Mountains. With high hopes of raising kids and living the good life, Diana, 26 years-old at the time, decided to grow organic produce on their twelve acres of land.
But in 2008, a nastier crop sprouted around her property. Global Green USA. Www.epa.gov/r5water/si/pdf/SI Forum Attendee List.pdf. Www.ncsafewater.org/Pics/Training/AnnualConference/AC09TechnicalPapers/AC09_SpecialTopics/ST_T.PM.5.00_DAmato.pdf. Integrating Water Infrastructure in a New Paradigm for Sustainable, Resilient Communities.
---