Sustainability
OUT for Sustainability | Mobilizing a Greener LGBTQ Community! Why on Earth Is This Gay Guy Marching for Climate? | Peterson Toscano. After a ridiculously long stint trying to de-gay myself through gay conversion therapy, I finally came out.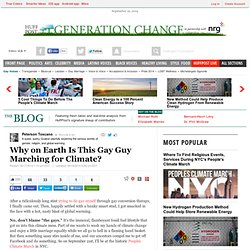 Then, happily settled with a hunky smart stud, I got smacked in the face with a hot, nasty blast of global warming. No, don't blame "the gays. " It's the immoral, flamboyant fossil fuel lifestyle that got us into this climate mess. Part of me wants to wash my hands of climate change and enjoy a little marriage equality while we all go to hell in a flaming hand basket. But then something sassy stirs inside of me, and our ancestors compel me to get off Facebook and do something. #Sustainability today. Eco-Friendly in Practice & for Profit: Sustainability at the Brooklyn Navy Yard. Brooklyn Navy Yard (photo: Daniel Stein-Sayles) NEW YORK­– Darkness engulfed New York City as Hurricane Sandy continued its destructive path up the East Coast in October of 2012.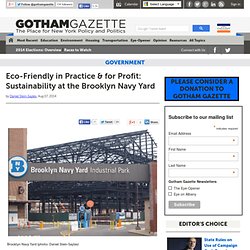 However, through the darkness and chaos of Sandy's New York arrival and aftermath, the lights in one section of Northern Brooklyn never went out. Now, two years later, they are still on and representative of a newfound focus on sustainability in a post-Sandy New York City. Ecoroad. Ecoroad. Ecoroad. Ecoroad. Ecoroad. Ecoroad. Ecoroad. Ecoroad. Ecoroad. Ecoroad. Ecoroad. Ecoroad. Ecoroad. Ecoroad. Ecoroad. Ecoroad. Ecoroad. Ecoroad. An Eco Road Trip Daily. Amazon. 5 Reasons to Be Optimistic about Sustainability in 2014. This is the time of the year when you see endless summaries of 2013.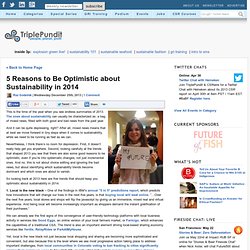 The ones about sustainability can usually be characterized as a bag of mixed news, filled with both good and bad news from the past year. And it can be quite depressing, right? After all, mixed news means that at best we move forward in tiny steps when it comes to sustainability, while we need to be running as fast as we can. Nevertheless, I think there's no room for depression. EN-US: RWD CAtegory Player. When you talk too much for Twitter. Responsible Business Summit | Ethical Corporation. The easy wins are done.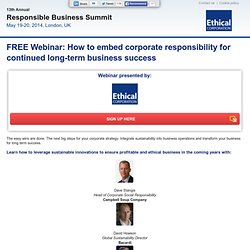 The next big steps for your corporate strategy: Integrate sustainability into business operations and transform your business for long term success. Learn how to leverage sustainable innovations to ensure profitable and ethical business in the coming years with: Dave Stangis Head of Corporate Social Responsibility Campbell Soup Company David Howson Global Sustainability Director Bacardi. ThatMatters Live: Building an Eco-community (with images, tweets) · shaneSnipes. Bernier's Bio: Steve Bernier, who purchased Cronig's in 1985 with "a handshake," grew up in Massachusetts, starting what would become his life's work in groceries at age 16, pushing carts and cashiering at Star Market Co., eventually working his way up to being a District Manager at the main headquarters in Cambridge.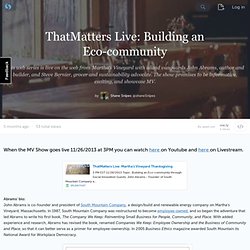 Having enjoyed summer visits to the Vineyard, he bought the small Main Street store from Robbie Cronig. ThatMatters Live: Martha's Vineyard Thanksgiving - Splash. Instagram. BE SOCIAL CHANGE GUIDE 11.11 – 11.17. Tonight, competition is heating up at the Great CSA Smackdown.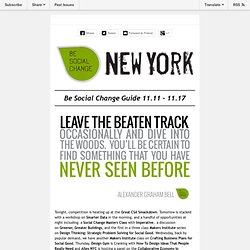 Tomorrow is stacked with a workshop on Smarter Data in the morning, and a handful of opportunities at night including: a Social Change Masters Class with Imperative, a discussion on Greener, Greater Buildings, and the first in a three class Makers Institute series on Design Thinking: Strategic Problem Solving for Social Good. Wednesday, back by popular demand, we have another Makers Institute class on Crafting Business Plans for Social Good. Thursday, Design Gym is Cranking with How To Design Ideas That People Really Need and Alley NYC is hosting a panel on the Collaborative Economy in NYC.
ThatMatters Live - Splash. #Sustainability today. 6 Leadership Attributes for Leading Companies to Sustainability. Changing Tack, the final report of the Regeneration Roadmap, a joint project by GlobeScan and SustainAbility, has just launched last week.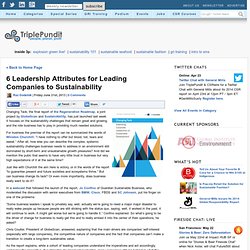 It focuses on the sustainability challenges that remain great and growing and the role business has to play in providing much needed solutions. For business the premise of the report can be summarized the words of Winston Churchill: "I have nothing to offer but blood, toil, tears and sweat." Soccer, Sustainability and Degrowth. A fortnight or so ago, we devoted a whole week to the financial ill health of five soccer clubs, but the quintet might just as well have been picked at random.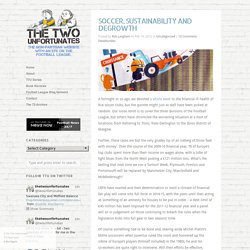 Our loose remit is to cover the three divisions of the Football League, but others have chronicled the worsening situation at a host of locations: from Kettering to Truro; from Darlington to the Ibrox district of Glasgow. Further, these cases are but the very grubby tip of an iceberg of those 'bad with money'. Over the course of the 2009-10 financial year, 78 of Europe's top clubs spent more than their income on wages alone, with a tribe of light blues from the North West posting a £121 million loss. What's the betting that next time we run a Turmoil Week, Plymouth, Preston and Portsmouth will be replaced by Manchester City, Macclesfield and Middlesbrough? Margaret Hyde: Eco-Friendly Summer Fun for Kids. Summer is finally here.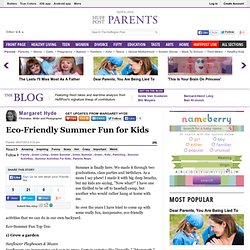 We made it through two graduations, class parties and birthdays. As a mom I say phew! I made it with big deep breaths, but my kids are saying, "Now what? " I have one son thrilled to be off to baseball camp, but another who would rather hang at home with me. Sustainable Development - Getting to Inclusive Green Growth. Over the past 20 years, economic growth has lifted more than 660 million people out of poverty and raised the income levels of millions more, but growth has often come at the expense of the environment.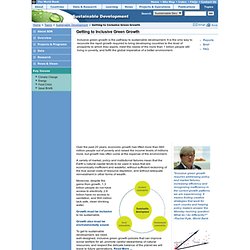 A variety of market, policy and institutional failures mean that the Earth's natural capital tends to be used in ways that are economically inefficient and wasteful, without sufficient reckoning of the true social costs of resource depletion, and without adequate reinvestment in other forms of wealth. Moreover, despite the gains from growth, 1.3 billion people do not have access to electricity, 2.6 billion have no access to sanitation, and 900 million lack safe, clean drinking water. Growth must be inclusive to be sustainable. Growth also must be environmentally sound. Renewable energy debate needs 'more evidence' and 'less media hype' Sustainable consumption: why brands should take the lead | Guardian Sustainable Business.
Sign In. Jake Pollack. How to Become a More Effective Sustainability Leader — Strategic Sustainability Consulting. In the Inc. article, 3 Things All Great Leaders Know About Themselves , author Les McKeown argues that great leaders continually seek to know themselves better. And since we're always looking for ways to help build the capability for our clients' in-house sustainability leaders, we were intrigued to see the three questions that McKeown says will "yield immediate (positive) results in how you lead. " Do you typically undershoot or overshoot? Prescott College Sustainability Education Symposium 2013. Adobe Connect Login. Welcome to Northland Cares | Northland Cares. Growth and sustainability: are they really at odds with each other? | Guardian Sustainable Business. A few years ago when I asked a senior manager of a well known British firm whether sustainability was on the agenda, he replied: "Of course, sustainability of our product portfolio and growth is of major concern to us.
" Ah. Not the kind of sustainability I had in mind! The desire to maintain growth and profitability are at the forefront of most managers minds and always have been. Sustainability, in the sense that we need to find a way to manage our planet's resources for generations to come seems to be quite a different matter. Or is it? See Who Is On Twitter, Get Followers : WeFollow Twitter Directory. Class of 2013. Program Overview Established in 2006, the Global Fellows Program is a 12-month fellowship for individuals dedicated to serving the poor and who have the business and operational expertise, and moral imagination needed to effect long-term social change.
The fellowship begins with an eight-week training program in the Acumen New York office, where Fellows learn about business models for the poor, hone their leadership skills, and learn more about Acumen. After training, each Fellow works for the CEO or senior management of an Acumen investee on a critical business issue facing the organization. Fellows have worked on projects ranging from leading operations of a new business unit at a cotton ginnery in Uganda, to expanding the clinic network of a pharmacy company in India, to developing branding strategies for a microfinance institution in Pakistan. Culture Eats Strategy For Lunch. Get on a Southwest flight to anywhere, buy shoes from Zappos.com, pants from Nordstrom, groceries from Whole Foods, anything from Costco, a Starbucks espresso, or a Double-Double from In N' Out, and you'll get a taste of these brands' vibrant cultures. Culture is a balanced blend of human psychology, attitudes, actions, and beliefs that combined create either pleasure or pain, serious momentum or miserable stagnation.
A strong culture flourishes with a clear set of values and norms that actively guide the way a company operates. Employees are actively and passionately engaged in the business, operating from a sense of confidence and empowerment rather than navigating their days through miserably extensive procedures and mind-numbing bureaucracy. Performance-oriented cultures possess statistically better financial growth, with high employee involvement, strong internal communication, and an acceptance of a healthy level of risk-taking in order to achieve new levels of innovation. GetGlue. Psst... Groundwater and Surface Water Mix. An article published in the journal Geophysical Research Letters this week describes a new and simple way of measuring groundwater's contribution to small streams on the surface.
Sinking land levels in the San Joaquin Valley in California. By taking snapshots of streams with a device designed to capture, through infrared radiation images, the temperatures in various parts of the water, the approach "advances the immediate detection and quantification of localized groundwater inflow for hydrology, geology and ecology," the article's authors, Tobias Schuetz and Marcus Weiler of the University of Freiburg's Institue of Hydrology, wrote. Rachel Soufrine and friends talking about Pigeon Key.
---