Media Analysis
All Hail the Queen? What do our perceptions of Beyonce's feminism say about us?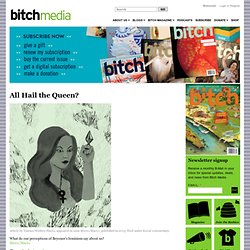 Illustration by Irana Douer. Who run the world? Virginie Marcucci, Desperate Housewives, miroir tendu au(x) féminisme(s) américain(s) ? Feministfrequency - YouTube-Mozilla Firefox. This cartoon is about me. /via tumblinfeminist.tumblr.com & @gabrielrochab #feminism-Mozilla Firefox. Top 10 Pro-feminist Episodes of The Simpsons - Chicago Feminism and Relationships | Examiner.com-Mozilla Firefox.
Congratulations go out to The Simpsons, the record-breaking, brilliant cartoon that taught television how to do satire, how to be subversive, and how to start a conversation on all things in pop culture worth talking about.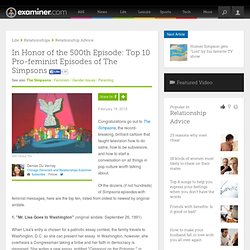 Of the dozens (if not hundreds) of Simpsons episodes with feminist messages, here are the top ten, listed from oldest to newest by original airdate. 1. "Mr.
---