Media Analysis
Beyoncé's VMA performance was feminism's most powerful pop culture moment. I'm old-ish, and it's been a while since I've watched the Video Music Awards.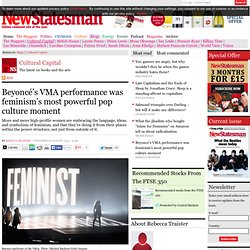 I'm not saying that the last time I tuned in to the full broadcast was to watch Madonna hump the stage in a synthetic wedding dress, but it might have been within a decade of that. On Monday morning I woke to images of Beyoncé, striking a dramatic pose – dressed as the world's most beautiful disco ball – in front of the word "FEMINIST" and felt like an excited kid all over again. Or rather, an excited kid in a far more thrilling pop culture universe than the one I was an actual kid in. The singer, who will be 33 next week, was performing at the end of the annual awards ceremony, just before receiving the Michael Jackson Video Vanguard award.
All Hail the Queen? What do our perceptions of Beyonce's feminism say about us?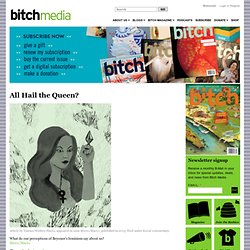 Illustration by Irana Douer. Who run the world? Virginie Marcucci, Desperate Housewives, miroir tendu au(x) féminisme(s) américain(s) ? Feministfrequency - YouTube-Mozilla Firefox. Content Warning: This educational episode contains graphic sexual and violent game footage.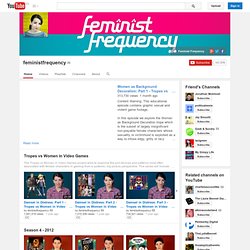 In this episode we explore the Women as Background Decoration trope which is the subset of largely insignificant non-playable female characters whose sexuality or victimhood is exploited as a way to infuse edgy, gritty or racy flavoring into game worlds. These sexually objectified female bodies are designed to function as environmental texture while titillating presumed straight male players.
This cartoon is about me. /via tumblinfeminist.tumblr.com & @gabrielrochab #feminism-Mozilla Firefox. Top 10 Pro-feminist Episodes of The Simpsons - Chicago Feminism and Relationships | Examiner.com-Mozilla Firefox. Congratulations go out to The Simpsons, the record-breaking, brilliant cartoon that taught television how to do satire, how to be subversive, and how to start a conversation on all things in pop culture worth talking about.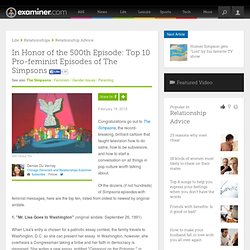 Of the dozens (if not hundreds) of Simpsons episodes with feminist messages, here are the top ten, listed from oldest to newest by original airdate. 1. "Mr.
---