Intercultural understanding
Reflections on language(s) and linguistics
Conflict Resolution and Peace Studies
Intercultural Communication
A selection of free websites and downloadable materials relating to language and culture in countries around the world. Review the sites before using them in your primary classroom and take care to supervise children online.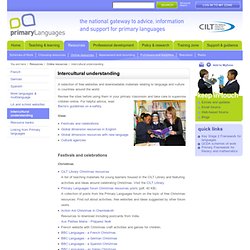 Intercultural understanding
Journal of Intercultural Studies
... to develop Intercultural Competence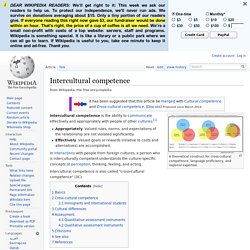 A theoretical construct for cross-cultural competence, language proficiency, and regional expertise. Intercultural competence is the ability to communicate effectively and appropriately with people of other cultures:[1] Appropriately. Valued rules, norms, and expectations of the relationship are not violated significantly.Effectively. Values goals or rewards (relative to costs and alternatives) are accomplished. In interactions with people from foreign cultures, a person who is interculturally competent understands the culture-specific concepts of perception, thinking, feeling, and acting.
Intercultural competence
Welcome to the intercultural understanding toolkit. The purpose of these pages is to examine in more depth how language departments can develop a stronger emphasis on culture in their key stage 3 curriculum. The importance of modern foreign languages Languages are part of the cultural richness of our society and the world in which we live and work. Learning languages contributes to mutual understanding, a sense of global citizenship and personal fulfilment. Pupils learn to appreciate different countries, cultures, communities and people.
Intercultural understanding toolkit | Supporting the new secondary curriculum for languages
themes / aspects / Elmar Holenstein: A Dozen Rules of Thumb for Avoiding Intercultural Misunderstandings
Intercultural Education
For fresh articles and content visit our blog! Below you will find access to a range of articles relating to cross cultural and intercultural communication. The articles touch upon a number of topics that will be of interest to a wide range of reader involved in intercultural communication such as international business personnel, HR staff, people working in public services and in many other areas where intercultural communication is an issue.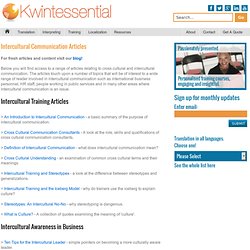 Intercultural Communication Articles
Andy Gillett looks at ways in which professional English language teachers can help other members of staff communicate better with international students. In my present job, I am often asked if I can help other members of staff, both academic and non-academic, to communicate with international students better. At the IATEFL conference in Brighton this year, I tried to explore ways in which experienced professional language teachers can use their knowledge and experience to do this.
Intercultural communication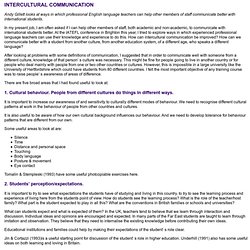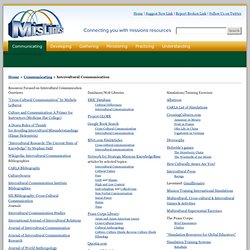 Home | Suggest New Link | Report Broken Link | Follow Us on Twitter Intercultural Communication Home > Communicating > Intercultural Communication
Intercultural Communication
Analyzing intercultural communication
Needs analysis