Course management / LMS
Tips Every Teacher should Know about Google Docs in Education ( Great Easy Guide ) Google has recently released a new service to the public called Google Drive.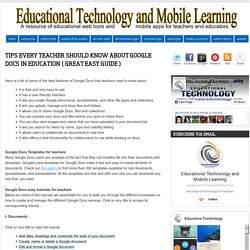 This is basically an online storage system that provides up to 5GB for free.It also has a desktop version that you can install on your computer and which will make it very easy to sync files between your computer and your Google Drive account. Google Documents is part of Google Drive and anything you create on Google Docs will automatically be saved in your Google Drive account. Anyway this is just a tidbit I want you to know before we start our Google Docs guide. Google Docs Tutorial. Activity 1: Sharing and Collaborating on a Document 1.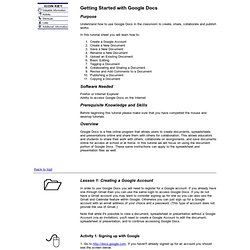 Click on All Items in your left navigation menu to show all the items that you have in your Google Docs account. Select which one you would like to share with another person by clicking the checkbox in front of the document. Then click on the More Actions button on the Menu bar and select Share. The Paperless Classroom with Google Docs. Schoology vs. Edmodo, Round 2 - Also, why Schoology solved my iPad workflow woes. In a previous post from December, I wrote about how I was (sadly) switching from Edmodo (my long-time LMS love) to Schoology.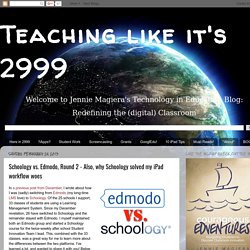 Of the 25 schools I support, 33 classes of students are using a Learning Management System. Since my December revelation, 26 have switched to Schoology and the remainder stayed with Edmodo. I myself maintained both an Edmodo group and started a Schoology course for the twice-weekly after school Student Innovation Team I lead. Schools Go Into the 'Cloud' to Embrace the Popularity of Social Media. Several start-up companies have begun offering cloud-based platforms that combine education and social media.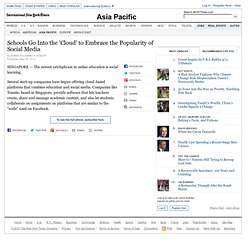 Companies like Teamie, based in Singapore, provide software that lets teachers create, share and manage academic content, and also let students collaborate on assignments on platforms that are similar to the "walls" used on Facebook. Learning management systems, or L.M.S.'s, have been around since the late 1990s, when Blackboard, a company in Washington D.C., introduced an online platform to help educators customize course management. Today, there are more than 60 companies providing such services worldwide. "Blackboard, Moodle and Sakaihave a philosophy that hasn't changed much since Blackboard first invented the space in the '90s," said Hunter Horsley, the head of marketing and operations at Lore,referring to other learning-management systems.
LMS Technology. Last month I had the opportunity to speak at the Pearson CiTE 2012 conference about my use of OpenClass – Pearson's new LMS/Learning Platform – in the course I taught at the University of Kentucky this semester.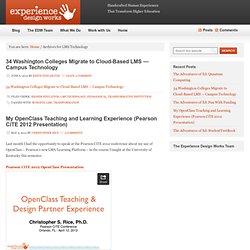 I love using OpenClass, and it's really opened up what I can do interms of project-based learning and active learning activities in the classroom. Here are a few of the highlights from my presentation: A lot of what drove my interest in using OpenClass emerged from the data Experience Design Works uncovered in an engagement in 2010 with the University of Kentucky where, in the course of a deep dive into both the Faculty and Student experiences for using Blackboard for teaching and learning, we found that things like clean, intuitive UI and the ability for a teaching and learning platform to enable (rather than hinder) student collaboration are of critical importance.
Google Course Builder: Implications For The Learning Community | KnowledgeVision. Google.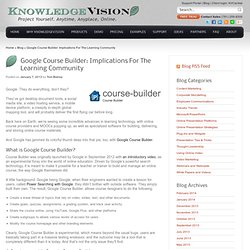 They do everything, don't they? They've got desktop document tools, a social media site, a video hosting service, a mobile device platform, a creepily in-depth global mapping tool, and will probably deliver the first flying car before long. Back here on Earth, we're seeing some incredible advances in learning technology, with online course providers and MOOCs popping up, as well as specialized software for building, delivering, and storing online course materials. Full Feature List | Haiku LMS | The K12 learning management system. Course-builder - Course Builder. Google Course Builder: quick take - Trust Dan. Daniel T.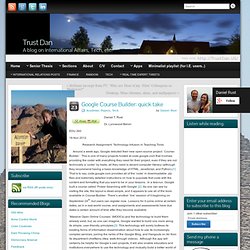 Rust Dr. Google Releases "Course Builder," an Open Source Platform for Building Your Own Big Online Courses. Earlier this year, we saw Udacity and Coursera take flight, two online ventures dedicated to offering Massive Open Online Courses (MOOCs) and democratizing education.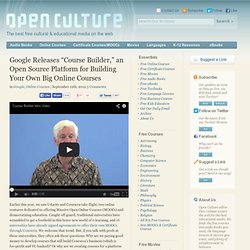 Caught off-guard, traditional universities have scrambled to get a foothold in this brave new world of e-learning, and 16 universities have already signed agreements to offer their own MOOCs through Coursera. We welcome that trend. Tech Devil: Online Alternatives to Blackboard. By Charlie JoslinFebruary 19, 2012 at 12:01 am "Blackboard's down again?!"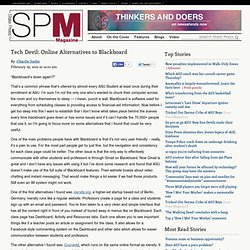 That's a common phrase that's uttered by almost every ASU Student at least once during their enrollment at ASU. I'm sure I'm not the only one who's wanted to chuck their computer across the room and cry themselves to sleep — I mean, punch a wall. Blackboard is software used for everything from scheduling classes to providing access to financial-aid information. Now before I get too deep into this I want to establish that I don't know what takes place behind the scenes every time blackboard goes down or has some issues and if it can't handle the 70,000+ people that use it, so I'm going to focus more on some alternatives that I found that could be very useful. Learning Management Systems Learning management... | Technoloducation. Iversity | The Collaboration Network for Academia. Compare - Higher Education. Choosing an LMS comesdown to 3 simple questions. 1 Will it get used?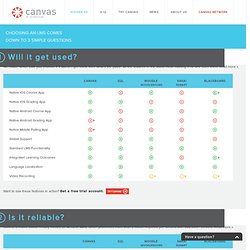 No matter which LMS you choose, if it doesn't get used, then what's the point? Instructure- canvas LMS, open learning management. Coursera. GoodSemester β. Lore (formerly Coursekit) Lore. Learn more. Pearson CourseConnect – Online and Blended Courses You Can Customize. Did you know that more than 6.7 million students are taking at least one online course? CourseConnect addresses the need to reach students online with a powerful suite of more than 130 award-winning, comprehensive online courses that can be personalized to best suit both the instructor's and student's needs.
CourseConnect can simplify your course design process, while putting a diverse array of tools and resources at your fingertips. …that your courseware is the best in its class. Google+ in the Classroom, One Year Later - Wired Campus. When Google+ made its debut last July, the social-networking site—which includes collaborative features such as videoconference "hangouts" and interest-based "circles" networks—was heralded as a potential boon for education technology and a possible alternative to traditional learning-management systems. But while some professors have incorporated it into their teaching, adoption appears more limited than its early fans predicted. This week we put out a call on our social networks, including our Wired Campus Twitter feed and personal Google+ account, seeking professors who had integrated Google+ into their courses.
Plenty of people spread the word, but only one professor responded with an example. That's hardly scientific, of course, but others said they were skeptical of the claim that Google+ is changing higher education. Why I pulled my classes from Google+ | The Theatre Professor. I've been sort of dreading writing this post. I tweeted it was coming a few days ago because I knew I wouldn't want to write it. As much as I tout the glories and benefits of failure I sure do hate when it's my turn to fail. That's okay though. Google+ Communities – Public or Private for the Classroom? | FreshmanComp.com.
When Google first opened up the Google+ Communities option, I thought it was a great idea, especially for classes. But then I started thinking about how that would work with a class, and now I'm not so sure it will work for my purposes. Don't get me wrong. Google+ For Educators. Playing with Google+ in my Hybrid Class | FreshmanComp.com. Last year I taught two semesters in a hybrid learning community with my colleague and friend Cindy Ortega. We met one day a week for 2 1/2 hours. The other 2 1/2 hours was spent online. I taught ENG102 Freshman Composition and she taught CRE101 Critical Reading.
Google+ In The Classroom: Using Circles to Encourage Student Engagement.
---