Basic Needs...
Category:Human rights by issue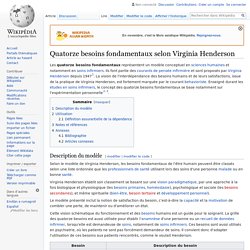 Quatorze besoins fondamentaux selon Virginia Henderson
Un article de Wikipédia, l'encyclopédie libre. Les quatorze besoins fondamentaux représentent un modèle conceptuel en sciences humaines et notamment en soins infirmiers . Ils font partie des courants de pensée infirmière et sont proposés par Virginia Henderson depuis 1947 [ 1 ] .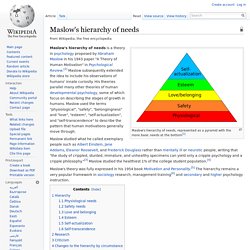 An interpretation of Maslow's hierarchy of needs, represented as a pyramid with the more basic needs at the bottom [ 1 ] Maslow's hierarchy of needs is a theory in psychology proposed by Abraham Maslow in his 1943 paper "A Theory of Human Motivation". [ 2 ] Maslow subsequently extended the idea to include his observations of humans' innate curiosity. His theories parallel many other theories of human developmental psychology , some of which focus on describing the stages of growth in humans.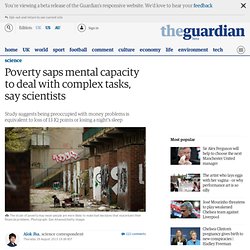 Poor people spend so much mental energy on the immediate problems of paying bills and cutting costs that they are left with less capacity to deal with other complex but important tasks, including education, training or managing their time, suggests research published on Thursday.
Poverty saps mental capacity to deal with complex tasks, say scientists | Science
The Right to Equal Protection is a concept that was introduced into the Constitution of the United States during the American Civil War . It is intended to protect the rights provided by the United States Constitution for all individuals regardless of race, ethnicity, gender, etc. It is fundamentally based on the Fourteenth Amendment of the Constitution, intended to secure rights for former slaves. The Constitution is claimed to uphold racial and gender equality , but until the 1950s, enforcing slavery , segregation , and gender inequality were major aspects of the history of the American federal government. [ edit ] Constitutional basis of equal rights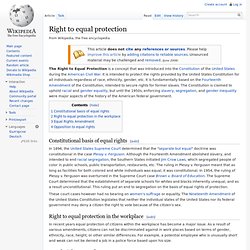 Right to equal protection
Right to protest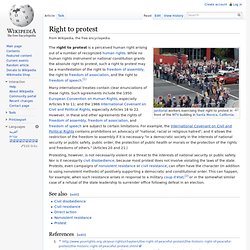 The right to protest is a perceived human right arising out of a number of recognized human rights . While no human rights instrument or national constitution grants the absolute right to protest, such a right to protest may be a manifestation of the right to freedom of assembly , the right to freedom of association , and the right to freedom of speech . [ 1 ] Many international treaties contain clear enunciations of these rights. Such agreements include the 1950 European Convention on Human Rights , especially Articles 9 to 11; and the 1966 International Covenant on Civil and Political Rights , especially Articles 18 to 22.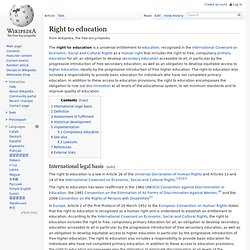 Right to education
The right to education is a universal entitlement to education , a right that is recognized as a human right . According to the International Covenant on Economic, Social and Cultural Rights the right to education includes the right to free, compulsory primary education for all, [ 1 ] an obligation to develop secondary education accessible to all, in particular by the progressive introduction of free secondary education, [ 2 ] as well as an obligation to develop equitable access to higher education , ideally by the progressive introduction of free higher education. [ 3 ] The right to education also includes a responsibility to provide basic education for individuals who have not completed primary education. In addition to these access to education provisions, the right to education encompasses the obligation to rule out discrimination at all levels of the educational system, to set minimum standards and to improve quality of education. [ 4 ] [ edit ] International legal basis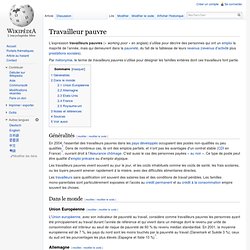 Un article de Wikipédia, l'encyclopédie libre. L'expression travailleurs pauvres (« working poor » en anglais) s'utilise pour décrire des personnes qui ont un emploi la majorité de l'année, mais qui demeurent dans la pauvreté , du fait de la faiblesse de leurs revenus ( revenus d'activité plus prestations sociales ). Par métonymie , le terme de travailleurs pauvres s'utilise pour désigner les familles entières dont ces travailleurs font partie. Généralités [ modifier ] En 2004, l'essentiel des travailleurs pauvres dans les pays développés occupaient des postes non-qualifiés ou peu qualifiés [ 1 ] . Dans de nombreux cas, ils ont des emplois partiels, et n'ont pas les avantages d'un contrat stable ( CDI en France) [ 1 ] , ouvrant droit à l' Assurance chômage .
Travailleur pauvre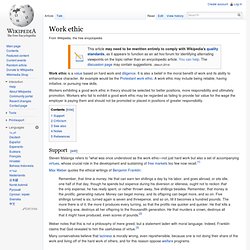 Work ethic is a set of values based on hard work and diligence . It is also a belief in the moral benefit of work and its ability to enhance character. An example would be the Protestant work ethic . A work ethic may include being reliable, having initiative, or pursuing new skills. Workers exhibiting a good work ethic in theory should be selected for better positions, more responsibility and ultimately promotion. Workers who fail to exhibit a good work ethic may be regarded as failing to provide fair value for the wage the employer is paying them and should not be promoted or placed in positions of greater responsibility.
Work ethic
Decent work is the availability of employment in conditions of freedom, equity, human security and dignity . According to the International Labour Organization ILO , Decent Work involves opportunities for work that is productive and delivers a fair income, security in the workplace and social protection for families, better prospects for personal development and social integration, freedom for people to express their concerns, organize and participate in the decisions that affect their lives and equality of opportunity and treatment for all women and men. United Nations Economic and Social Council has also given a General Comment [ 1 ] that defines "decent work" and requires satisfaction of Article 7 of the International Covenant on Economic, Social and Cultural Rights . The ILO is developing an agenda for the community of work, represented by its tripartite constituents, to mobilize their considerable resources to create those opportunities and to help reduce and eradicate poverty [1] .
Decent work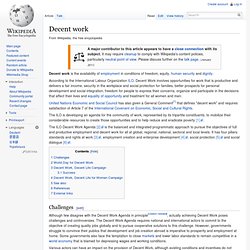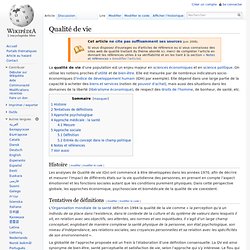 Un article de Wikipédia, l'encyclopédie libre. La qualité de vie d'une population est un enjeu majeur en sciences économiques et en science politique . On utilise les notions proches d' utilité et de bien-être . Elle est mesurée par de nombreux indicateurs socio-économiques (l' indice de développement humain (IDH) par exemple).
Qualité de vie
In public policy, a living wage or subsistence wage is the minimum income necessary for a worker to meet basic needs (for an extended period of time or for a lifetime). These needs include shelter (housing) and other incidentals such as clothing and nutrition. In some nations such as the United Kingdom and Switzerland , this standard generally means that a person working forty hours a week, with no additional income, should be able to afford a specified quality or quantity of housing, food , utilities , transport , health care , and recreation , although in many cases child care , education , saving for retirement , and less commonly legal fees and insurance may cost a family more than food, utilities, transport, or health care. In addition to this definition, living wage activists further define "living wage" as the wage equivalent to the poverty line for a family of four.
Living wage
The quest to end poverty | TED Playlists | TED
Niveau de vie
Un article de Wikipédia, l'encyclopédie libre. Le niveau de vie fait référence à la qualité et quantité des biens et services qu'une personne ou une population entière peut s'approprier. Il ne doit pas être confondu avec la notion connexe mais distincte de « Genre de vie » Mesure et définition [ modifier ] Une mesure généralement utilisée du niveau de vie, pour une zone donnée, est le revenu par habitant réel (i.e. en prenant en compte l' inflation ) par personne. Parfois d'autres mesures peuvent être utilisées, par exemple l'accès à certains biens (comme le nombre de réfrigérateurs pour 1000 personnes) ou des mesures de santé (comme l' espérance de vie ).
There is now, in formal international human rights law, an acknowledged human right to water and sanitation. In 28 July 2010, following many years of discussion, debate, and negotiation, 122 countries formally acknowledged the "right to water" in a General Assembly (GA) resolution (A/64/292, based on draft resolution A/64/L.63/Rev.1). [ 1 ] Two months later, on September 24, 2010, the UN Human Rights Council adopted a binding resolution recognizing that the human right to water and sanitation are a part of the right to an adequate standard of living. [ 2 ] That resolution, in part: "Affirms that the human right to safe drinking water and sanitation is derived from the right to an adequate standard of living and inextricably related to the right to the highest attainable standard of physical and mental health, as well as the right to life and human dignity"
Right to water
Right to food
Right to food around the world (as of 2011-2012). [ 1 ] [ 2 ] [ 3 ] Adopted or drafting a framework law (19). Constitutional, explicit as a right (23). Constitutional, implicit in broader rights or as directive principle (41). Direct applicability via international treaties (103).
Droit à l'eau
Un article de Wikipédia, l'encyclopédie libre. Le droit à l'eau en tant que droit de l'homme (fondé sur le droit international ) couvre deux dynamiques : Introduction au « droit à l'eau » [ modifier ] 1° L'évolution du droit international, et en particulier du droit international relatif aux droits de l'homme (DIDH) qui en 2002, via le Comité des droits économiques, sociaux et culturels des Nations Unies(CDESC / Engl. UN CESCR) [ 1 ] , a présenté une liste des obligations des gouvernements afin que ces derniers garantissent le « droit à l'eau » de leur population : l'observation générale n°15 [ 2 ] .
"basic needs"
About 2,640,000 results (0.31 seconds)
About 179,000 Large results (0.46 seconds) by noosquest May 12
Basic needs
Basic Needs (Year 4)
Choice theory
Choice Theory Psychology, Reality Therapy, Lead Management, & Quality Schools
Choice Theory | Rebekah's Blog
BasicNeeds – Building a better world with mentally ill people
Center for Cognitive Liberty & Ethics (CCLE)
Basic Needs Approach, Appropriate Technology, and Institutionalism by Mohammad Farooq
Right to an adequate standard of living
Poverty reduction
Quality of life