Ancient civilizations
Gallery of mystery
part 2 Peru bronze wheels, described by professor Rafael Larco Hoyle in his work "Peru"; they resemble very much modern gears.
Embedded Anomalies, by Patrick Cooke
By Patrick Symmes | Newsweek.com They call it potbelly hill, after the soft, round contour of this final lookout in southeastern Turkey. To the north are forested mountains. East of the hill lies the biblical plain of Harran, and to the south is the Syrian border, visible 20 miles away, pointing toward the ancient lands of Mesopotamia and the Fertile Crescent, the region that gave rise to human civilization. And under our feet, according to archeologist Klaus Schmidt, are the stones that mark the spot—the exact spot—where humans began that ascent. Standing on the hill at dawn, overseeing a team of 40 Kurdish diggers, the German-born archeologist waves a hand over his discovery here, a revolution in the story of human origins.
History in the Remaking - Temple complex in Turkey that predates pyramids rewriting story of human evolution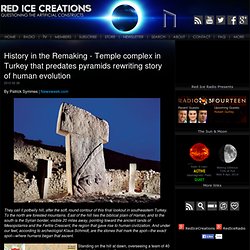 Technologies of The Gods
The Modern Past - Ancient Hi Tech Evidences / El Pasado Moderno - Antiguas Evidencias de Alta Tecnología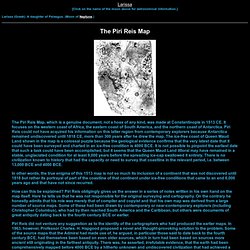 The Piri Reis Map The Piri Reis Map, which is a genuine document, not a hoax of any kind, was made at Constantinople in 1513 CE. It focuses on the western coast of Africa, the eastern coast of South America, and the northern coast of Antarctica. Piri Reis could not have acquired his information on this latter region from contemporary explorers because Antarctica remained undiscovered until 1818 CE, more than 300 years after he drew the map. The ice-free coast of Queen Maud Land shown in the map is a colossal puzzle because the geological evidence confirms that the very latest date that it could have been surveyed and charted in an ice-free condition is 4000 BCE. It is not possible to pinpoint the earliest date that such a task could have been accomplished, but it seems that the Queen Maud Land littoral may have remained in a stable, unglaciated condition for at least 9,000 years before the spreading ice-cap swallowed it entirely.
Ancient Maps (Morgana's Observatory)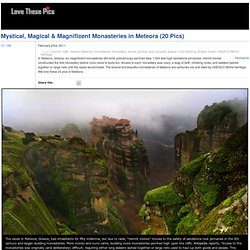 The caves in Meteora, Greece, had inhabitants for fifty millennia, but due to raids, "hermit monks" moved to the safety of sandstone rock pinnacles in the 9th century and began building monasteries. More monks and nuns came, building more monasteries perched high upon the cliffs.
UFO Aliens may have helped build Pyramids of Giza says, Cairo university archeologist Head of the Cairo University Archaeology Department, Dr Ala Shaheen in December 2010 had told an audience that there might be truth to the theory that aliens helped the ancient Egyptians build the oldest of pyramids, the Pyramids of Giza. On being further questioned by Mr Marek Novak, a delegate from Poland as to whether the pyramid might still contain alien technology or even a UFO with its structure, Dr Shaheen, was vague and replied "I can not confirm or deny this, but there is something inside the pyramid that is "not of this world".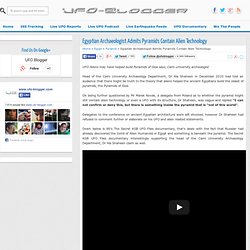 Click here for the PDF version of this interview (20 pages) Click here for the video presentation March 2010 **Ed note: Some transcripts contain words or phrases that are inaudible or difficult to hear and are, therefore, designated in square brackets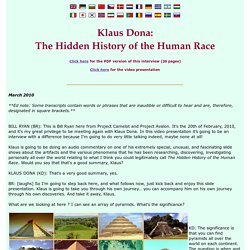 Most Puzzling Ancient Artifacts
Sumerian Gods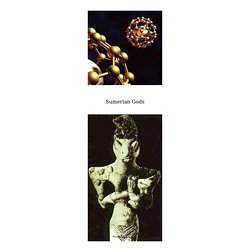 Sitchins translations Re sitchins translations
Ruthless Truth • View topic - sumerian tablets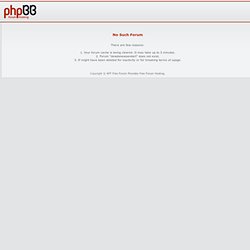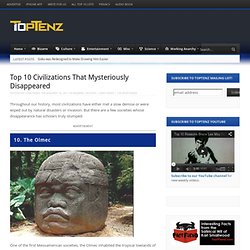 You are here: Home / Bizarre / Top 10 Civilizations That Mysteriously Disappeared
Latest Ancient History
UFOs & Astronaut Dr. Edgar Mitchell
"Make no mistake, Roswell happened. I've seen secret files which show the government knew about it — but decided not to tell the public.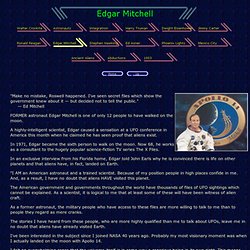 The report is about an Earth based scenario, a combination of the possibilities inherent in a background Earth story, some possible hypotheses by me, and then some visual evidence to add into the mix. It will be up to you to decide if there is any merit. First we'll start with the background story.
Lost city 'could rewrite history' By BBC News Online's Tom Housden The remains of what has been described as a huge lost city may force historians and archaeologists to radically reconsider their view of ancient human history.
In 1848, an archaeological expedition working in Egypt discovered strange hieroglyphs on a ceiling beam at an ancient temple in Abydos, several hundred miles south of Cairo. The hieroglyphs were carefully copied and brought back to Europe. The mysterious images gave rise to heated debate amongst Egyptologists.