Etiquetage (sciemment) inapproprié
Why Are "All Natural" Products Disappearing From Stores?
7 Lies the Food Industry Sells Us
A copy of your letter of support will be delivered to the the CEOs of Naked Juice and PepsiCo and a copy will also be given to the court on your behalf:
Tell Naked Juice to Get Serious About Honest Labeling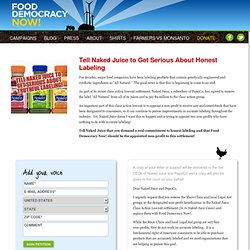 How Many Calories Do You See in This Pizza? - Part 2
Advertising the Worst Cereals to Kids
What Gross Secret Ingredients are Hiding in Your Food?
Food Labels Aren't Accurate (And That's Dangerous)
Food Labels Lie
Nutella's Labels Make It Seem More Healthy Than It Is
Le canular des jus « 100% oranges pressées »
Fruit Juices: Don't Let the "Pure" Label Fool You
Fungicide Detected in Orange Juice Prompts FDA Testing