Etiquetage (sciemment) inapproprié
3 Lies Cleaning Product Labels Tell You
Beware! The 6 Most Mislabeled Foods
Why Are "All Natural" Products Disappearing From Stores?
7 Lies the Food Industry Sells Us
A copy of your letter of support will be delivered to the the CEOs of Naked Juice and PepsiCo and a copy will also be given to the court on your behalf: Dear Naked Juice and PepsiCo, I urgently request that you remove the Mayo Clinic and local Legal Aid groups as the designated non-profit beneficiaries in the Naked Juice Class Action Lawsuit settlement (In re Naked Juice Cases) and replace them with Food Democracy Now!. While the Mayo Clinic and local Legal Aid group are very fine non-profits, they do not work on accurate labeling.
Tell Naked Juice to Get Serious About Honest Labeling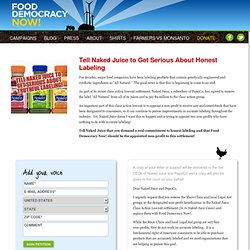 Last week, McDonald's announced that it would begin posting calorie counts on the menu boards at its more than 14,000 locations in the U.S. "At McDonald's, we recognize customers want to know more about the nutrition content of the food and beverages they order," said McDonald's USA President Jan Fields. "As a company that has provided nutrition information for more than 30 years, we are pleased to add to the ways we make nutrition information available to our customers and employees." In 2010, under the Affordable Care Act, menu labeling regulations became law, requiring restaurants and similar retail food establishments to post calorie counts adjacent to the items on menus and menu boards. In other words, McDonald's would have had to do it one way or the other. "Several health advocates slammed McDonald's Corp., accusing it of disingenuously spinning an inevitable requirement as if it were a voluntary decision," the Los Angeles Times reported.
How Many Calories Do You See in This Pizza? - Part 2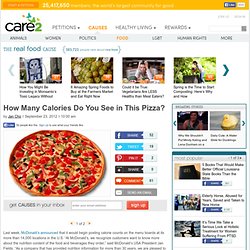 Advertising the Worst Cereals to Kids
What Gross Secret Ingredients are Hiding in Your Food?
Food Labels Aren't Accurate (And That's Dangerous)
Food Labels Lie
Nutella's Labels Make It Seem More Healthy Than It Is
Fruit Juices: Don't Let the "Pure" Label Fool You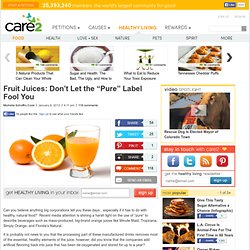 Can you believe anything big corporations tell you these days…especially if it has to do with healthy, natural food? Recent media attention is shining a harsh light on the use of "pure" to describe beverages such as mass-produced, big-brand orange juices like Minute Maid, Tropicana, Simply Orange, and Florida's Natural. It is probably not news to you that the processing part of these manufactured drinks removes most of the essential, healthy elements of the juice; however, did you know that the companies add artificial flavoring back into juice that has been de-oxygenated and stored for up to a year? Year-old juice with artificial flavor is not my idea of pure.
The fungicide carbendazim is used in Brazil but not approved to use on citrus in the US. After a yet unnamed company reported detecting low levels of carbendazim in its own orange juice and in its competitors,' the FDA said that it will increase testing to ensure that contamination is not an issue. FDA official Nega Beru says that, because the FDA "doesn't believe the levels of residue are harmful," juice that is currently being sold in stores will not be recalled. The industry has been asked to ensure that suppliers in Brazil and elsewhere do not use carbendazim, a chemical used to control fungi or fungal spores. Testing by the company detected levels up to 35 parts per billion of the fungicide in orange juice, says the FDA. This figure is still below the European Union's maximum residue level of 200 parts per billion; the US has yet to establish a maximum residue level for carbendazim.
Fungicide Detected in Orange Juice Prompts FDA Testing