Fashion
Seana Stevenson sur Twitter : "Updated: Day to night looks based on these great pants #fashion... Seana Stevenson sur Twitter : "Updated: #Black and #yellow #fashion profile. Seana Stevenson sur Twitter : "Updated: The #fashion of #DowntonAbbey. Seana Stevenson on Twitter: "Updated: Clash of the #Flowers, #fashion editorials featuring #floral prints. Seana Stevenson on Twitter: "Updated: #Classic but #modern #fashion, perfect for an afternoon tea.
Seana Stevenson on Twitter: "Updated: #TaylorSwifts '70s #fashion editorial for @voguemagazine. Seana Stevenson sur Twitter : Updated: #Fall is the best time for #fashion, Fall. Fall is one of the most beautiful times of the year.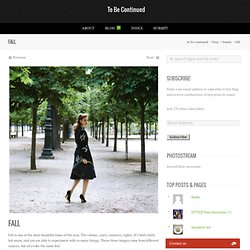 The colours, coats, sweaters, tights. It's both chilly but warm, and you are able to experiment with so many things. Seana Stevenson sur Twitter : Updated: #GetTheLook based on #JenniferSarkilahti apartment #fashion... Seana Stevenson sur Twitter : Updated: #Fashion based on the #PatrickDemarchelier shoot #SweptAway for @voguemagazine. Fishing. #blimfallfashion show at #fortunesoundclub was incredible #fa. PublicDomainRev : A 16th century outfit made... A little wander down the catwalk of time… SeanaSteve : Preview of my photos from... Sophia Loren, Raquel Welch & More Vintage Style Icons In Swimsuits.
Club Monaco Fall 2012. Madewell Fall Lookbook 2012. A Sly Wink to Pinups of the Past. Ms.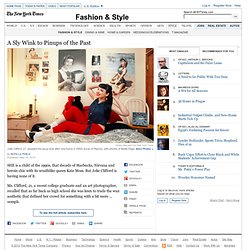 Clifford, 21, a recent college graduate and an art photographer, recalled that as far back as high school she was keen to trade the wan aesthetic that defined her crowd for something with a bit more ... oomph. She found it one day while sifting through a trash container, where she unearthed a dog-eared 1950s Playboy. Inside were photographs of showing off the trademark cherry-tone lips and little-girl bangs that made her the most popular pinup of her day. "I know that back in the '50s, her images were porno material, but they're classy now," Ms. Video: Tour the 'Schiaparelli and Prada' Met Exhibit, Plus a Q&A With Curator Andrew Bolton -- The Cut. After yesterday's press preview of the Met Costume Institute's new exhibit, "Schiaparelli and Prada: Impossible Conversations," we got our own private tour with Andrew Bolton, who co-curated the show with Harold Koda.
He wasn't coy about some of the exhibit's hairier aspects, admitting that "initially Miuccia was rather baffled by the pairing of Schiaparelli and herself. " To write the scripts for the fictional "conversations" between the two designers, Bolton spent months combing through Schiaparelli's autobiography, interviewing Miuccia Prada in Milan, and sifting through both designers' archives. He told us all about the process of putting the show together and how it differs from last year's record-breaking McQueen exhibit; you can also see a video tour of the galleries. All-TIME Top 100 Icons in Fashion, Style and Design. Women's Shoes, Dress Shoes, High Heels, Women's Boots, Evening Shoes, Heels.com. Scenes of mall madness '89 - Slideshows and Picture Stories. Capitol Couture. The Best of NYFW Interpreted As Obscure Architecture.
With New York Fashion Week drawing to a close, we thought we'd hand out a few unofficial awards to recap the week of mayhem and highlight what stood out in and around the collections.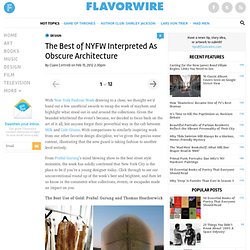 Given the branded whirlwind the event's become, we decided to focus back on the art of it all, lest anyone forgot their proverbial way in the cab between Milk and Cafe Gitane. With comparisons to similarly inspiring work from our other favorite design discipline, we've given the genius some context, illustrating that the new guard is taking fashion to another level entirely. From Prabal Gurung's mind blowing show to the best street style moments, the week has solidly confirmed that New York City is the place to be if you're a young designer today. Click through to see our unconventional round up of the week's best and brightest, and then let us know in the comments what collections, events, or escapades made an impact on you. 100 YEARS / STYLE / EAST LONDON. New York Fashion Week 2012: A Brief History.
Prior to World War II, American fashion didn't get much — if any — time in the spotlight.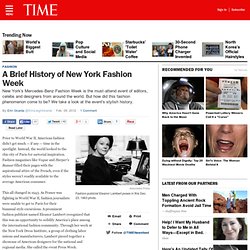 Instead, the world looked to the chic city of Paris for sartorial inspiration. Fashion magazines like Vogue and Harper's Bazaar filled their pages with the aspirational attire of the French, even if the styles weren't readily available to the average American consumer. This all changed in 1943. CdCblanc's deviantART Gallery. The 7 Most Baffling Things About Women's Clothes. #3.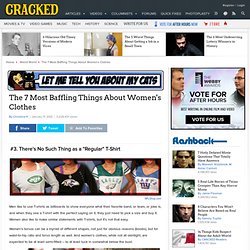 There's No Such Thing as a "Regular" T-Shirt NFLShop.com Men like to use T-shirts as billboards to show everyone what their favorite band, or team, or joke is, and when they see a T-shirt with the perfect saying on it, they just need to pick a size and buy it. Women also like to make similar statements with T-shirts, but it's not that easy. Gossip Girl Season 5 Fashion: Shop the Looks. Get a Personalized Fashion and Beauty Newsletter!
Help us customize your newsletter by selecting your interests (optional): Share This Link Copy Start What's Your Reaction? Hollywood's Power Stylists. When Reese Witherspoon stepped out in 2007, after her breakup with Ryan Phillippe, her tight yellow Nina Ricci dress lent her an unaccustomed oomph.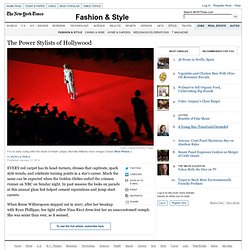 She was sexier than ever, so it seemed. Two years ago, Maggie Gyllenhaal injected spirit into her modest indie profile with a peach-tone mermaid silhouette by Roland Mouret.
Jewelry
Marie Claire's Joanna Coles on Stepping Into Tim Gunn's Project Runway Shoes and the Importance of Wearing Underwear -- The Cut. Project Runway's tenth season starts this Thursday on Lifetime, and it's an All-Star lineup.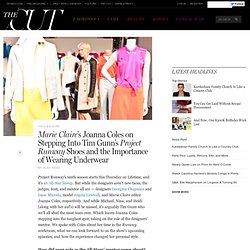 But while the designers aren't new faces, the judges, host, and mentor all are — designers Georgina Chapman and Isaac Mizrahi, model Angela Lindvall, and Marie Claire editor Joanna Coles, respectively. And while Michael, Nina, and Heidi (along with her auf's) will be missed, it's arguably Tim Gunn who we'll all shed the most tears over. Which leaves Joanna Coles stepping into the toughest spot, taking on the role of the designers' mentor.
Elle Fanning's Fashion Timeline. When Elle first hit the Hollywood scene as a child, she was mostly known as Dakota Fanning's lookalike little sister.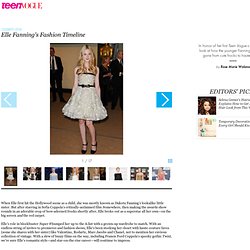 But after starring in Sofia Coppola's critically-acclaimed film Somewhere, then making the awards show rounds in an adorable crop of bow-adorned frocks shortly after, Elle broke out as a superstar all her own—on the big screen and the red carpet. Elle's role in blockbuster Super 8 bumped her up to the A-list with a grown-up wardrobe to match. With an endless string of invites to premieres and fashion shows, Elle's been stocking her closet with haute couture faves (some she shares with her sister) like Valentino, Rodarte, Marc Jacobs and Chanel, not to mention her envious collection of vintage. Wardrobe Mistress - fashion must go on — Welcome.
Photo 1- The Top 10 Pre-Fall Collections Of 2012. 25 Most Controversial Trendsetters. The Fug Girls: The Eleven Most Stylish Celebrities of 2011 -- The Cut. For us mere mortals, the end of the calendar year usually leads to such stirring self-reflections as, "Did I go totally broke this year? " and "Do any of my pants still fit?
" But for celebrities, we imagine the scorecard is more consumed by things like "number of cleanses completed," their ratio of bought shoes to free ones, and, of course, a tally of tabloid covers and fashion-police arrests. Sadly, we can't help them with the state of their colons or shoe closets, but we can single out a handful of stars who can rest easy this holiday season knowing that no matter what else went awry, their wardrobe did not. "Chambord" - StumbleUpon.
---