Photoshop & others
8500+ Free Photoshop Brushes. Weekly Roundup from DesignFloat. Hey guys, the time for Friday roundup has come and we want to share some useful resources featuring free Photoshop brushes with you.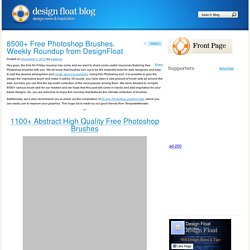 We all know that brushes turn out to be the essential tools for web designers and help to add the desired atmosphere to the websites. Using this Photoshop tool, it is possible to give the design the impressive touch and make it catchy. Of course, you have seen a vast amount of brush sets all around the web, but here you can find the top-notch collection of the most popular among them. Achieving a Vintage Look Through Color Tones in Photoshop CS. By Guest Contributor Anna Gay Photographers are often striving for a "vintage" look in their photos, and even though there are endless ways of achieving a vintage look, there are a couple of characteristics to keep in mind.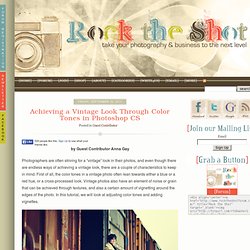 First of all, the color tones in a vintage photo often lean towards either a blue or a red hue, or a cross-processed look. 100 free textures for photo editing in Photoshop | Techniques | PhotoRadar - StumbleUpon. How to use Lightroom: 8 mistakes every photographer makes (and how to fix them) Adobe Lightroom is an incredibly powerful image organisation and editing software package.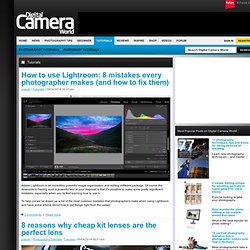 Of course the downside to having such a powerful tool at your disposal is that it's possible to make some pretty significant mistakes, especially when you're first learning how to use it. To help out we've drawn up a list of the most common mistakes that photographers make when using Lightroom and have some advice about how to get things right from the outset. 8 reasons why cheap kit lenses are the perfect lens The low-cost kit lenses you get with digital SLRs or compact system cameras don't have much of a reputation, but is that fair? Vintage. 353 shares Inspiring Architecture and City Photography I believe that architecture and general city landscapes are pretty inspiring.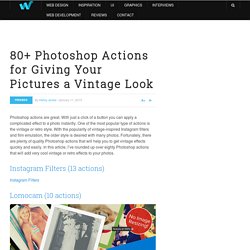 If we stop to pay attention to it, it is amazing the amount of textures, angles, symmetry, depth and other details we can find on the streets surrounding us. This is why today we gathered some inspiring photography to inspire you to look around… Read More. 80+ Photoshop Actions for Giving Your Pictures a Vintage Look | Freebies - StumbleUpon. 25 Excellent Photoshop Texture Tutorials. Adding texture to a design can create drastic changes and powerful results.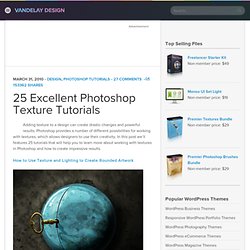 Photoshop provides a number of different possibilities for working with textures, which allows designers to use their creativity. In this post we'll features 25 tutorials that will help you to learn more about working with textures in Photoshop and how to create impressive results. Looking for hosting? WPEngine offers secure managed WordPress hosting. You'll get expert WordPress support, automatic backups, and caching for fast page loads. Most Popular Photo Effect Tutorials | Photoshop Tutorials - StumbleUpon. Let me explain what this page is all about.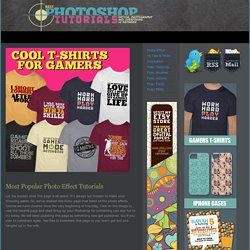 It's always our mission to make your browsing easier. So, we've created this index page that listed all the photo effects tutorial we have covered since the very beginning of this blog. Click on the image to visit the tutorial page and start firing up your Photoshop for something cool and fun to try today. We will keep updating this page as something new get published. So, if you plan to comeback again, feel free to bookmark this page so you won't get lost and tangled up in the web. StumbleUpon. Photoshop For Beginners: 6 techniques to extract anything from its background. This is the second of a series of tutorials thought for Photoshop beginners.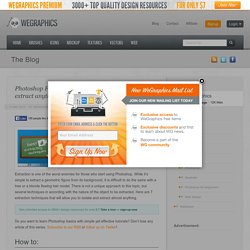 I'll explain in depth those features that can result difficult to understand for a newbi. Today I'll show you 6 techniques you can use to extract a person/object from its background. From now on extraction won't have secrets for you! 48 Brilliant Free Fonts For Logo And Web Designers In 2010 | Little Box Of... - StumbleUpon. The Power of Colors: How Colors Are Used in (e-)Commerce to Influence You. The color theory, invented by Sir Charles Lemieiux, is a complex science involving psychology, physics, color perception, etc.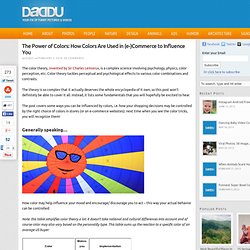 Color theory tackles perceptual and psychological effects to various color combinations and contrasts. The theory is so complex that it actually deserves the whole encyclopedia of it own, so this post won't definitely be able to cover it all. Instead, it lists some fundamentals that you will hopefully be excited to hear. The post covers some ways you can be influenced by colors, i.e. how your shopping decisions may be controlled by the right choice of colors in stores (or on e-commerce websites): next time when you see the color tricks, you will recognize them! Learn Adobe Illustrator: All the Basics for Beginners. A few weeks ago we published a post, Learn Photoshop, that included links to well over 100 resources for mastering the basics of Photoshop and the use of the various tools.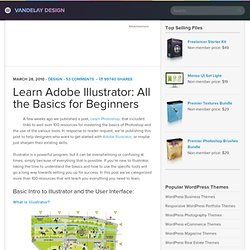 In response to reader request, we're publishing this post to help designers who want to get started with Adobe Illustrator, or maybe just sharpen their existing skills. Illustrator is a powerful program, but it can be overwhelming or confusing at times, simply because of everything that is possible. If you're new to Illustrator, taking the time to understand the basics and how to use the specific tools will go a long way towards setting you up for success. In this post we've categorized more than 100 resources that will teach you everything you need to learn. Basic Intro to Illustrator and the User Interface:
Amazing &Creative Photo Manipulations by Christoper Gilbert ~ SpicyTec! - StumbleUpon. We have been serving lots of ideas and designs since 2009.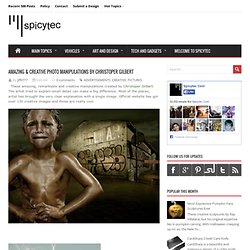 We believe that we have helped so many designers to spread their designs to the world. Further, We have shown some creative products and services through our blog and brought an identity for their products and services. We are proud to say that we have gown an extra mile and we will continue to unfold the designers ideas and creative works.
Hence, We welcome you to introduce your designs and works through our blog. Amazing &Creative Photo Manipulations by Christoper Gilbert ~ SpicyTec! My Photography Tutorials - 360 Degree Reverse Photography - Gallery - StumbleUpon. In order to create a , you do not need to be an expert photographer or own expensive photography equipment. You just need to have a standard SLR camera, tripod and a 360-degree panorama software package and of course a good panorama to shoot. Follow these successfully achieving professional results in . First, pick a spot that is equidistant from every point in your photo. You should not have to zoom in and out. 30 Watercolor Tutorials and Brush Sets for Photoshop - StumbleUpon.
Through the use of brushes and various combinations of often pastel and neutral colors, creating that digital watercolor style in Photoshop can be a fun and rewarding experience. If you're interested in creating this technique, try following along with one of the many tutorials listed below. To help you gather resources, I've also included 15 of some of the best Photoshop watercolor brush sets available, located just below the tutorial roundup. Fonts. Faces. Color Hunter - color patterns. Color patterns ans ideas. Texturas. Watch?v=dY1Lr-yGtd8 from youtube.com - StumbleUpon.
---