Evolution
Pseudogenes, or "false genes," were initially thought to be mutated and useless genetic "junk" since they don't code for proteins. When they were first discovered, evolutionists claimed they were leftovers of Darwinian evolution. But ongoing studies clearly show that the evolutionary interpretation was premature and even misleading.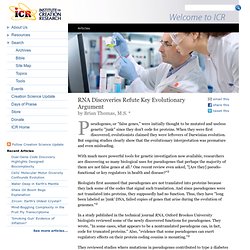 RNA Discoveries Refute Key Evolutionary Argument
Stalin's Brutal Faith
Some have the mistaken notion that faith and religion are linked inseparably with the confession of a supreme being, but many exercise faith in self and other human beings--to the exclusion of the divine. This, too, is religion.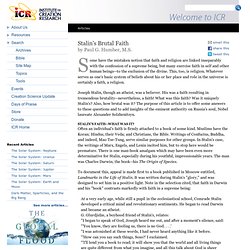 G. Stanley Hall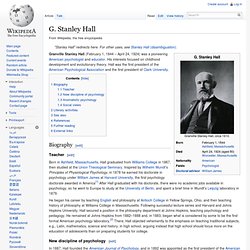 Granville Stanley Hall (February 1, 1844 – April 24, 1924) was a pioneering American psychologist and educator.
Danette Clark: Secularists in Today's American classroom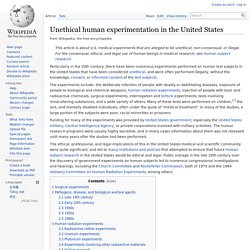 Unethical human experimentation in the United States
Particularly in the 20th century, there have been numerous experiments performed on human test subjects in the United States that have been considered unethical, and were often performed illegally, without the knowledge, consent, or informed consent of the test subjects.
Nazi human experimentations were a series of medical experiments on large numbers of prisoners, mainly Jews (including Jewish children) from across Europe, but also in some cases Romani, Soviet POWs and disabled non-Jewish Germans, by Nazi Germany in its concentration camps mainly in the early 1940s, during World War II and the Holocaust. Prisoners were coerced into participating; they did not willingly volunteer and there was never informed consent. Typically, the experiments resulted in death, disfigurement or permanent disability, and as such are considered as examples of medical torture.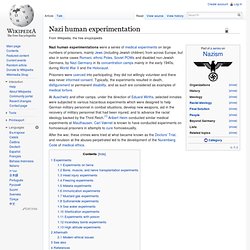 Nazi human experimentation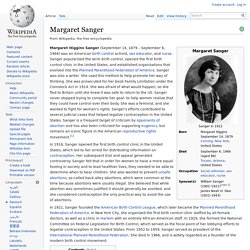 Margaret Sanger
Margaret Higgins Sanger (September 14, 1879 – September 6, 1966) was an American birth control activist, sex educator, and nurse.
Eugenics (/juːˈdʒɛnɪks/; from Greek eu, meaning "good/well", and -genēs, meaning "born") is the belief and practice of improving the genetic quality of the human population.[2][3] It is a social philosophy advocating the improvement of human genetic traits through the promotion of higher reproduction of people with desired traits (positive eugenics), and reduced reproduction of people with less-desired or undesired traits (negative eugenics).[4]
Eugenics
Winning family of a Fitter Family contest stand outside of the Eugenics Building (where contestants register) at the Kansas Free Fair, in Topeka, KS.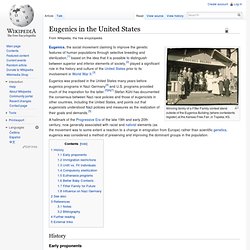 Eugenics in the United States
Evolution Indoctrination: Before and After Federal Funding (Charts) | Creation Science Evangelism
Education theory
Education theory seeks to know, understand and prescribe educational practices. Education theory is informed by many disciplines including history, philosophy, sociology, psychology, and neuroscience. Educational thought[edit]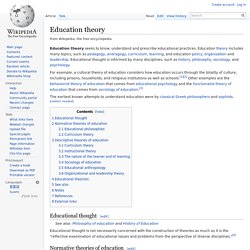 The theory of recapitulation, also called the biogenetic law or embryological parallelism— often expressed in Ernst Haeckel's phrase as "ontogeny recapitulates phylogeny"—is a largely discredited biological hypothesis that in developing from embryo to adult, animals go through stages resembling or representing successive stages in the evolution of their remote ancestors. With different formulations, such ideas have been applied and extended to several fields and areas, including the origin of language, biology, cognition and mental activities,[1] anthropology,[2] education theory[3] and developmental psychology.[4] While examples of embryonic stages show that molecular features of ancestral organisms exist, the theory of recapitulation itself has been viewed within the field of developmental biology as a historical side-note rather than as dogma.[5][6][7] By contrast, there is no consensus against the validity of the theory outside biology.
Recapitulation theory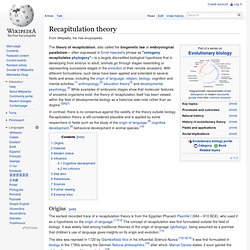 Evolution News & Views: "No Real Conflict When One Side Gives Up
Richard M.
Who wrote the following words: (A) Phillip Johnson, (B) Jonathan Wells, or (C) Michael Shermer? We should not, however, cover up, hide, suppress or, worst of all, use the state to quash someone else's belief system.
Evolution News & Views: Michael Shermer's Conflicted Message
American Thinker: The Evolutionary Scientists: Apostles of a New Morality
Most evolutionary scientists are unacquainted with the nearly extinct brand of academic deference which comes from a humbling realization that a science degree does not automatically confer a plenary understanding of the vast complexity of the universe.
On the Origin of Species
Various evolutionary ideas had already been proposed to explain new findings in biology. There was growing support for such ideas among dissident anatomists and the general public, but during the first half of the 19th century the English scientific establishment was closely tied to the Church of England, while science was part of natural theology. Ideas about the transmutation of species were controversial as they conflicted with the beliefs that species were unchanging parts of a designed hierarchy and that humans were unique, unrelated to other animals.
The Descent of Man
Darwin's background issues and concerns[edit] Charles Darwin's second book of theory involved many questions of Darwin's time.
Evolution News & Views: Has Craig Venter Produced Artificial Lif
History of evolutionary thought
Transmutation of species
Plenitude principle
Evolutionary ideas of the Renaissance and Enlightenment
Scientific revolution
Vestiges of the Natural History of Creation