Evolution
Evolution: This View of Life Magazine
I am often asked whether I agree with the new group selectionists, and the questioners are always surprised when I say I do not. After all, group selection sounds like a reasonable extension of evolutionary theory and a plausible explanation of the social nature of humans. Also, the group selectionists tend to declare victory, and write as if their theory has already superseded a narrow, reductionist dogma that selection acts only at the level of genes.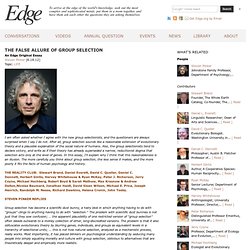 The False Allure Of Group Selection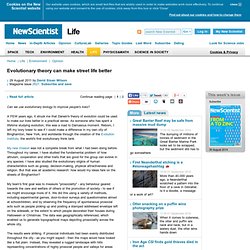 Evolutionary theory can make street life better - life - 29 August 2011
Read full article
Tough choices. Developing nematodes must choose to mature quickly into reproductive adults or spend extra time as a nonfeeding larva (smaller worm, top ). Credit: Image courtesy of Manuel Zimmer
Is Evolution Predictable?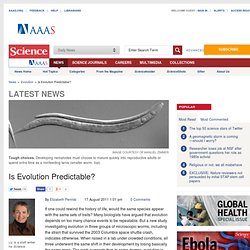 It didn't take long for the recent Foundational Questions Institute conference on the nature of time to delve into the purpose of life. "The purpose of life," meeting co-organizer and Caltech cosmologist Sean Carroll said in his opening remarks , "is to hydrogenate carbon dioxide."
How Life Arose on Earth, and How a Singularity Might Bring It Down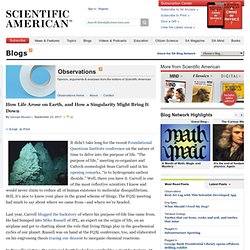 Take note, DNA and RNA: it's not all about you. Life on Earth may have begun with a splash of TNA – a different kind of genetic material altogether.
Fossil DNA has clues to surviving rapid climate change - life - 31 January 2012
Read full article Continue reading page | 1 | 2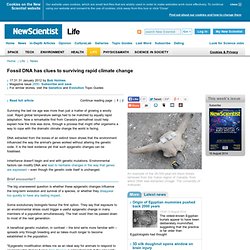 Prions point to a new style of evolution - life - 15 February 2012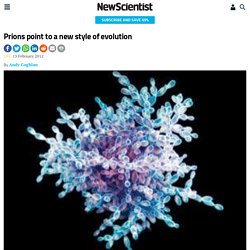 THE rogue proteins behind variant CJD , the human form of mad cow disease , have revealed their benign side.
Read full article Continue reading page | 1 | 2
Russian hot springs point to rocky origins for life - life - 13 February 2012
Read full article Continue reading page | 1 | 2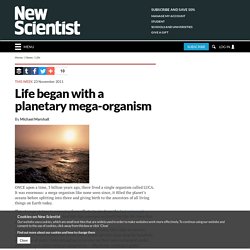 Life began with a planetary mega-organism - life - 25 November 2011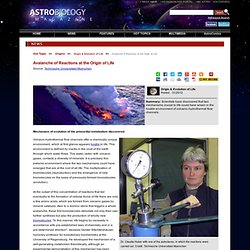 Mechanism of evolution of the primordial metabolism discovered Volcanic-hydrothermal flow channels offer a chemically unique environment, which at first glance appears hostile to life.
Avalanche of Reactions at the Origin of Life
First top predator was giant shrimp with amazing eyes - life - 07 December 2011
Half a billion years ago, sea creatures fled from a terrifying new creature: a gigantic primordial shrimp with pin-sharp vision. It is one of the oldest known animals with compound eyes, the hallmark of modern insects and crustaceans.
'Rigid Swimmer' and the Cretaceous Ichthyosaur Revolution (part I) | Tetrapod Zoology
You're reading a blog.
Biology's Big Bang Had A Long Fuse
Feb. 17, 2012 — A University of Arkansas biologist has created a sketch of what the first common ancestor of plants and algae may have looked like. He explains that primitive organisms are not always simple.
Meet plants' and algae's common ancestor: Primitive organisms not always so simple, researcher says
Complex life may have had parasitic origins.
Twist in the tail of eukaryotic origins - life - 19 December 2011
Wow, it's so hard to pick!
Oldest reliable fossils show early life was a beach - life - 21 August 2011
Traces Of Inaugural Life
Fossils Show Signs Of Earliest Burrowing
Biological clock began ticking 2.5 billion years ago - life - 16 May 2012
In The Beginning Was the Mudskipper? | The Loom
Permian Extinction Article, Mass Extinction Information, Park Tourism Facts
Acid Oceans Helped Fuel Mass Extinction
Calcium Offers Clues In Mass Extinction
Earth's time bombs may have killed the dinosaurs - environment - 27 July 2011
Old-fashioned Fish Regrow Fins
Short Sharp Science: Amber reveals earliest example of pollinating insects
Worm Discovery Illuminates How Our Brains Might Have Evolved
Giant Flea-Like Pest Put the Bite on Dinosaurs
Ancient Birds Wiped Out Huge Insects
"Alternative Evolution" of Dinosaurs Foresaw Contemporary Paleo Finds
Dinosaurs Grew to Outpace Their Young
"First Bird" Fossil, Archaeopteryx, More Closely Related to Dinosaurs
Microraptor's glossy black feather coat reconstructed - life - 08 March 2012
Birds got smart by becoming big babes - life - 28 May 2012
Triumph of the Titans: How Sauropods Flourished
Oldest Animals Ever Discovered
Short Sharp Science: Oldest chordate spawned everything with backbones
Fossil Pushes Back Land-animal Debut
Ancient Sea Jelly Shakes Evolutionary Tree of Animals
Evolution Shrinks Mammals Quickly, But They're Slow to Grow | Body Size Evolution & Cetaceans
Mini-mammoths lived on Crete
Oceans Set Stage For Human Evolution
Meet Your Newest Ancestor
Tibet Was Cradle of Evolution for Pre-Ice Age Mammals
First Horses Shrunk by Hot Weather
Geneticists Go Ape For Better Primate Family Tree
Out of Asia: How Monkey and Ape Ancestors Colonized Africa | Hominid Hunting