Cup sleeves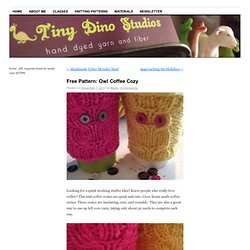 Free Pattern: Owl Coffee Cozy | Tiny Dino Studios
Looking for a quick stocking stuffer idea? Know people who really love coffee? This knit coffee cozies are quick and cute.
This cup sleeve uses cable techniques for its pattern, and uses a little short row shaping to suit the conical shape of paper coffee cups. Materials Approx 20g aran weight yarnSize 4mm needles1 x cable needle. Size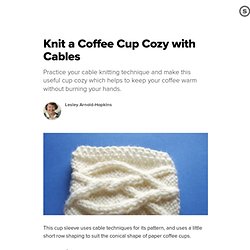 Knit a Coffee Cup Cozy with Cables
Free Cozies Knitting Pattern Link Directory
Knit a coffee cup sleeve
It's not really an original pattern, it's a horseshoe cable I got from the lion brand site - although I'm not a big fan of LB, they have a great website for patterns and now have a stitch pattern and cable directory. http://cache.lionbrand.com/cgi-bin/faq-search.cgi?store=/stores/eyarn&faqKey=302 You could really use any cable pattern you like. I basically just added four knit stitches to the beginning and end of each row. Here's the patternworsted weight yarn & size US 6 needles(I think I used Debbie Bliss Cashmerino Aran- it was left over from my Fetching Mitts)
Knit Coffee Sleeve - KNITTING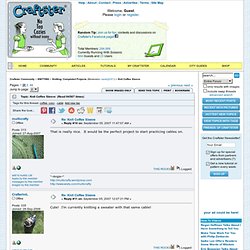 materials: - aran, dk or worsted yarn (18-20sts =4"), 13 grams - dpn's (right size for yarn & tension) set of 4 - 10 sew-on eyes, 8mm-10mm - cable needle, darning needle (to sew on eyes) and crochet hook (to weave in ends)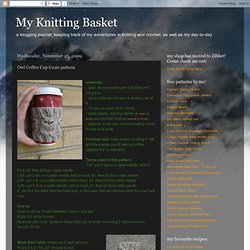 Owl Coffee Cup Cozie
Lewis Knits
Hey knitters! After a long and arduous week, the weekend is finally here. I've waited for this weekend for so long–yes, I am taking a week long vacation! Yay! To add to this, the next couple of days are supposed to be pleasant and beautiful
Woven Cable Coffee Cup Sleeve Pattern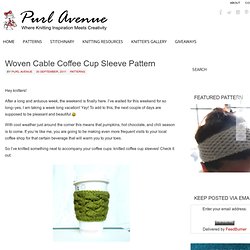 A Tight-Knit Gathering Blog: Celtic Plait Coffee Cup Sleeve Pattern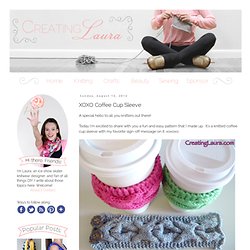 Creating Laura: XOXO Coffee Cup Sleeve
A special hello to all you knitters out there! Today I'm excited to share with you a fun and easy pattern that I made up. It's a knitted coffee cup sleeve with my favorite sign-off message on it: xoxoxo.