Aquaponics Gardening
Aquaponics is a closed loop system in which you can raise fish, use the fish poop as fertilizer for plants and ultimately;
You end up supplementing your own diet with both fresh fish and veggies. Sep 6
aquaponics
Folks have been asking for parts lists and drawings on how to put this together. So I've (finally!) put together a parts list, complete with links to the product pages for these bits on the Home Depot website. These are the links and prices in December 2011 - I'll try to update the links as they change over time. Bernoulli Standpipe
Bell Siphon - the Parts List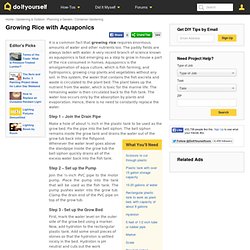 Growing Rice with Aquaponics
It is a common fact that growing rice requires enormous amounts of water and other nutrients too. The paddy fields are always laden with water. A very recent branch of science known as aquaponics is fast emerging as a step to grow in-house a part of the rice consumed in homes.
Bell Siphon - the Parts List
This summer, twenty little Blue Nile Tilapia were hand delivered to my door. I had given up all hopes of finding a supplier in Canada, and was thrilled when I found one near my home. The fish spent their summer growing out in the greenhouse where our first aquaponic system was made. Once the cooler temperatures of September came around, we relocated them inside to a 100-gallon stock tank (giant water bowls for cows and horses).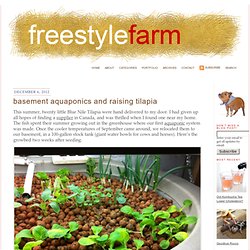 Basement Aquaponics & Raising Tilapia » FreestyleFarm
No sleep till Brooklyn aquaponics installation is complete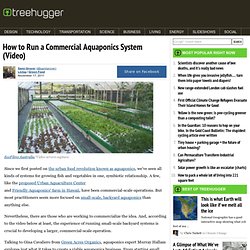 EcoFilms Australia /Video screen capture Since we first posted on the urban food revolution known as aquaponics , we've seen all kinds of systems for growing fish and vegetables in one, symbiotic relationship. A few, like the proposed Urban Aquaculture Center and Friendly Aquaponics' farm in Hawaii , have been commercial-scale operations.
How to Run a Commercial Aquaponics System (Video)
Backyard Aquaponics | EcoSherpa
Portable Farms™ Aquaponics Systems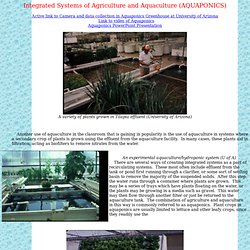 Integrated Systems of Agriculture and Aquaculture (AQUAPONICS)
Aquaponics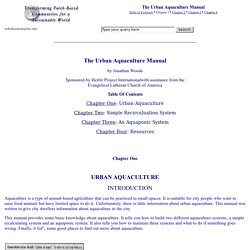 The Urban Aquaculture Manual
The Urban Aquaculture Manual
Aquaponics
Backyard Bounty Collective
DIY Aquaponics: A Video Roundup
Image credit: Eco Films Australia
Aquaponic Growing of Desert Plants Too? (Video)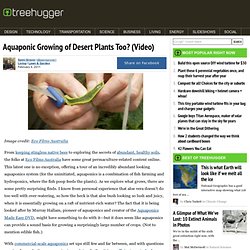 Growing Power: Urban Aquaponics, Vermiculture and Sustainable Agriculture
Aquaponics
A recent Treehugger article alerted me to the fact that the folks at Growing Power are involved in what sounds to be a very exciting new proposed project in Milwaukee, called The Urban Agriculture Center. The planned center will apparently feature a 150,000-sq ft indoor aquaculture/agriculture facility combined with educational facilities, sustainable farming exhibits, a restaurant and fish market. As the author of the Treehugger article points out, the Urban Agriculture Center website is somewhat confusing, so it is quite challenging trying to find pertinent information regarding the status of the project.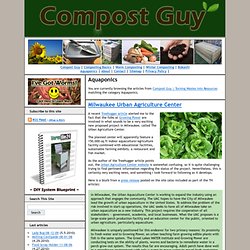 University of the Virgin Islands, Albert A.
Aquaculture - International Aquaponics and Tilapia Aquaculture Course
Central NY Aquaponic Farm, a Business and Testing Ground for Future of Agriculture
What began as a business plan drawn up for fun has spawned Aqua Vita Farms , central New York's first aquaponic farm.
ECOLIFE Foundation - San Diego: Village Aquaponics
Aquaponics is the symbiotic cultivation of plants and aquatic animals in a recirculating environment. ECOLIFE has installed an aquaponics system at our San Diego office with the specific goals of preparing a manual and techniques for managing an aquaponics system, teaching aquaponic workshops to the San Diego community as a sustainable living solution, and developing a system for use abroad that will provide an alternative food source for communities in Bwindi, Uganda. Water is cycled between the fish tanks and vegetable growing areas, and fish waste acts as a natural fertilizer for the crops.
University of Hawaii and community partners explore aquaponics | Malamalama, The Magazine of the University of Hawai'i System
Clyde Tamaru stands on a small rise, dense trees and the verdant Windward face of the Koʻolau range behind. He looks across a grassy area dotted with round water tanks of various construction, rows of raised plant beds, a small garden shed and, off to the right, a taro loi, all part of an aquaponics research and demonstration facility tucked at the back of Windward Community College. "This is our ahupuaʻa," the University of Hawaiʻi at Mānoa College of Tropical Agriculture and Human Resources extension specialist says with evident pleasure.
Solar powered aquaponics system
What is Aquaponics? on Vimeo
Aquaponics
Will Allen: The Urban Farmer on Vimeo
A small, portable aquaponics system. The term aquaponics is a portmanteau of the terms aquaculture and hydroponic .
Aquaponics Revisited
How it Works
Basement Hydroponics System Sprouts A Winter Garden
Aquaponics -- How to Put Your Organic Garden on Overdrive
aeroponic how to