Technologies Authentification Unique
30 Important Women 30 Or Under In Tech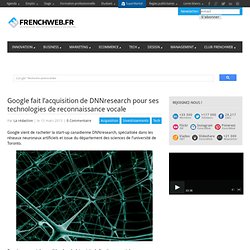 Google vient de racheter la start-up canadienne DNNresearch, spécialisée dans les réseaux neuronaux artificiels et issue du département des sciences de l'université de Toronto.
Google fait l'acquisition de DNNresearch pour ses technologies de reconnaissance vocale
My post yesterday on Facebook Connect raised a few eyebrows. I had a few discussions with people and a comparison of consumer identity solutions past and present may provide some context. (I have excluded InfoCards as I see them as a strong, enterprise grade solution that is currently too heavy for general consumer use.) Passport Microsoft rolled out Passport in 1999.
Identity 2.0 · Passport vs OpenID vs Facebook Connect
La révolution de l'identité InfoCard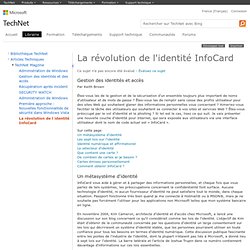 Gestion des identités et accès Par Keith Brown Êtes-vous las de la gestion et de la sécurisation d'un ensemble toujours plus important de noms d'utilisateur et de mots de passe ?
(les acteurs de l'identité numérique)> Facebook Connect + les id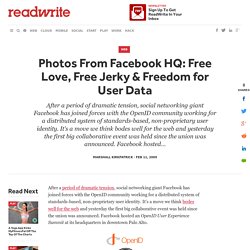 After a period of dramatic tension, social networking giant Facebook has joined forces with the OpenID community working for a distributed system of standards-based, non-proprietary user identity. It's a move we think bodes well for the web and yesterday the first big collaborative event was held since the union was announced.
Photos From Facebook HQ: Free Love, Free Jerky & Freedom for Use
Olivier Maas : "le futur pourrait combiner authentification fort