Addiction
Get flash to fully experience Pearltrees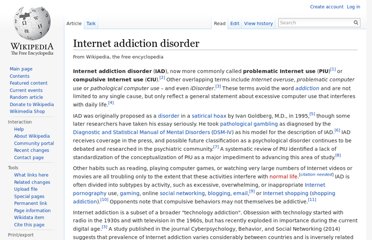 Internet addiction disorder ( IAD ), or, more broadly, Internet overuse , problematic computer use or pathological computer use , is excessive computer use that interferes with daily life. [ 1 ] These terms avoid the term addiction and are not limited to any single cause.
Skip to main content
Un article de Wikipédia, l'encyclopédie libre. L' addiction , ou dépendance est, au sens phénoménologique , une conduite qui repose sur une envie répétée et irrépressible, en dépit de la motivation et des efforts du sujet pour s'y soustraire.
Addiction is the continued use of a mood altering substance or behavior despite adverse dependency consequences, [ 1 ] or a neurological impairment leading to such behaviors. [ 2 ] Addictions can include, but are not limited to, drug abuse , exercise abuse, sexual activity and gambling . Classic hallmarks of addiction include impaired control over substances or behavior, preoccupation with substance or behavior, continued use despite consequences, and denial. [ 3 ] Habits and patterns associated with addiction are typically characterized by immediate gratification (short-term reward), coupled with delayed deleterious effects (long-term costs). [ 4 ]