Addiction
OFDT - Drogue et toxicomanie en France - Indicateurs, études, recherches Le Venezuela : un épicentre du trafic régional et mondial de cocaïne Saint Denis, le 6 janvier 2013- Depuis le milieu des années 2000, la liste des saisies en provenance de ce pays ne cesse en effet de s'allonger. Ces cargaisons visent de plus en plus directement l'Europe - deuxième marché de la cocaïne au monde - à l'image de la tonne de cocaïne interceptée sur un jet privé aux Canaries en 2012.
Hôpital MARMOTTAN
CERTA - Centre d'addictologie
"Drugs, Brains, and Behavior - The Science of Addiction"
Skip to main content En español Home » Publications » The Science of Addiction Drugs, Brains, and Behavior: The Science of Addiction Provides scientific information about the disease of drug addiction, including the many harmful consequences of drug abuse and the basic approaches that have been developed to prevent and treat the disease.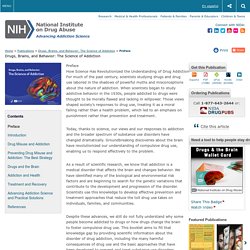 A Moderate Proposal on Moderation By Amy Dresner Finally making a year sober AGAIN after 20 years of relapsing, I wake up to an article telling me I didn't need to be abstinent after all. Not so helpful. A rebuttal from somebody who's been abstinent with and without AA. MORE
Alcohol, Drug Addiction and Recovery News | Resources – The Fix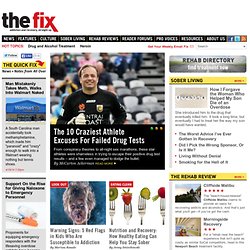 It's not the morphine, it's the size of the cage: Rat Park experiment upturns conventional wisdom about addiction - garry's subposthaven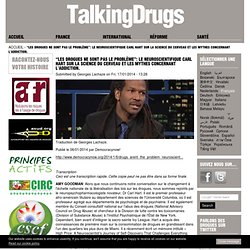 "Les drogues ne sont pas le problème": le neuroscientifique Carl Hart sur la science du cerveau et les mythes concernant l'addiction.
Traduction de Georges Lachaze. Publié le 06/01/2014 par Democracynow! http://www.democracynow.org/2014/1/6/drugs_arent_the_problem_neuroscient... Transcription Ceci est une transcription rapide. Cette copie peut ne pas être dans sa forme finale. AMY GOODMAN: Alors que nous continuons notre conversation sur le changement à l'échelle nationale de la libéralisation des lois sur les drogues, nous sommes rejoints par le neuropsychopharmacologiste novateur, Dr Carl Hart.
Home | National Institute on Drug Abuse
Excellent comic!! (As a person who takes as-needed morphine for an extremely painful degenerative lifelong condition, I can testify that having pain relief available does not, in fact, result in addiction and destructive behavior — it's actually the opposite. Having pain relief means that I can *live* my life, fully participate as a member of my family and my friends group, and while my physical abilities are going to continue to gradually decline, I am mentally fully present and I'm doing everything possible to keep my life from getting any smaller in scope.) Give people something to live for, and they won't try to escape into drug-induced oblivion.
Rat Park drug experiment cartoon – Stuart McMillen comics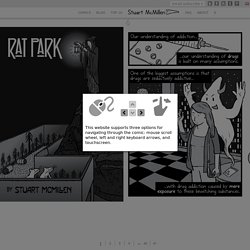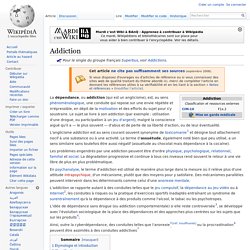 Un article de Wikipédia, l'encyclopédie libre. L'addiction, ou dépendance est, au sens phénoménologique, une conduite qui repose sur une envie répétée et irrépressible, en dépit de la motivation et des efforts du sujet pour s'y soustraire. Le sujet se livre à son addiction (par exemple : utilisation d'une drogue, ou participation à un jeu d'argent), malgré la conscience aiguë qu'il a — le plus souvent — d'abus et de perte de sa liberté d'action, ou de leur éventualité. L'anglicisme addiction est au sens courant souvent synonyme de toxicomanie[1] et désigne tout attachement nocif à une substance ou à une activité. Le terme d'assuétude, également noté bien que peu utilisé, a un sens similaire sans toutefois être aussi négatif (assuétude au chocolat mais dépendance à la cocaïne). Les problèmes engendrés par une addiction peuvent être d'ordre physique, psychologique, relationnel, familial et social.
Addiction
Category:Addiction
Addiction is the continued repetition of a behavior despite adverse consequences,[1] or a neurological impairment leading to such behaviors.[2] Addictions can include, but are not limited to, drug abuse, exercise addiction, food addiction, computer addiction and gambling. Classic hallmarks of addiction include impaired control over substances or behavior, preoccupation with substance or behavior, continued use despite consequences, and denial.[3] Habits and patterns associated with addiction are typically characterized by immediate gratification (short-term reward), coupled with delayed deleterious effects (long-term costs).[4]
Addiction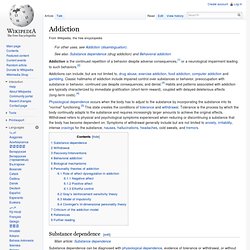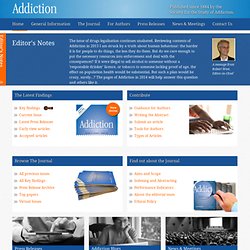 Editor's Notes The issue of drugs legalisation continues unabated. Reviewing contents of Addiction in 2013 I am struck by a truth about human behaviour: the harder it is for people to do things, the less they do them. But do we care enough to put the necessary resources into enforcement and deal with the consequences? If it were illegal to sell alcohol to someone without a 'responsible drinker' licence, or tobacco to someone lacking proof of age, the effect on population health would be substantial. But such a plan would be crazy, surely...?
Addiction Journal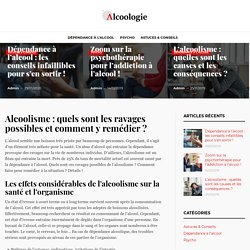 甲賀のペットも一緒に宿泊できるお勧め旅館をご紹介します。 滋賀県南部に位置する甲賀市は、信楽焼の産地として知られています。また、戦国時代に活躍した甲賀忍者発祥の地としても有名ですよね。甲賀・忍びの宿 宮乃温泉は、名神高速道路・甲南ICから車で約10分の場所に位置する旅館です。JR草津線・甲南駅からは約2キロとなっていますが、無料の送迎サービスも用意されているので、希望の場合は予約の際に問い合わせてみましょう。
F3A Federation des acteurs de l'alcoologie et de l'addictologie : addictions, alcoolisme, alcoolodependance, dependances, drogues, toxicomanie...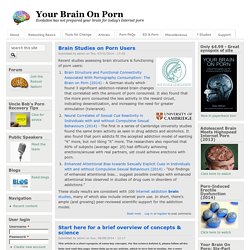 Start here for an overview of concepts & science Submitted by Administrator on Sun, 09/22/2013 - 13:17 This article is a short synopsis of some key concepts. For the science behind it, please follow all the links. Some links go to our articles, which in turn link to studies. For a more in-depth understanding, watch Adolescent Brain Meets Highspeed Internet Porn and Your Brain on Porn and read the articles listed at the bottom of this article.
Your Brain On Porn | Evolution has not prepared your brain for today's Internet porn
addiciton_Time.JPG
Cyberdépendance tronc commun
Internet addiction disorder
Internet addiction disorder (IAD) is now more commonly called problematic internet use (PIU)[1] or compulsive internet use (CIU).[2] Other overlapping terms include internet overuse, problematic computer use or pathological computer use – and even iDisorder.[3] These terms avoid the word addiction and are not limited to any single cause, but only reflect a general statement about excessive computer use that interferes with daily life.[4] IAD was originally proposed as a disorder in a satirical hoax by Ivan Goldberg, M.D., in 1995,[5] though some later researchers have taken his essay seriously.
Screen Addiction is an impulsive-control problem that can be divided into various subtypes, each requiring counseling, intensive outpatient therapy, or even inpatient treatment: Sexting and Online Sex Addiction – Individuals who suffer from this are typically engaged in viewing, downloading, and trading online pornography or involved in adult fantasy role-play chat rooms, social media, and sexting.Internet Infidelity and Online Affairs – Individuals who suffer from an addiction to chat rooms, social networking, or texting become over-involved in online relationships or may engage in virtual adultery. Screen addiction results in online friends who quickly become more important to the individual at the expense of real life relationships with family and friends often leading to divorce, separation, or family instability.Video Games and Gaming Addiction - Anyone who has experienced it knows all too well – video game addiction is real.
Screen Addiction Subtypes and Risk Factors
Category:Behavioral addiction
In coming years, neuroscience will answer questions we don't even yet know to ask. Sometimes, though, focus on the brain is misleading. juliendn/Flickr From the recent announcement of President Obama's BRAIN Initiative to the Technicolor brain scans ("This is your brain on God/love/envy etc") on magazine covers all around, neuroscience has captured the public imagination like never before. Understanding the brain is of course essential to developing treatments for devastating illnesses like schizophrenia and Parkinson's.
Distinguishing Brain From Mind - Sally Satel