Addiction
Internet addiction disorder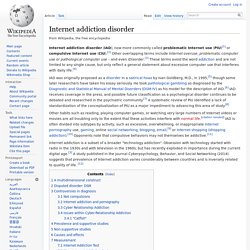 Internet addiction disorder (IAD) is now more commonly called problematic internet use (PIU)[1] or compulsive internet use (CIU).[2] Other overlapping terms include internet overuse, problematic computer use or pathological computer use – and even iDisorder.[3] These terms avoid the word addiction and are not limited to any single cause, but only reflect a general statement about excessive computer use that interferes with daily life.[4]
"Drugs, Brains, and Behavior - The Science of Addiction"
Skip to main content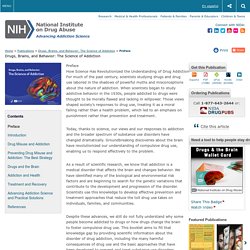 Alcohol, Drug Addiction and Recovery News | Resources – The Fix
Hôpital MARMOTTAN
CERTA - Centre d'addictologie
Excellent comic!! (As a person who takes as-needed morphine for an extremely painful degenerative lifelong condition, I can testify that having pain relief available does not, in fact, result in addiction and destructive behavior — it's actually the opposite. Having pain relief means that I can *live* my life, fully participate as a member of my family and my friends group, and while my physical abilities are going to continue to gradually decline, I am mentally fully present and I'm doing everything possible to keep my life from getting any smaller in scope.) Give people something to live for, and they won't try to escape into drug-induced oblivion.
Rat Park drug experiment cartoon – Stuart McMillen comics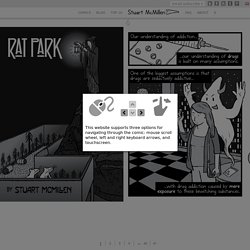 Category:Addiction
Addiction Journal
addiciton_Time.JPG
F3A Federation des acteurs de l'alcoologie et de l'addictologie : addictions, alcoolisme, alcoolodependance, dependances, drogues, toxicomanie...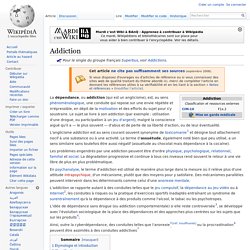 Un article de Wikipédia, l'encyclopédie libre. L'addiction, ou dépendance est, au sens phénoménologique, une conduite qui repose sur une envie répétée et irrépressible, en dépit de la motivation et des efforts du sujet pour s'y soustraire.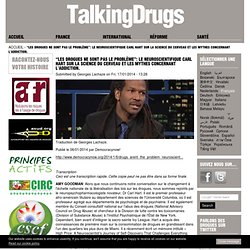 "Les drogues ne sont pas le problème": le neuroscientifique Carl Hart sur la science du cerveau et les mythes concernant l'addiction.
Traduction de Georges Lachaze. Publié le 06/01/2014 par Democracynow! http://www.democracynow.org/2014/1/6/drugs_arent_the_problem_neuroscient... Transcription Ceci est une transcription rapide. Cette copie peut ne pas être dans sa forme finale. AMY GOODMAN: Alors que nous continuons notre conversation sur le changement à l'échelle nationale de la libéralisation des lois sur les drogues, nous sommes rejoints par le neuropsychopharmacologiste novateur, Dr Carl Hart.
Addiction is the continued repetition of a behavior despite adverse consequences,[1] or a neurological impairment leading to such behaviors.[2] Addictions can include, but are not limited to, drug abuse, exercise addiction, food addiction, sexual addiction, computer addiction and gambling. Classic hallmarks of addiction include impaired control over substances or behavior, preoccupation with substance or behavior, continued use despite consequences, and denial.[3] Habits and patterns associated with addiction are typically characterized by immediate gratification (short-term reward), coupled with delayed deleterious effects (long-term costs).[4]
Addiction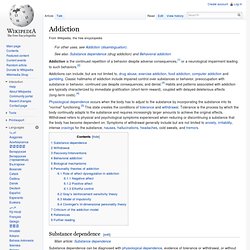 Category:Behavioral addiction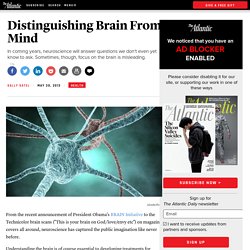 In coming years, neuroscience will answer questions we don't even yet know to ask. Sometimes, though, focus on the brain is misleading. juliendn/Flickr From the recent announcement of President Obama's BRAIN Initiative to the Technicolor brain scans ("This is your brain on God/love/envy etc") on magazine covers all around, neuroscience has captured the public imagination like never before. Understanding the brain is of course essential to developing treatments for devastating illnesses like schizophrenia and Parkinson's.
Distinguishing Brain From Mind - Sally Satel