Food
Appetizers
Italian Garlic Knots Recipe from Pillsbury. Best Steak Marinade in Existence Recipe. Grilled Avocado Guacamole. © Jerry James Stone via iPhone Guacamole is one of my favorite things.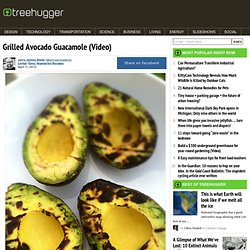 I admit, I have eaten tacos made only of guacamole and a tortilla. While I don't stray from my favorite guacamole recipe often, this one has a nice smokiness to it that's a great fit for fajitas or anything grilled. Culinary Arts College & 100 Famous Restaurant Recipes You Can Replicate... - StumbleUpon. Eating out is becoming a more and more popular phenomenon.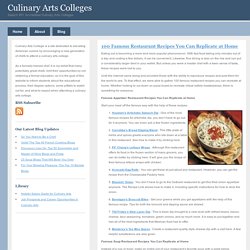 With fast food taking only minutes out of a day and costing a few dollars, it can be convenient. Likewise, fine dining is also on the rise and can put a considerably larger dent in your wallet. But unless you were a master chef with a keen sense of taste, these recipes were lost to you. Cheesy baked artichoke dip. In college i was a waitress and bartender at The Loring Bar & Cafe in Minneapolis. it is where i met alex, so it will always hold a very special place in my heart. it was a really great place to work - cool co-workers, great customers and excellent food. the one thing that we were known for was artichoke dip. i can't tell you how many times i ate that for dinner. it was incredible but since The Loring closed no other artichoke dip has even came close to replacing it. i have tried several recipes for artichoke dip that really sucked. too dry - to heavy - not enough flavor - i have covered them all. but this recipe is the last artichoke dip recipe i will ever need. it is similar to the Loring recipe - dare i say - it might be even better.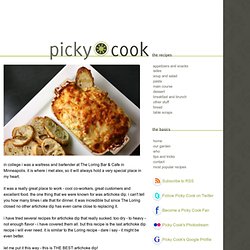 Sweet and Sour Chicken Recipe : Food Network Kitchens. Directions In a small bowl, whisk together the honey, chili-garlic sauce, vinegar, soy sauce, orange juice and cornstarch; set aside.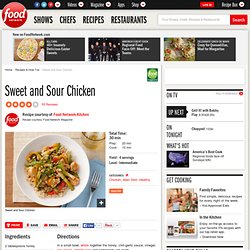 Meanwhile, coat the chicken with 2 teaspoons oil and heat large nonstick skillet over medium-high heat. Season the chicken to taste with salt and pepper and cook, turning occasionally with a wooden spoon, 2 minutes. Basic Crepes - Martha Stewart Recipes - StumbleUpon. LaSaGnA TiMpAnO. I went to see tUnE-yArDs on Monday night with some friends, and as always we wanted to cook a meal that somehow related to the show we were heading to.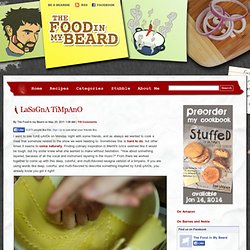 Sometimes this is hard to do, but other times it seems to come naturally. Finding culinary inspiration in Merrill's lyrics seemed like it would be tough, but my sister knew what she wanted to make without hesitation. Pasta with Pea Pesto - Pasta Recipes. When French Toast Met Pancakes. If you ever want me to like you, just make me a light, fluffy stack of pancakes.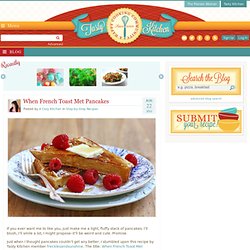 I'll blush, I'll smile a lot, I might propose–it'll be weird and cute. Promise. Just when I thought pancakes couldn't get any better, I stumbled upon this recipe by Tasty Kitchen member frecklesandsunshine. The title: When French Toast Met Pancakes…and Fell In Love totally made me giddy with butterflies in my stomach. 50 After-School Snacks : Recipes and Cooking. Chicken Pot Muffins Recipe. Alright y'all.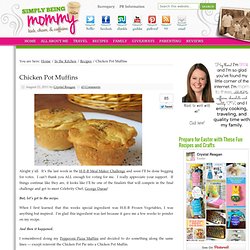 It's the last week in the H-E-B Meal Maker Challenge and soon I'll be done begging for votes. I can't thank you ALL enough for voting for me. I really appreciate your support. Marinated Cucumber Salad. Marinated Cucumber Salad This is my favorite summer salad.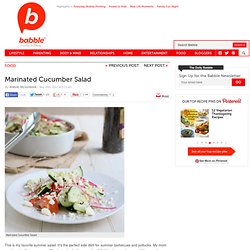 It's the perfect side dish for summer barbecues and potlucks. My mom use to make this every year. We always had a large garden full of fresh cucumbers, and this was always our favorite way to enjoy them. This salad is so simple, and can be easily dressed up by adding more herbs and spices, or simplifying it. The Hazel Bloom: The Best Macaroni and Cheese Recipe Ever.
I can say this is the best macaroni and cheese recipe ever because it's not really my recipe.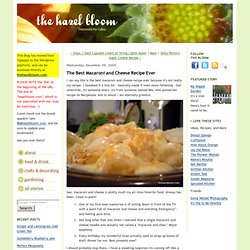 I tweaked it a tiny bit - basically made it even more fattening - but otherwise, it's someone else's. It's from someone named Bev, who posted her recipe on Recipezaar and to whom I am eternally grateful. 42968098_dfPdIkJ3_c.jpg (553×1743) Most favorited all-time - page 2. Slim Six-Layer Dip Recipe : Food Network Kitchens. Sweet and Sour Chicken Recipe : Food Network Kitchens.
Homemade Soft Pretzel Bites. Homemade Soft Pretzel Bites On Fridays, I teach cooking classes to two kids in our neighborhood.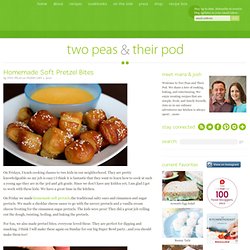 They are pretty knowledgeable-so my job is easy:) I think it is fantastic that they want to learn how to cook at such a young age-they are in the 3rd and 4th grade. Since we don't have any kiddos yet, I am glad I get to work with these kids. We have a great time in the kitchen. Bacon, Egg and Cheese Cups | Recipes. Sesame Chicken – Miss in the Kitchen. Sesame Chicken I have whined and complained before about my plight of living without Chinese takeout. Well this is how I cope. Sesame Chicken is my favorite on the all you can eat buffet, well along with the Crab Rangoon. This is a recipe that I adapted from one my sister-in-law gave me.
The secret is definitely in the sauce here. StillTasty: Your Ultimate Shelf Life Guide - Save Money, Eat Better, Help The Environment. Pizza Braid. 50 States 50 Burgers : Recipes and Cooking. A tiny gingerbread house that perches on the edge of your mug. I made tiny gingerbread houses that are meant to be perched on the edge of a mug of hot chocolate.
I had been thinking about those sugar cubes that hook on the rim of a teacup earlier this month, and I was also thinking about 3-D cookies and how they fit together and figured it would be pretty neat to make cookies that hang on the edge of a mug. I thought I was being so brilliant but it only took a few seconds to discover that a flat cookie on the edge of a mug has already been done. So I started wondering what else I could do. At the time I was making a bunch of gingerbread recipes trying to find one that would hold up for my partridge in a pear tree cookie, so a gingerbread house was on my mind.
50 Easy Soups (1 - 10) : Recipes and Cooking. 1. Basic Chicken Chop 1 onion, 1 celery stalk, 2 carrots and 1 tablespoon thyme; sauté in butter until tender. Season with salt and pepper. Add 6 cups chicken broth; simmer 20 minutes. 50 Mashed Potatoes : Recipes and Cooking. 1. Classic Cover 2 pounds whole russet or Yukon gold potatoes with cold salted water; simmer 45 minutes. Drain, peel and mash with 1/2 to 1 stick butter. Add 1 cup hot milk, and salt and pepper; mash until smooth and fluffy. 2. Quick Chicken and Gravy — Our Life In The Kitchen.
It's been a busy week, one where quick and easy is the only hope of cooking dinner instead of doing takeout. A bag of frozen chicken tenderloins pulled from the freezer, steamed rice and whatever veggie might be on hand and dinner's ready in about 30 minutes. Chicken tenderloinsButterFlourSalt/PepperMarjoram and Thyme tonight, because I'm out of Sage.Chicken Broth Melt enough butter to generously cover the bottom of a large saute pan. Heat until it's just barely turning brown. Add the chicken and season with salt, pepper and herbs. The Different Types of Pasta: What Kind is on my Plate? Most favorited all-time.
---