food
Get flash to fully experience Pearltrees
Certain things happen when you bake cookies that taste like muffins. Cookies become breakfast food. Midnight snacks too.
By Lauren, on July 20th, 2012 I know, I know… it seems as though I've been posting sweet recipe after sweet recipe (with a little something cheesy thrown in); but you see, after what seemed like a long time during which sweets were unappealing during my first trimester, (what can I say, pregnancy does some strange things to your body!), they're apparently back with a vengeance on my appetite's menu.
Well these naughty little treats are well….naughty but oh so necessary. There are a bit like my Brownie Covered Oreo's from last Christmas but enhanced with layers of peanut butter and a double decker stack of Oreos in each little brownie cake. They are simply prepared in cupcake liners. Hope you enjoy this ultra sweet little cake Ok, I have to brag about this brownie mix from Trader Joes for a second. I know not everyone has a Trader Joes near by, however if you do, get a load of their ready to pour baking mix.
So, after being gone all last week, this has been catch up on the house week. Mostly laundry actually. Man, who knew that a weeks worth of laundry from 5 people could be so daunting. Yikes!! But I am kind of behind on my cooking and baking as well since I've been gone and cleaning.
Graham Cracker S'mores Cookies Graham Cracker S'mores Cookies with a graham cracker base, topped with a chocolate chip marshmallow cookie and chopped Hershey's bars on top. If you are a fan of s'mores , watch out!
I'm sorry for doing this to you. I really am. But see, last Friday while I was on a 10-hour road trip heading for vacation, I received this recipe from a reader named Liz. Liz, I love you. That's all I have to say. I was tortured by this recipe for a full 8 days before I could make it.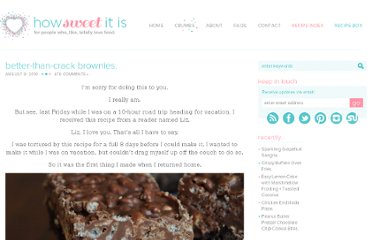 Everyone knows that breakfast is the most important meal of the day. So of course you want to get off to a good, healthy start. However, anyone with kids knows that some mornings are just too special to worry about a properly balanced meal.
I haven't had real, good old-fashioned smores that are made over a campfire in far too long. Like about twenty years, give or take, but who's counting. The last time I roasted marshmallows over a campfire was when I was a Girl Scout. I have memories of being too impatient to wait for the marshmallows to toast evenly and instead, I would intentionally dip my wooden stick, with splinter-filled marshmallows speared on it, directly into the flames. The marshmallows would ignite, char, and then I'd blow out the flaming charcoal black blobs of hot molten sugar, previously known as marshmallows.
Need a midnight snack? Or anytime snack for that matter, my cookies and cream peanut butter might just knock your socks off I was so lucky to have my sister and her family visit earlier this week and I got to have some kitchen time with her beautiful girls. They are just the sweetest things ever.