Inspire
The Hidden Brain: How Ocean Currents Explain Our Unconscious Social Biases. By Maria Popova "Those who travel with the current will always feel they are good swimmers; those who swim against the current may never realize they are better swimmers than they imagine."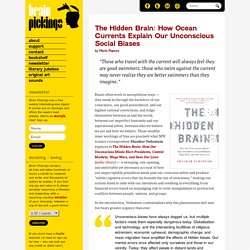 Biases often work in surreptitious ways — they sneak in through the backdoor of our conscience, our good-personhood, and our highest rational convictions, and lodge themselves between us and the world, between our imperfect humanity and our aspirational selves, between who we believe we are and how we behave. Bill Nye - The Joy of Discovery - by Melodysheep. Higher Things. In 1966 a Swedish encyclopedia publisher requested a photograph of Richard Feynman "beating a drum" to give "a human approach to a presentation of the difficult matter that theoretical physics represents."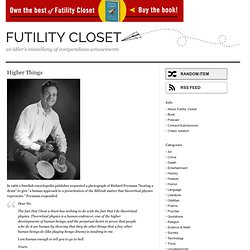 Feynman responded: Dear Sir,The fact that I beat a drum has nothing to do with the fact that I do theoretical physics. Theoretical physics is a human endeavor, one of the higher developments of human beings, and the perpetual desire to prove that people who do it are human by showing that they do other things that a few other human beings do (like playing bongo drums) is insulting to me.I am human enough to tell you to go to hell.Yours,RPF. The West Wing - Josh Lyman and men on Mars. Alan Watts We Are Not Separate. 'Life is not a multiple-choice test' (www.nagb.org) (Correction: Fixing 33-year teaching degree to 33-year teaching career) I recently posted the resignation letter of Ron Maggiano, an award-winning social studies teacher at West Springfield High School in Fairfax County, after a 33-year teaching career — four years shy of full retirement.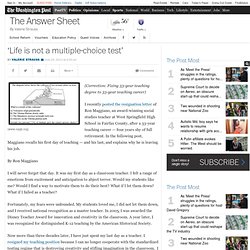 The Story of Everything: Carl Sagan on cosmology, evolution, science [Carl Sagan Tribute Series] Americans Must Rise Up And Overthrow Our Corrupt Government ! A MESSAGE FOR ALL OF HUMANITY, Charlie Chaplin. Recognition. Retribution. Restoration. The Best Motivation Video. What If Money Was No Object? | in5d.com. 10 Articles That Changed My Life | LifeReboot.com. It's easy to find a well written article.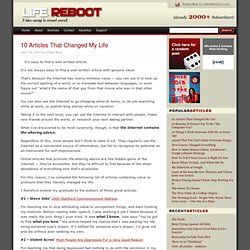 It's not always easy to find a well written article with genuine value. That's because the Internet has nearly limitless value — you can use it to look up the correct spelling of a word, or to translate text between languages, or even figure out "what's the name of that guy from that movie who was in that other movie?" You can also use the Internet to go shopping while at home, or do job searching while at work, or publish blog entries while on vacation.
Top 10 Global Health Milestones in 2012. The mass atrocity event in Connecticut took place just a few miles from my own elementary school.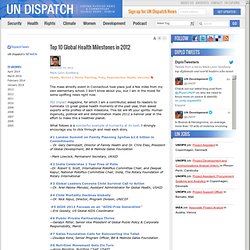 I don't know about you, but I am in the mood for some uplifting news right now. PSI Impact magazine, for which I am a contributor, asked its readers to nominate 10 great global health moments of the past year, then asked experts write profiles of each milestone. This list will lift your spirits. How To Find And Do Work You Love: Scott Dinsmore at TEDxGoldenGatePark (2D) An Unexpected Ass Kicking. JeffersonQuote.png (PNG Image, 768 × 1024 pixels) - Scaled (89%) One Sentence Memebombs Database. Timothy Prestero: Design for people, not awards. The Future is Ours. The Story of Change. Jonathan Zittrain: The Web as random acts of kindness. Helping the homeless just got easier… | JUST AMUSING. How Simple Ideas Lead to Scientific Discoveries.
Advice for those considering joining the military. The future is brighter than you think. Peter Diamandis says too much focus is placed on negative newsHe says the truth is that the world is poised for abundance through innovationDiamandis: Social changes have vastly increased wealth, reduced disease and violenceHe says smart phones put knowledge, tools in the hands of billions around the world Editor's note: Peter Diamandis is an expert on innovation, the author of "Abundance," and founder and chief executive of the X PRIZE Foundation, a nonprofit focused on creating large incentive prizes to drive breakthroughs.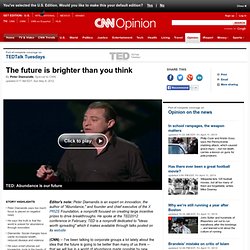 He spoke at the TED2012 conference in February. 11170412a.jpg (JPEG Image, 495 × 700 pixels) Your words and thoughts have physical power - Will Smith. Everything is a Remix Part 4. Neil deGrasse Tyson - We Stopped Dreaming (Episode 1) (Quieter music) Picture-5.png (PNG Image, 516 × 386 pixels) DAVID FOSTER WALLACE, IN HIS OWN WORDS. A cache of over 40 letters reveals the artist's humour and imagination ...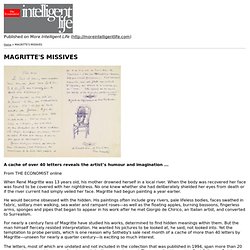 From THE ECONOMIST online When René Magritte was 13 years old, his mother drowned herself in a local river. When the body was recovered her face was found to be covered with her nightdress. Awesome_life_quotes_1.jpg (JPEG Image, 640 × 427 pixels) Sex Diaries Editor Gets Personally Inspired by the Diarists. It began with the hedge fund guy who crossed state lines for sex.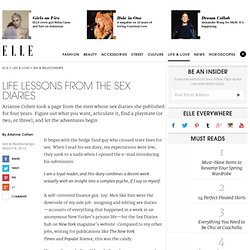 When I read his sex diary, my expectations were low; they sunk to a nadir when I opened the e-mail introducing his submission: I am a loyal reader, and this diary combines a decent week sexually with an insight into a complex psyche, if I say so myself. Fun fun fun fun - clikr. TEDxUW - Larry Smith - Why you will fail to have a great career. The Most Astounding Fact (Neil DeGrasse Tyson) JK 831: Crazy Ideas About How To Teach Math. Peter Diamandis: Abundance is our future. Bryan Stevenson: We need to talk about an injustice. 1 (42. Susan Cain: The power of introverts. Peter Weyland at TED2023: I will change the world. Peter Weyland has been a magnet for controversy since he announced his intent to build the first convincingly humanoid robotic system by the end of the decade.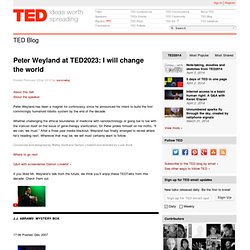 Whether challenging the ethical boundaries of medicine with nanotechnology or going toe to toe with the Vatican itself on the issue of gene-therapy sterilization, Sir Peter prides himself on his motto, "If we can, we must." After a three year media blackout, Weyland has finally emerged to reveal where he's heading next. Wherever that may be, we will most certainly want to follow. Conceived and designed by Ridley Scott and Damon Lindelof and directed by Luke Scott. Sir Peter Weyland was born in Mumbai, India at the turn of the Millennium. MOVE TV - Galen Hooks - LXD. 40 Photo-Illustrated Questions to Refocus Your Mind. Post written by: Marc Chernoff Email Asking the right questions is the answer… It's not the answers you get from others that will help you, but the questions you ask of yourself.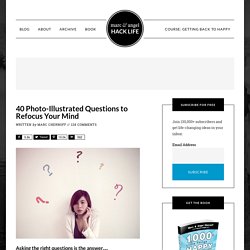 How to run a successful research lab without having a lab. At the meeting of the American Association for the Advancement of Science, Atul Butte gave a talk entitled, "Translational Medical Discoveries Through Data Transparency and Reuse. " It could just as easily been called "how to run a successful research lab without having a lab. " Butte, who is faculty at Stanford, was part of a panel that discussed the open sharing of data, and he used his own experience to provide a compelling case study that showed that, when researchers share their data, it enables others to drive a field forward in new ways.
Butte focused on a specific type of data, generated by what are called DNA or gene chips. Drew Dudley: Everyday leadership. Solve for X: Adrien Treuille on collaborative science. We Are Legion: The Story of the Hacktivists. Diana Nyad: Extreme swimming with the world's most dangerous jellyfish. Nanotechnology - Foresight Institute. Michelle Borkin: Can astronomers help doctors? David Attenborough - Wonderful World - BBC. Guest Post: Auditing Astronomy Class. I'm not sure exactly where this story begins, but maybe it's here: Sometime this summer, my mom decided to take an astronomy class. She had taken drama and philosophy classes through the Osher Lifelong Learning Institute at UC Berkeley and audited a history of theater course. She'd heard that this particular astronomy class was aimed at non-science majors, and that the professor, Alex Filippenko, had won all sorts of teaching awards.
She emailed him to see if it was okay for her to sit in – it was – and then convinced a few friends to join her. Maybe what I should say next is that my mom has never been that interested in science. Louie Schwartzberg: Nature. Beauty. Gratitude. Gabe Zichermann: How games make kids smarter. Natalie Warne: Being young and making an impact.
---