Sweet Tooth
Caramel Meringue Tart Recipe - Food.com - 145300
Easy Lemon Bars Recipe
Mulled Wine Hot Chocolate
I just can't wrap my head around the fact that Christmas is on Sunday already.
Glazed Holiday Cookies Recipe
More of a "why have I not been doing this for years?"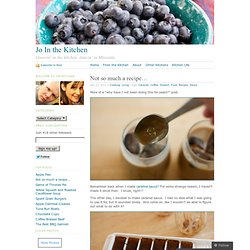 Not so much a recipe… | Jo In the Kitchen
A couple of years ago, when Eliza asked how people made salt, my husband grabbed a pot from our kitchen, walked down the hill to his lab, and filled the pot with filtered seawater.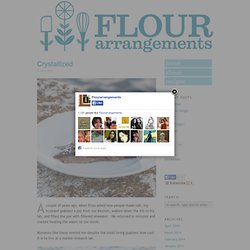 Salted Caramel Chocolate Tart
As I wrap up my last day of vacation with my family, I am feeling grateful and happy and relaxed. It is so rare that Pete and I get to spend this kind of time with our kids and together. Also- I am tired. Sun Valley is really active, and let's just say I haven't been in a really long time! Swimming, biking, river rafting, ice skating (ha!)
Cookie Dough Ice Cream Brownies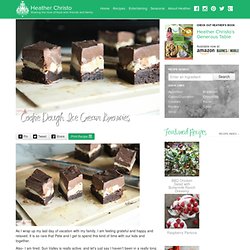 photo by Romulo Yanes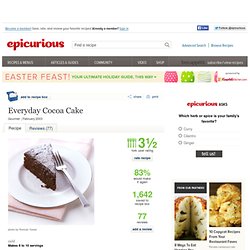 Everyday Cocoa Cake Recipe at Epicurious
Position rack in bottom third of oven; preheat to 325°F. Line 8x8x2-inch metal baking pan with foil, pressing foil firmly against pan sides and leaving 2-inch overhang. Coat foil with nonstick spray. Melt butter in medium saucepan over medium heat.
Cocoa Brownies with Browned Butter and Walnuts Recipe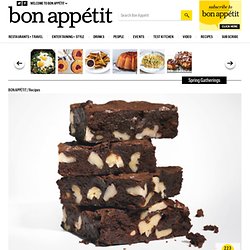 Hazelnut Fondant
Very few people I know can resist a molten chocolate cake and I'm definitely one of them. They're the ultimate indulgence even though their preparation is quite simple. They reign over practically every restaurant's dessert menu from the fanciest to the hole-in-the-wall and even their extra wait time would held in place the most hurried dinners.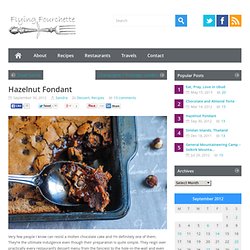 Love bubble tea?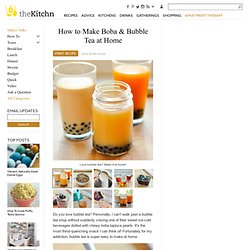 How to Make Boba & Bubble Tea at Home
December 20, 2012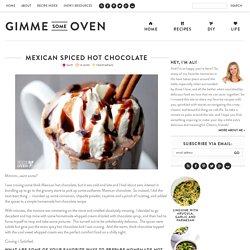 Mexican Spiced Hot Chocolate | gimme some oven
Triple Salted Caramel Cupcakes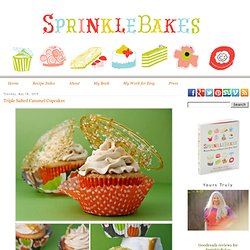 These little cakes have been a long time in the making. I guess you could call them my own personal Frankenstein.
I've had quite the tumultuous relationship with Nutella.
Nutella Swirled Banana Bread
Day 1: Chocolate Peanut Butter Rice Krispie Roll
It's December!
Cauldron Cakes
This is part II of my mini-series on Harry Potter snacks from the books brought to life (part I is on Honeydukes treats, part III features every wizard's favorite drink—butterbeer!
I am just returning from a sudden out-of-town trip and my house and children are overloaded with needs I must attend to. So in that vein, let me simply state that if you need a midweek pick-me-up, these quick and delicious treats are for you. I love the ease of bars versus cookies and this chocolate chip variation manages to be chewy, buttery, studded with the perfect amount of chocolate…and utterly fantastic.
Mel's Kitchen Cafe | Thick and Chewy Chocolate Chip Bars
Caramel Apple Scones
Caramel Apple Scones Caramel apples aren't a big deal in my house for a few very-good-reasons.
Deep Dish Dulce de Leche Apple Pie
Caramel Apple Cheesecake Bars
Chocolate Chip Cookie Dough Cheesecake Squares
Chocolate Espresso Tofu Mousse Recipe
Kit Kat Cake
S'more Crack Dip
Tuesdays with Dorie: Fluff-Filled Chocolate Madeleines
Apple Cider Doughnut Holes
Decadent Fallen Chocolate Cake | Shine Food
my favorite brownies
12 healthy homemade candy recipes | MNN - Mother Nature Network
Caramel Apple Sticky Buns
apple mosaic tart with salted caramel
Dulce de Leche
Booze-infused Cupcakes to Lift Your Spirits
The Original Caramel Apple Jello Shots [With Real Apples]
Golden Snitch Butterbeer Cake Pops | amyBITES
Cinnamon Roll Cake | My Shiny Life
Deliciously Healthy Chocolate Chip Cookies
Carrot Cake Cinnamon Rolls with Cream Cheese Glaze
Strawberry Lemonade Cookies and *Link Party*
banana chocolate chip espresso muffins.
Chocolate-Chip Cookie Pie… without sugar!
Brownie Batter Dip
Avocado-Chocolate Mousse | Culinary Adventures in the Kitchen
Popsicles!
Girl Eats Food - Skittles Cups
Chocolate Chip Lava Cookies
Spice "Cake Batter" Shots Recipe
Three Safe-to-Eat Cookie Doughs: Chocolate Chip, Sugar, and Cake Batter!
The Crepes of Wrath
Chocolate Brownie Pudding
How To Make Brown Sugar Buttercream Frosting
A brownie by any other name…
A list of the coffee giant's off-the-menu items - The Ultimate Guide to Starbucks' Secret Menu on Shine
That's so Michelle...: Caramel Apple Jello Shots [With Real Apples]
The 50 Best Cookie Recipes on the Internet « 50 Best Recipes «
Slow Cooker Gooey Chocolate Cake
Strawberry Heart Pie »
A Taste of Koko: Hot chocolate
Cheesecake Stuffed Strawberries |
Chocolate Dessert Recipes - Caramel Macchiato Cheesecake at WomansDay.com
Nutella lava cookies | Kirbie's Cravings | A San Diego food blog sharing restaurant reviews and recipes
A Tasty Recipe: Pecan Pie Muffins – Tasty Kitchen Blog
Espresso Chocolate Mousse | Flour Child
Recipe} The Most AMAZING Chocolate Cake… EVER
bake sale week: raspberry lemonade bars
Nutella Mug Cake | The Family Kitchen
Sunday Sweets: Butterbeer Cupcakes | amyBITES
Chocolate Pancakes - ThatsSoYummy.com
Chocolate Mousse -DK
Jamaican Banana Fritters - ThatsSoYummy.com
Winter-Spiced Molten Chocolate Cakes with Rum-Ginger Ice Cream Recipe at Epicurious
Twelve-Layer Mocha Cake Recipe at Epicurious
The Best Chocolate Mousse of Your Life Under 5 Minutes : Cafe Fernando ? Food Blog - chocolate mousse recipe - herve this - Chocolate
One Bowl Brownies Recipe
The Baked Brownie
Dulce de Leche Brownies : : Miss in the Kitchen
The Epi-Log on Epicurious.com: Eat Ginger Cookies. You'll Feel Better.
Brownies, as they should be
Chocolate Chip Marshmallow Peanut Butter Pizza
A cupcake for every day of the month.
Healthy Cookie Dough Dip
Chewiest Sugar Cookies - Recipes - food52 - food community, recipe search and cookbook contests
Cookie Dough Dip
Magic Cookie Bars
Snickers Caramel Cheesecake Cookies
Homemade Thin Mints
Chocolate Loaf Cake: simply wonderful.