Sweet Tooth
Caramel Meringue Tart Recipe - Food.com - 145300. Easy Lemon Bars Recipe. Mulled Wine Hot Chocolate. I just can't wrap my head around the fact that Christmas is on Sunday already.
You can probably blame it on the whirlwind trip to Malaysia that threw me out of wack and the fact that I barely slept in 4 days (btw thank you all for your votes and to Nuffnang for showing us a good time!). Not that I'm complaining of course but I had the biggest baking bug last week and I was itching to get back into it when I returned. Instead all I wanted to do was just sleep, snuggle with my dog in bed, tuck into the massive Malaysian snack haul that I lugged home and sleep some more.
This was the only thing I could muster during my zombie state. Glazed Holiday Cookies Recipe. Not so much a recipe… More of a "why have I not been doing this for years?"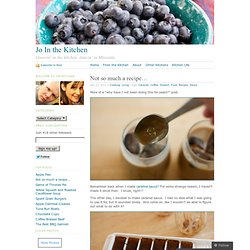 Post. Remember back when I made caramel sauce? For some strange reason, I haven't made it since then. Salted Caramel Chocolate Tart. A couple of years ago, when Eliza asked how people made salt, my husband grabbed a pot from our kitchen, walked down the hill to his lab, and filled the pot with filtered seawater.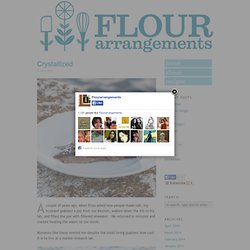 He returned in minutes and started heating the water on our stove. Moments like these remind me–despite the small living quarters–how cool it is to live at a marine research lab. Our pot of seawater boiled, burbled, and then sputtered saline explosions in dangerous arcs through the air. Long after our windows had fogged, long after heavy water droplets streaked down the windowpanes through thick condensation, long after we'd lost interest in monitoring the pot's contents, a thick salty paste coated its bottom. Cookie Dough Ice Cream Brownies. As I wrap up my last day of vacation with my family, I am feeling grateful and happy and relaxed.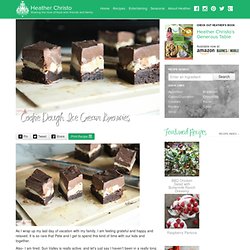 It is so rare that Pete and I get to spend this kind of time with our kids and together. Also- I am tired. Sun Valley is really active, and let's just say I haven't been in a really long time! Swimming, biking, river rafting, ice skating (ha!) Everyday Cocoa Cake Recipe at Epicurious. Photo by Romulo Yanes yield Makes 8 to 10 servings Active time: 20 min Start to finish: 2 3/4 hr Preparation.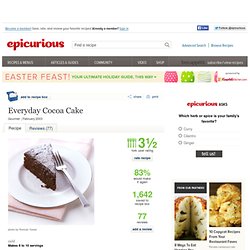 Cocoa Brownies with Browned Butter and Walnuts Recipe. Position rack in bottom third of oven; preheat to 325°F.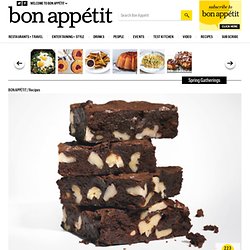 Line 8x8x2-inch metal baking pan with foil, pressing foil firmly against pan sides and leaving 2-inch overhang. Coat foil with nonstick spray. Melt butter in medium saucepan over medium heat. Hazelnut Fondant. Very few people I know can resist a molten chocolate cake and I'm definitely one of them.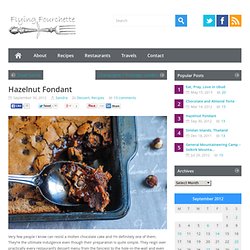 They're the ultimate indulgence even though their preparation is quite simple. They reign over practically every restaurant's dessert menu from the fanciest to the hole-in-the-wall and even their extra wait time would held in place the most hurried dinners. How to Make Boba & Bubble Tea at Home. Previous image Next image Love bubble tea?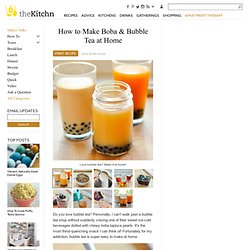 Make it at home! Mexican Spiced Hot Chocolate | gimme some oven. December 20, 2012 Mmmm…want some?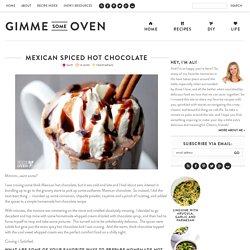 I was craving some thick Mexican hot chocolate, but it was cold and late and I had about zero interest in bundling up to go to the grocery store to pick up some authentic Mexican chocolate. So instead, I did the next best thing — rounded up some cinnamon, chipotle powder, cayenne and a pinch of nutmeg, and added the spices to a simple homemade hot chocolate recipe. Triple Salted Caramel Cupcakes. These little cakes have been a long time in the making.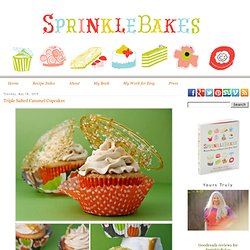 I guess you could call them my own personal Frankenstein. I've been searching for the perfect salted caramel cupcake recipe and although there are some good ones out there, I've never found the holy grail. I did find pieces and parts of different recipes that I loved and wanted to use again. I guess you could say that I stitched them all together and what you see above is the delicious result! I experimented with the frosting until it had the perfect taste and texture. Nutella Swirled Banana Bread. I've had quite the tumultuous relationship with Nutella. Since discovering I was highly allergic to tree nuts back in high school, I have been careful—and lucky—to avoid most incidents.
While almonds are perfectly fine for me to eat (thank goodness), other tree nuts have been labeled with a big "Do Not Eat" sticker. My diagnosis has never bothered me too much and I rarely feel as if I am missing out. Day 1: Chocolate Peanut Butter Rice Krispie Roll. It's December! December 1st.Ready to gain 5 pounds? Okay, hopefully not.Buttttt (sorry), let the countdown to Christmas begin! ….with something gooey, chocolatey, and freaking good. This is my sister Camille's go-to recipe.And last month I was totally craving a slice.So I asked her to for the details, made it that day, and almost finished it off that night (with the help of a few friends).Seriously, it's soooo good……
Cauldron Cakes. This is part II of my mini-series on Harry Potter snacks from the books brought to life (part I is on Honeydukes treats, part III features every wizard's favorite drink—butterbeer! — and part IV showcases decadent butterbeer cupcakes). When I was young, I wanted to grow up to be a writer. I also wanted to be a teacher, deep sea diver, and a cashier at McDonald's, but that's a different story. Mel's Kitchen Cafe | Thick and Chewy Chocolate Chip Bars. I am just returning from a sudden out-of-town trip and my house and children are overloaded with needs I must attend to. So in that vein, let me simply state that if you need a midweek pick-me-up, these quick and delicious treats are for you.
I love the ease of bars versus cookies and this chocolate chip variation manages to be chewy, buttery, studded with the perfect amount of chocolate…and utterly fantastic. These have definitely become my go-to chocolate chip blondie bar and I hope you love them as much as we do. Now wish me luck in getting my life in order. Thick and Chewy Chocolate Chip Bars. Caramel Apple Scones. Caramel Apple Scones Caramel apples aren't a big deal in my house for a few very-good-reasons. Personally, I can't seem to get behind the idea that biting into a round and sticky surface is somehow going to work out all right. My son isn't allowed to bite into anything hard with his front teeth since he knocked part of his tooth out with a baseball bat last year. The caramel would latch onto that temporary tooth and suck it right out of his mouth.
And my husband just isn't into getting messy at all. Deep Dish Dulce de Leche Apple Pie. Caramel Apple Cheesecake Bars. Chocolate Chip Cookie Dough Cheesecake Squares. Chocolate Espresso Tofu Mousse Recipe. Kit Kat Cake. S'more Crack Dip. Tuesdays with Dorie: Fluff-Filled Chocolate Madeleines. Apple Cider Doughnut Holes. Decadent Fallen Chocolate Cake | Shine Food. My favorite brownies. 12 healthy homemade candy recipes.
Caramel Apple Sticky Buns. Apple mosaic tart with salted caramel. Dulce de Leche. Booze-infused Cupcakes to Lift Your Spirits. The Original Caramel Apple Jello Shots [With Real Apples] Golden Snitch Butterbeer Cake Pops | amyBITES. Cinnamon Roll Cake. Deliciously Healthy Chocolate Chip Cookies. Carrot Cake Cinnamon Rolls with Cream Cheese Glaze. Strawberry Lemonade Cookies and *Link Party* Banana chocolate chip espresso muffins. Chocolate-Chip Cookie Pie… without sugar! Brownie Batter Dip. Avocado-Chocolate Mousse. Popsicles! Girl Eats Food - Skittles Cups. Chocolate Chip Lava Cookies. Spice "Cake Batter" Shots Recipe.
Three Safe-to-Eat Cookie Doughs: Chocolate Chip, Sugar, and Cake Batter! The Crepes of Wrath. Chocolate Brownie Pudding. How To Make Brown Sugar Buttercream Frosting. A brownie by any other name… A list of the coffee giant's off-the-menu items - The Ultimate Guide to Starbucks' Secret Menu on Shine. Caramel Apple Jello Shots [With Real Apples] The 50 Best Cookie Recipes on the Internet « 50 Best Recipes « Slow Cooker Gooey Chocolate Cake. Strawberry Heart Pie » A Taste of Koko: Hot chocolate. Cheesecake Stuffed Strawberries | Chocolate Dessert Recipes - Caramel Macchiato Cheesecake at WomansDay.com. Nutella lava cookies | Kirbie's Cravings | A San Diego food blog sharing restaurant reviews and recipes. A Tasty Recipe: Pecan Pie Muffins – Tasty Kitchen Blog. Espresso Chocolate Mousse | Flour Child. Recipe} The Most AMAZING Chocolate Cake… EVER. Bake sale week: raspberry lemonade bars. Nutella Mug Cake | The Family Kitchen. Sunday Sweets: Butterbeer Cupcakes | amyBITES.
Chocolate Pancakes - ThatsSoYummy.com. Chocolate Mousse -DK. Jamaican Banana Fritters - ThatsSoYummy.com. Winter-Spiced Molten Chocolate Cakes with Rum-Ginger Ice Cream Recipe at Epicurious. Twelve-Layer Mocha Cake Recipe at Epicurious. The Best Chocolate Mousse of Your Life Under 5 Minutes : Cafe Fernando ? Food Blog - chocolate mousse recipe - herve this - Chocolate. One Bowl Brownies Recipe. The Baked Brownie. Dulce de Leche Brownies : : Miss in the Kitchen. The Epi-Log on Epicurious.com: Eat Ginger Cookies. You'll Feel Better. Brownies, as they should be. Chocolate Chip Marshmallow Peanut Butter Pizza. A cupcake for every day of the month. Healthy Cookie Dough Dip. Chewiest Sugar Cookies - Recipes - food52 - food community, recipe search and cookbook contests. Cookie Dough Dip. Magic Cookie Bars. Snickers Caramel Cheesecake Cookies. Homemade Thin Mints. Chocolate Loaf Cake: simply wonderful.
---