Marionetterebel
Jane Hall
Call for Applications | Humanity in Action. Humanity in Action is now accepting applications for the 2015 Diplomacy and Diversity Fellowship.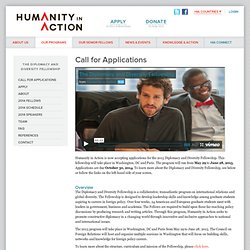 This fellowship will take place in Washington, DC and Paris. The program will run from May 29 to June 28, 2015. Applications are due October 30, 2014. To learn more about the Diplomacy and Diversity Fellowship, see below or follow the links on the left-hand side of your screen. Overview. Freezer Meals on the Cheap - A Turtle's Life for Me. Update: One thing I wanted to point out… a lot of people seem to be under the impression that I cook all of my meat ahead of time and then thaw it so I'm losing a lot with the quality of the meat.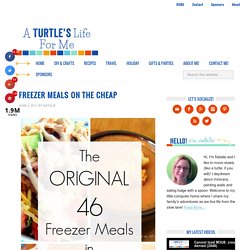 That is not the case and I'll go read the rest of the post to see if I led you to believe that anywhere. The only meat I do cook ahead of time, is the shredded chicken, ground beef and taco. Everything else, gets frozen uncooked. I actually mention that this way it gets to marinate while it's thawing and THEN we put it on the grill to cook. CA LNA Chinese - NEW. Thank you for your interest in the Foreign Service Consular Adjudicator limited non-career appointment (LNA) opportunity.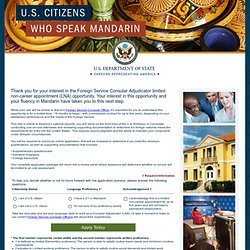 Your interest in this opportunity and your fluency in Mandarin have taken you to this next step. While your role will be similar to that of a Foreign Service Consular Officer, it's important for you to understand this opportunity is for a limited time - 18 months to begin - with a renewable contract for up to five years, depending on your satisfactory performance and the needs of the Foreign Service. This role is critical to America's national security; you will serve on the front lines of the U.S. Embassy or Consulate, conducting one-on-one interviews and reviewing supporting documentation to determine if a foreign national meets the requirements for entry into the United States.
This requires sound judgment and the ability to maintain your composure under stressful circumstances. Charles G. Koch Summer Fellow Program | The Institute for Humane Studies. Advance your career while advancing liberty!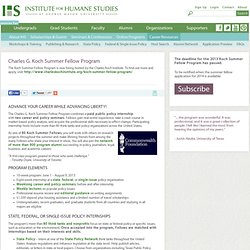 The Charles G. Koch Summer Fellow Program combines a paid public policy internship with two career and policy seminars. Offbeat baby names for girls. Uncommon and lovely, they're the perfect baby names for creative, unique families.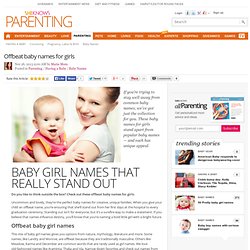 When you give your child an offbeat name, you're ensuring that she'll stand out from her first days at the hospital to every graduation ceremony. Standing out isn't for everyone, but it's a surefire way to make a statement. If you believe that names influence destiny, you'll know that you're naming a bold little girl with a bright future. Offbeat baby girl names This mix of baby girl names gives you options from nature, mythology, literature and more. Baby Middle Names for... - Middle Name Ideas. Baby boy names with serious swagger. If you are looking for a popular baby boy name like Jacob or Mason, our list from the Social Security Administration's top baby names might be for you.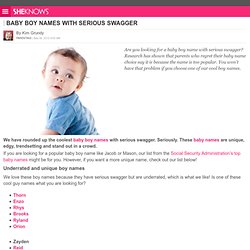 However, if you want a more unique name, check out our list below! Underrated and unique boy names. Loans that change lives. Ion Titanium Platinum Gator Flat Iron 1": Beauty. Bio Ionic OnePass NanoIonic 1" Straightening Iron: Beauty. Ion One Stroke Perpetual Heat Flat Iron: Beauty. How to Wear a Scarf with Any Neckline.
With so many opportunities for scarf styling ahead, we figured it was time to put our Knot Library to the test!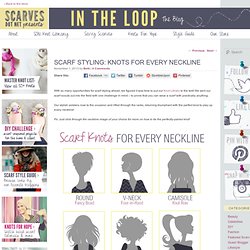 We sent our scarf scouts out into the field with one challenge in mind – to prove that you can wear a scarf with practically anything. Our stylish soldiers rose to the occasion and rifled through the racks, returning triumphant with the perfect knot to play up every neckline! The Lost Sea Adventure Mobile Home. The Lost Sea is America's Largest Underground Lake and Registered National Landmark.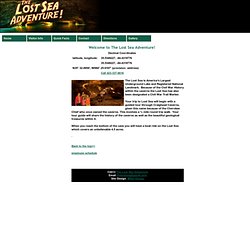 Because of the Civil War History within the caverns the Lost Sea has also been designated a Civil War Trail Marker. Your trip to Lost Sea will begin with a guided tour through Craighead Caverns, given this name because of the Cherokee Chief who once owned the caverns. This involves a ¾ mile round trip walk. Arm Knitting Tutorial - How-To | simplymaggie.com. Posted on October 11, 2012 by Maggie in DIY Projects, Knit and Crochet As some of you may know I knit and crochet.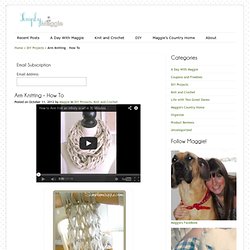 I am by no means an advanced knitter, I like to keep it simple so I am just trying to perfect my knit stitch and purl stitch, which if you don't know are the two most basic knitting stitches. For the past year I have started so many projects and have only completed a couple due to it just taking too long and I give up! I work full time and yes knitting is a relaxing way to end the night, but let's face it! Sometimes we are just too tired to focus on a project…am I right? Gapminder: Unveiling the beauty of statistics for a fact based world view. - Gapminder.org. Mefl97s4BH1qihh0eo2_r1_500.jpg (JPEG Image, 454 × 750 pixels) - Scaled (68%) Help.
Recipes
Beauty. Traveling. Career. Wedding. Photography. Cool Websites. Gift ideas. Crochet. Artsy Fartsy Crafts.
---