Recipes
EDDIE ROSS - Pink Ombre Cake - StumbleUpon. Here's a cake sure to sweeten up the Valentines in your life.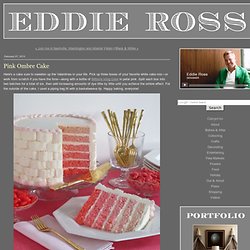 Pick up three boxes of your favorite white cake mix—or work from scratch if you have the time—along with a bottle of Wilton's Icing Color in petal pink. Split each box into two batches for a total of six, then add increasing amounts of dye little by little until you achieve the ombre effect. For the outside of the cake, I used a piping bag fit with a basketweave tip. Images of the Week, January 30-February 3, 2012. Homemade Snickers Bars | How Sweet It Is - StumbleUpon. Insanity.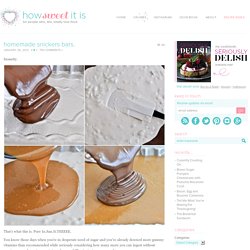 That's what this is. Pure In.San.It.TEEEEE. You know those days when you're in desperate need of sugar and you've already downed more gummy vitamins than recommended while seriously considering how many more you can ingest without causing severe harm to your internal organs? Strawberry Margarita Jell-O Shooters | Bakers Royale - StumbleUpon. Strawberry Margarita Jell-O Shooters Margarita Jell-O Shooters ~ A fun farewell to summer and a festive edition to your Sunday football tailgate party or gatherings.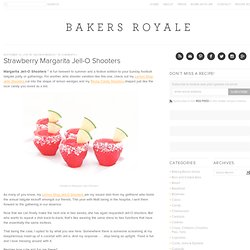 For another Jello shooter variation like this one, check out my Lemon Drop Jello Shooters cut into the shape of lemon wedges and my Rocky Candy Shooters shaped just like the rock candy you loved as a kid. Strawberry Margarita Jello Shooters As many of you know, my Lemon Drop Jell-O Shooters are my issued dish from my girlfriend who holds the annual tailgate kickoff amongst our friends.
- StumbleUpon. A word of advice | carrot soup | Food Loves Writing. If you don't want anything in your life to change, say, for example, your food stereotypes?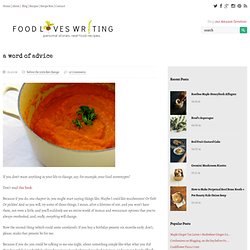 Don't read this book. Because if you do, one chapter in, you might start saying things like, Maybe I could like mushrooms! Or fish! Or pickles! And so you will, try some of those things, I mean, after a lifetime of not, and you won't hate them, not even a little, and you'll suddenly see an entire world of menus and restaurant options that you've always overlooked, and, really, everything will change.
Healthy Carrot Soup Recipe | Low Calorie Soup Recipes. Rich orange color, aromatic with pleasing appetizing look, the sweetness of the carrot counterbalanced beautifully by the potatoes, celery and a touch of saffron, very nutritious and immensely beneficial to palate, sight and health - That's the elevator pitch for this carrot soup which I am going to give you.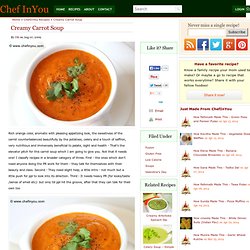 Not that it needs one! I classify recipes in a broader category of three. First - the ones which don't need anyone doing the PR work for them - they talk for themselves with their beauty and class. Second - They need slight help, a little intro - not much but a little push for ppl to look into its direction. Curried Sweet Potato and Carrot Soup Recipe. Although spring is just around the corner, I am going to post just a few more soup recipes thanks to my recent soup exchange .
I served and exchanged this vegetarian soup and some of our guests were nice enough to share their recipes with me. So, stay tuned for the final soup hurrah! Darn you never-ending winter – we WILL survive you with our warm, comforting soups to the last! Super simple carrot soup - the new pumpkin [5 ingredients] Pumpkin soup.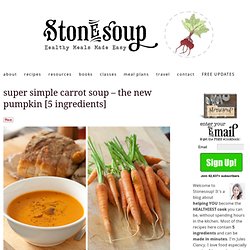 Such a wonderful comforting winter treat. Smooth and slightly sweet, with its warming sunny colour it's one of those soups that can't help but lift your spirits as the days draw short and dark. The only problem is the pumpkin preparation. In particular hacking through that tough, tough skin. Creamy Healthy Carrot Soup | Dianasaur Dishes. Have you ever heard of rainbow carrots?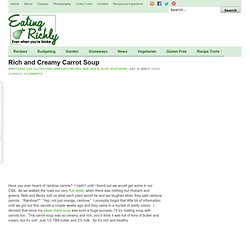 I hadn't until I found out we would get some in our CSA. As we walked the rows our very first week, when there was nothing but rhubarb and greens, Nels and Becky told us what each plant would be and we laughed when they said rainbow carrots. "Rainbow?" "Yep, not just orange, rainbow." I promptly forgot that little bit of information until we got our first carrots a couple weeks ago and they came in a myriad of pretty colors. Blue-Eyed Bakers - Blue Eyed Bakers - StumbleUpon. Chocolate Chip Cookie Dough Truffles | RecipeGirl.com - StumbleUpon. Chocolate Chip Cookie Dough Truffles I've never liked chocolate chip cookies.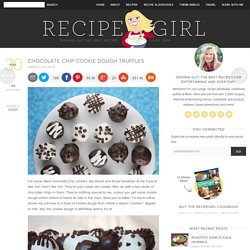 Go ahead and throw tomatoes at me if you'd like, but I don't like 'em. They're just a plain old cookie, after all, with a few studs of chocolate chips in them. Enchilada Bake: Quick Tex-Mex food for a weekday night. Margot Harris for the Jersey JournalLayers of corn tortillas, meat and cheese will win over even the pickiest eater.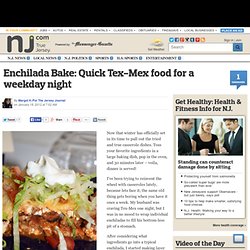 Now that winter has officially set in its time to pull out the tried and true casserole dishes. Toss your favorite ingredients in a large baking dish, pop in the oven, and 30 minutes later – voila, dinner is served! I've been trying to reinvent the wheel with casseroles lately, because lets face it, the same old thing gets boring when you have it once a week. My husband was craving Tex-Mex one night, but I was in no mood to wrap individual enchiladas to fill his bottom-less pit of a stomach. Food - Recipes : Chocolate chip cookies. Red Velvet Crêpes | Duhlicious - StumbleUpon. I rolled my eyes at the red velvet cake trend, but now I can't get enough. I'll make any excuse to have 'cake' for breakfast– here's my take on a classic.
Red Velvet Crepes (Makes about 24, 8″ crepes) Ingredients: – 1 1/2 cups all-purpose flour - 1 teaspoon baking powder - 1/2 teaspoon baking soda - 1/4 teaspoon salt - 3 tablespoons sugar - 2 cups butter milk - 1 1/4 cup whole or lowfat milk - 1 large egg - 1 teaspoon vanilla extract - 1 1/2 tablespoons cocoa powder, sifted - 1 tablespoon red food color gel - 2 tablespoons unsalted butter, melted + 2 tablespoons cooking oil (for pan)
Easy As 1, 2, 3 | Churros with Chocolate Dipping Sauce & toasty biscuit - StumbleUpon. The other day my friend sent me a text and asked, "I want to try making doughnuts and want to make churros but they look difficult. Are they tricky to get right?!" I replied, "Nope! Valentine Cookies + PrintableThirty Handmade Days - StumbleUpon. Triple Chocolate Oreo Oatmeal Cookies | Heather's Dish - StumbleUpon. Let's talk cookies, mmmmk? I like cookies. Duh. We know this. Nate loves cookies. Cinnamon Toast&Rolls - Circle B Kitchen - Circle B Kitchen - StumbleUpon. The USDA released its new food pyramid the other day (which is actually a plate now instead of a pyramid), and I am sorely disappointed to report that cinnamon rolls did not appear anywhere on that plate.
I think by now most of us know what should be on our dinner plate in terms of healthy, well-rounded nutrient-laden meals, but it is my considered opinion that our breakfast plate should include cinnamon rolls now and then. And not just any cinnamon roll, mind you, but how 'bout a homemade cinnamon roll hybrid that is a cross between a cinnamon roll and cinnamon toast, is super easy to make and gosh darn delicious. Guacamole Grilled Cheese Sandwich | Grilled Cheese Recipe. Baked Egg Boat recipe - StumbleUpon. Better-Than-Crack-Brownies | How Sweet It Is - StumbleUpon.
Cheesecake Stuffed Strawberries | - StumbleUpon. Red Velvet Cheesecake Brownies | Sweet Pea's Kitchen - StumbleUpon. Strawberry Torte - StumbleUpon. Snowball Cookies | Favorite Holiday Cookies. Monkey Bread with Bourbon Crème Anglaise | Apartment Therapy The Kitchn - StumbleUpon. Chocolate Cupcakes with Flaming Strawberries - StumbleUpon. Nutella Mug Cake | Family Kitchen - StumbleUpon.
---