Recipes
Here's a cake sure to sweeten up the Valentines in your life.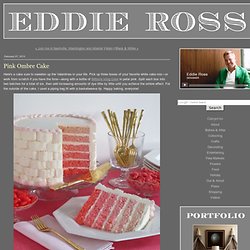 EDDIE ROSS - Pink Ombre Cake - StumbleUpon
Images of the Week, January 30-February 3, 2012 | Popular Science
Homemade Snickers Bars | How Sweet It Is - StumbleUpon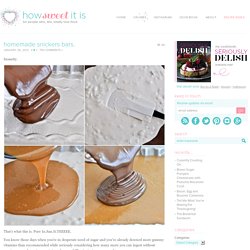 Insanity.
Strawberry Margarita Jell-O Shooters | Bakers Royale - StumbleUpon
Strawberry Margarita Jell-O Shooters Margarita Jell-O Shooters ~ A fun farewell to summer and a festive edition to your Sunday football tailgate party or gatherings. For another Jello shooter variation like this one, check out my Lemon Drop Jello Shooters cut into the shape of lemon wedges and my Rocky Candy Shooters shaped just like the rock candy you loved as a kid. Strawberry Margarita Jello Shooters As many of you know, my Lemon Drop Jell-O Shooters are my issued dish from my girlfriend who holds the annual tailgate kickoff amongst our friends.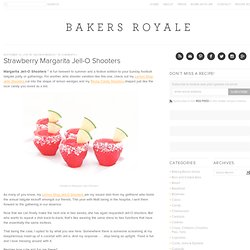 - StumbleUpon
If you don't want anything in your life to change, say, for example, your food stereotypes? Don't read this book.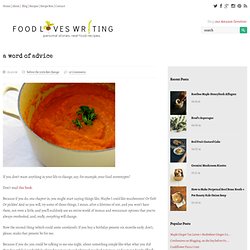 a word of advice | carrot soup | Food Loves Writing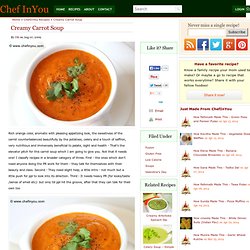 Rich orange color, aromatic with pleasing appetizing look, the sweetness of the carrot counterbalanced beautifully by the potatoes, celery and a touch of saffron, very nutritious and immensely beneficial to palate, sight and health - That's the elevator pitch for this carrot soup which I am going to give you.
Healthy Carrot Soup Recipe | Low Calorie Soup Recipes | Chef In You
Although spring is just around the corner, I am going to post just a few more soup recipes thanks to my recent soup exchange .
Curried Sweet Potato and Carrot Soup Recipe :: Whipped
super simple carrot soup - the new pumpkin [5 ingredients]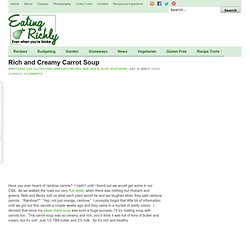 Creamy Healthy Carrot Soup | Dianasaur Dishes
Have you ever heard of rainbow carrots? I hadn't until I found out we would get some in our CSA.
Blue-Eyed Bakers - Blue Eyed Bakers - StumbleUpon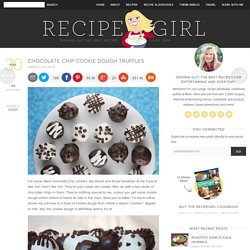 Chocolate Chip Cookie Dough Truffles | RecipeGirl.com - StumbleUpon
Chocolate Chip Cookie Dough Truffles
Margot Harris for the Jersey JournalLayers of corn tortillas, meat and cheese will win over even the pickiest eater.
Enchilada Bake: Quick Tex-Mex food for a weekday night | NJ.com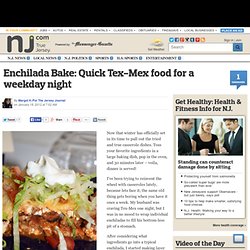 Food - Recipes : Chocolate chip cookies
Red Velvet Crêpes | Duhlicious - StumbleUpon
I rolled my eyes at the red velvet cake trend, but now I can't get enough.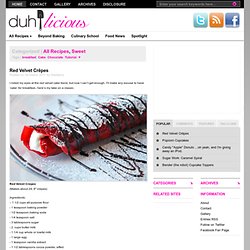 The other day my friend sent me a text and asked, "I want to try making doughnuts and want to make churros but they look difficult. Are they tricky to get right?!" I replied, "Nope!
Easy As 1, 2, 3 | Churros with Chocolate Dipping Sauce & toasty biscuit - StumbleUpon
Valentine Cookies + PrintableThirty Handmade Days - StumbleUpon
Perfect a "Toad in the Hole" Breakfast
Perfect a "Toad in the Hole" Breakfast | Guy Gourmet | MensHealth.com - StumbleUpon
In the realm of Scalloped Potatoes, this recipe is the winner . . . at least in my book. It's a Family Favorite. We make these for almost every holiday dinner, and in between. When I was younger, we would devour these very quickly at the dinner table. If there were any left-overs, we would fight for them! I got smart though . . .
CREAMY CHEESY POTATOES & Get Off Your Butt and BAKE! - StumbleUpon
Triple Chocolate Oreo Oatmeal Cookies | Heather's Dish - StumbleUpon
Let's talk cookies, mmmmk?
Cinnamon Toast&Rolls - Circle B Kitchen - Circle B Kitchen - StumbleUpon
Guacamole Grilled Cheese Sandwich | Grilled Cheese Recipe | Two Peas & Their Pod
Baked Egg Boat recipe - StumbleUpon
Better-Than-Crack-Brownies | How Sweet It Is - StumbleUpon
Cheesecake Stuffed Strawberries | - StumbleUpon
Red Velvet Cheesecake Brownies | Sweet Pea's Kitchen - StumbleUpon
Strawberry Torte - StumbleUpon
Snowball Cookies | Favorite Holiday Cookies | A Nut in a Nutshell
Recipe: Monkey Bread with Bourbon Crème Anglaise | Apartment Therapy The Kitchn - StumbleUpon
Chocolate Cupcakes with Flaming Strawberries - StumbleUpon
Nutella Mug Cake | Family Kitchen - StumbleUpon