Música
1D touch - Plateforme de streaming équitable. Instagram. Noise off festival. Equipaments musicals.
TedxAlicante: Nuevos retos y modelos en el mundo de la música. TedxAlicante: Nuevos retos y modelos en el mundo de la música Apúntate a esta actividad para asistie TEDxAlicante ya dispone de blog propio.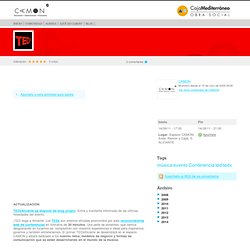 Entra y mantente informado de las últimas novedades del evento. ¡TED llega a Alicante! Getting into the digital groove: The top five of music 2.0. Co founders of Last.fm: from left to right Richard Jones, Felix Miller and Martin Stiksel for Technology section.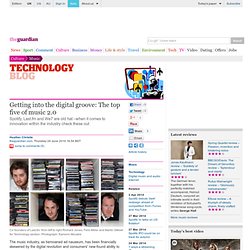 Photograph: Eamonn Mccabe The music industry, as bemoaned ad nauseum, has been financially skewered by the digital revolution and consumers' new-found ability to share music freely. But green shoots are springing up everywhere and even Spotify, Last.fm and We7 are old hat when it comes to innovation within the industry. Here are five new digital music projects using crowd-sourcing, cool coding and collaboration to help the music industry rock out in the digital age: Freesound :: home page. Desk - Music and Sound Design.
Los 10 hijos mayores de Spotify. En el mundo de la Web 2.0, una importante señal de tu popularidad es cuántos desarrolladores externos tontean con tu API para darle descendencia a tu aplicación en forma de nuevos servicios y aplicaciones.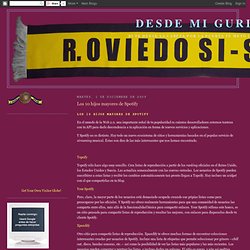 Y Spotify no es distinto. Hay todo un nuevo ecosistema de sitios y herramientas basados en el popular servicio de streaming musical. Nudge. Select 1 of 8 different Sound Patterns from the small Matrixes icons on the right. Use your mouse to draw notes on each 16 Step Matrix. Adjust the volume of the iNudge. Click MORE for advanced adjustment abilities. Sácale todo el provecho a Spotify (I) Por Víctor Pimentel, , 5 Comentarios A pesar de los anuncios, Spotify sigue siendo la mejor aplicación de 2009, y la mayoría de las personas que la han probado estarán de acuerdo conmigo al afirmar que ha cambiado la manera de escuchar música.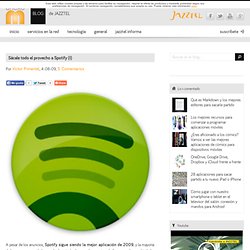 Gracias a su éxito han aparecido multitud de sitios webs y aplicaciones que aumentan su utilidad. Eso sin haber aterrizado aún en el mercado americano, que cuando lo hagan seguro que la cantidad de addons se multiplicará rápidamente. No está de más recordar que está basada en tecnología P2P, así que una conexión con alta velocidad de subida como AnexoM es perfecta para escuchar música. SpotifiTunes es un servicio web que nos permite escuchar la música de nuestra librería de iTunes en Spotify, si es que está disponible. Voyager Golden Record Sounds and Music of Earth. El musictecari, un ofici en expansió. Aquest bloc és, no ens cansem de dir-ho, un generador de propostes musicals per biblioteques i musictecaris.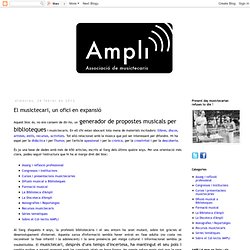 En ell s'hi estan abocant tota mena de materials incitadors: llibres, discos, artistes, estils, recursos, activitats. Tot allò relacionat amb la música que pot ser interessant per difondre. Hi ha espai per la didàctica i per l'humor, per l'article apassionat i per la crònica, per la creativitat i per la descoberta. Indigestió.
---