Knitting and Crochet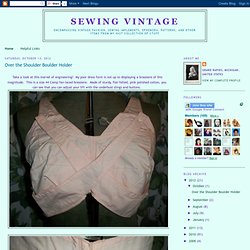 Take a look at this marvel of engineering! My poor dress form is not up to displaying a brassiere of this magnitude. This is a size 44 Camp fan-laced brassiere. Made of sturdy, flat-felled, pink polished cotton, you can see that you can adjust your lift with the underbust slings and buttons.
Sewing Vintage
Crochet_Hair_clip_and_Rings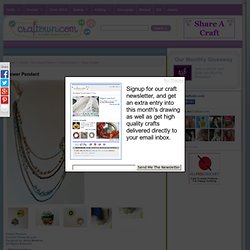 Step 1: Getting Started Necklaces or hair clips are a great way to display your favorite pendant or heirlooms. Use this free pattern for a crocheted flower and then add to a necklace or hair clip and you will have the best of both worlds. This is a great idea for a personalized gift for Mother's day or for anyone that loves flowers!
Free Crochet Idea - Flower Pendant or Hairclip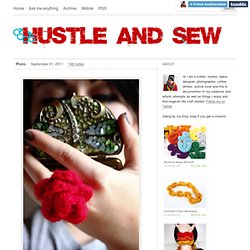 Crochet Rose Ring Tutorial MATERIALS: Yarn in...
Crochet Rose Ring Tutorial MATERIALS:Yarn in color of choice (I used Red Heart in Cherry Red)3.75mm Crochet HookYarn NeedleScissorsA Blank Ring BackHot glue gun and sticks Pattern:Start by ch 20
Five Green Acres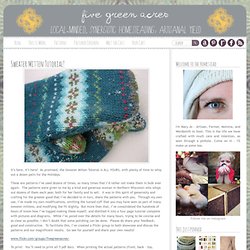 It's here, it's here! As promised, the Sweater Mitten Tutorial is ALL YOURS, with plenty of time to whip out a dozen pairs for the Holidays. These are patterns I've used dozens of times, so many times that I'd rather not make them in bulk ever again. The patterns were given to me by a kind and generous woman in Northern Wisconsin who whips out dozens of them each year, both for her family and to sell. It was in this spirit of generosity and crafting for the greater good that I've decided to in turn, share the patterns with you. Through my own use, I've made my own modifications, omitting the turned cuff that you may have seen as part of many sweater mittens, and modifying the fit slightly.
How to get the ends not to curl up
KK Round Looms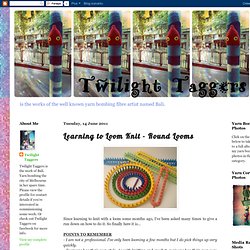 Since learning to knit with a loom some months ago, I've been asked many times to give a run down on how to do it. So finally here it is... - I am not a professional. I've only been looming a few months but I do pick things up very quickly. - Everyone has their own style. As with knitting and crochet, everyone has their own way of doing it.
Learning to Loom Knit - Round Looms
Sweater Surgery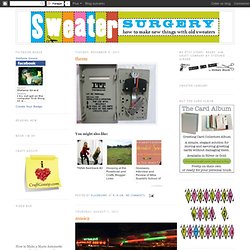 Did you know you can sculpt pom poms? Well you can. I think pom poms have to be in my top 10 craft materials to cut up! Today, just in time for Easter, I have a cute pom pom bunny inspired by the ultra adorable book Adventures in Pompom Land: 25 Cute Projects Made from Handmade Pompoms.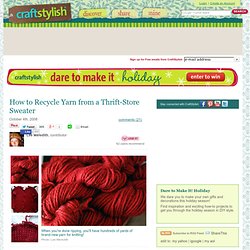 October 4th, 2008 Email 62 users recommend When you're done ripping, you'll have hundreds of yards of brand-new yarn for knitting! Lee Meredith
thrift stores are full of dorky sweater vests. i got this idea to restyle one into a cute dirndl-bodice-like top. (that adorable felt flower brooch is from the fabulous woolly fabulous!) i liked the nordic looking pattern knitted into this one, and the silver buttons. it was kind of frumpy and big to begin with, but priced right at $1.99. it was wool so i shrunk it in the washer and dryer first, which made it small enough that i didn't have to cut the armholes or the bottom, only the part around the bust. i should have taken a picture of how i cut it, but in my excitement i forgot so i drew this diagram to show you… i put it on and marked where i would like it to sit at the bust. then i cut from the shoulder (leaving a little extra for seam allowance) and finished the edge with some red piping. i also shaped it in a little bit at the waist since it was still too boxy. i think it's cute for spring!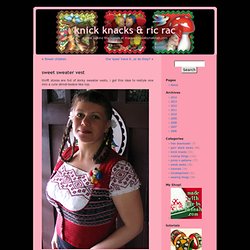 sweet sweater vest « knick knacks & ric rac
Edited to add: I take it for granted that everyone knows the true "first step"... felt (wash it in a hot wash & throw it in the dryer) your sweater before you cut your mitten pieces. This will prevent your pieces from unraveling. The first step is to create your pattern.
Tutorial Tuesday - Recycled Wool Mittens & Mitten Doublers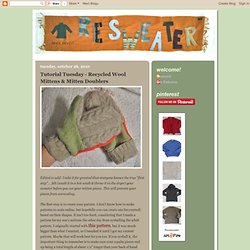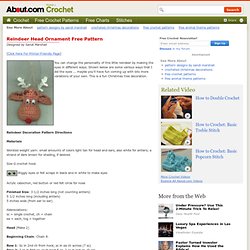 Reindeer Head Ornament Free Pattern Designed by Sandi Marshall [Click Here For Printer-Friendly Page] Reindeer Decoration Pattern Directions Materials Worsted weight yarn: small amounts of colors light tan for head and ears, also white for antlers; a strand of dark brown for shading, if desired.
Free Reindeer Head Ornament Pattern - Christmas Tree Decoration
JellyYarns.com - Crochet and Knitting Patterns - Including Our FREE Pattern!
Jelly Yarn® is perfect for knitting or crocheting! Whether knitting or crocheting enjoy our beginner to advanced beginner patterns! Patterns for Sale For knitting, the Boa Jelly Purse patterns are a great one piece project.