Holiday Party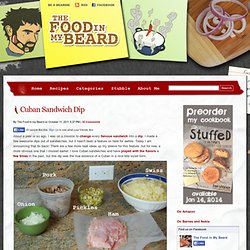 About a year or so ago, I was on a mission to change every famous sandwich into a dip.
Cuban Sandwich Dip
Stuffed Pizza Rolls - Our Best Bites
We sometimes call this "Inside-Out" pizza too. They're garlicky, cheesy little pizza dough balls filled with all of the yummy toppings you'd put on a pizza. To eat, just pop one off and dunk it in marinara sauce. Don't you love finger food?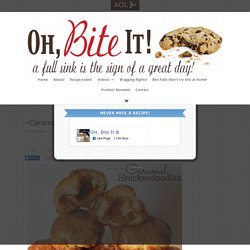 ~Caramel Snickerdoodles
Hmmm, where do I begin? Should I start with the warm flaky & tender, Cinnamon Sugar coated Crescent Nugget filled with oozing Caramel?! Or should I start with how easy these are and probably the most delicious and impressive thing I've ever made with only 3 ingredients?
This has been come to be known around our office as 'crack bread' because it's so addictive and never lasts long. And it's so simple you can figure it out just from the picture. Get a nice crusty loaf of bread and cut it criss-cross. Not stuff the openings with your favorite cheese (we like Havarti), and top with green onions.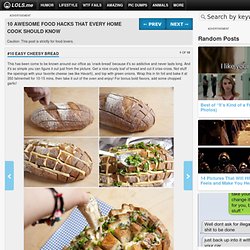 10 Awesome Food Hacks That Every Home Cook Should Know - LOLS.me
It's not Thanksgiving or Christmas without mashed potatoes and gravy, right? Well now you can eat it for dessert, too. These cheesecake bites look just like mini mounds of mashed potatoes, topped with caramel gravy and chocolate pepper flakes. Make plenty, because everyone will want seconds. Ingredients:
Cheesecake mashed potato bites with caramel gravy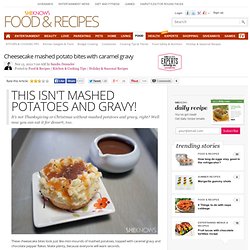 Pulled-Pork Macaroni and Cheese with Caramelized Onions and Four Cheeses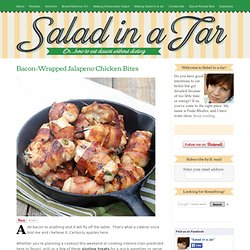 Add bacon to anything and it will fly off the table.
Bacon-wrapped Jalapeno Chicken Bites
18 Microwave Snacks You Can Cook In A Mug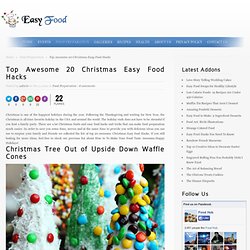 Top Awesome 20 Christmas Easy Food Hacks Posted by admin on Dec 5, 2012 in Food Preparation | 5 comments Christmas is one of the happiest holidays during the year. Following the Thanksgiving and waiting for New Year, the Christmas is all time favorite holiday in the USA and around the world. The holiday rush does not have to be stressful if you host a family party.
Top Awesome 20 Christmas Easy Food Hacks | Easy Food
Ingredients *6 egg yolks 3 tablespoons sugar 1 pound mascarpone cheese 1 1/2 cups strong espresso, cooled 2 teaspoons dark rum 24 packaged ladyfingers 1/2 cup bittersweet chocolate shavings, for garnish Directions
Tiramisu Recipe : Giada De Laurentiis
All-Star Holiday Cookie Recipes : Recipes and Cooking : Food Network
Punchfork — The best new recipes from top food sites
10 Bets That You Will Always Win - Juzz Tv
Upload Video | Upload Photo Welcome Guest ! Please Login or Register Videos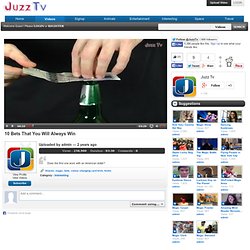 Well these naughty little treats are well….naughty but oh so necessary. There are a bit like my Brownie Covered Oreo's from last Christmas but enhanced with layers of peanut butter and a double decker stack of Oreos in each little brownie cake. They are simply prepared in cupcake liners. Hope you enjoy this ultra sweet little cake Ok, I have to brag about this brownie mix from Trader Joes for a second. I know not everyone has a Trader Joes near by, however if you do, get a load of their ready to pour baking mix.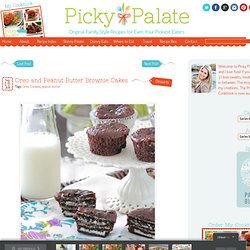 Oreo and Peanut Butter Brownie Cakes
Share this image Share It Pin It When I first graduated from college, and was living in a dreary little apartment, mac and cheese was one of my few specialties. Granted it was straight from a box, but it was one of those meals that made me feel like I was home.
Mac and Cheese Cups
Caramel Tart-Caramel Tarts-Chocolate Tart-Chocolate Tarts-Pasta Frolla
Posted on Friday, 8th July 2011 by Grace Massa Langlois When I finally decided on Lemon Meringue Tarts for the holiday weekend I knew I would have to offer another choice because not everyone in my family is a fan of citrus desserts. It didn't take me too long to decide on the other option because everyone in my family loves chocolate. I decided immediately to pair the chocolate with luscious caramel.
Over New Year's my friend Natalie served me some amazing chocolate truffles. Chocolaty, tangy with just a hint of mint I begged for the recipe the minute I took my first bite. She smiled coyly and asked if I, the foodie, really wanted to know what I was eating. Yes! Of course! She told me they were Oreo truffles.
3 Ingredient Oreo Truffles
Red Velvet Cake in a Jar
What happens when you take the classic flavor of red velvet cake, zap it in the microwave in under two minutes, then serve it layered with nutella and cream cheese frosting in a jar? I'd tell you, but since making a batch of such cakes myself, I've been living on a golden cloud while a shirtless Fabio feeds me grapes and escargot. Dreamy, people.
I've always had a penchant for sunshine in a jar. Doesn't the very phrase itself, "sunshine in a jar," roll off your tongue and fill your mouth with magic? While I've never yet found myself a sunshine in a jar, I think we may have just concocted it in our kitchen tonight. In this simple recipe, a basic white cake is turned into a slew of bright colors, baked to perfection, then topped with a creamy white frosting.
Rainbow Cake in a Jar
Bacon Wrapped Jalapenos Recipe
Baked Egg Boat recipe
Buttered Beere 1588 Recipe
Buffalo Chicken Rolls
The Portal Two (Portal 2 cocktails) Ingredients:...
Thai Recipes Home Style from Temple of Thai
Oreo Cookies n Cream No Bake Cheesecake
Recipe: Monkey Bread with Bourbon Crème Anglaise | Apartment Therapy The Kitchn
Authentic Thai Chicken Curry Recipe | International Recipes
The Pastry Affair - Home - Garlic Parmesan Pull-Apart Bread
Mini Peanut Butter and Nutella Cheesecakes | Just Everyday Me
Copycat Recipe: Chocolate-Dipped Beer Marshmallows | Apartment Therapy The Kitchn
Chocolate Chip Cookie Dough Truffles
The best new recipes from The Kitchn | punchfork.com
Graham Cracker S'mores Cookies
Spice "Cake Batter" Shots Recipe