Holiday Party
THE HOBBIT: AN UNEXPECTED JOURNEY RECIPES FROM MIDDLE-EARTH. How to Cook Gordon Ramsay's Amazing English Shepherd Pie - Snapguide Recipe. 21 Perfect Food Recipes To Make You Fat - Classy Bro. When it comes to food and food porn, we've got you covered.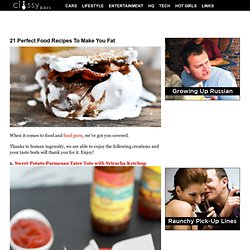 Thanks to human ingenuity, we are able to enjoy the following creations and your taste buds will thank you for it. Enjoy! 1. Sweet Potato Parmesan Tater Tots with Sriracha Ketchup. Red Velvet Ice Cream. Tomorrow is Valentine's Day, the day in which seemingly every single thing in the world turns red and pink.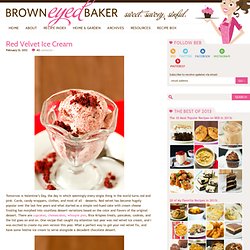 Cards, candy wrappers, clothes, and most of all – desserts. Red velvet has become hugely popular over the last few years and what started as a simple red-hued cake with cream cheese frosting has morphed into countless dessert variations based on the color and flavors of the original dessert. There are cupcakes, cheesecakes, whoopie pies, Rice Krispies treats, pancakes, cookies, and the list goes on and on. One recipe that caught my attention last year was red velvet ice cream, and I was excited to create my own version this year. Mini Peanut Butter Cups in a Jar. Last week on Twitter, I asked you guys if you'd rather see a main course or dessert recipe for the upcoming Easter holiday.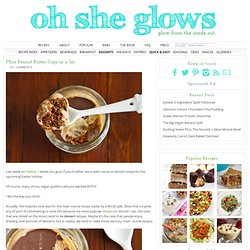 Of course, many of you vegan goblins said you wanted BOTH! I like the way you think. How to make epic pancakes with your Japanese rice cooker. Every summer, I try to spend as many days as possible on the beach at Enoshima, and each time I get out of the station and walk towards the sand, I pass a long line of people waiting for a seat at the local pancake restaurant.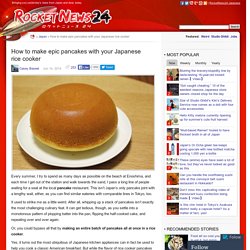 This isn't Japan's only pancake joint with a lengthy wait, either, as you can find similar eateries with comparable lines in Tokyo, too. It used to strike me as a little weird. All-Sold-Out Chicken Pot Pie. "I cannot make enough chicken pot pies.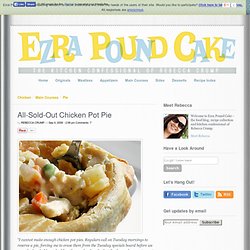 Regulars call on Tuesday mornings to reserve a pie, forcing me to erase them from the Tuesday specials board before we open for lunch. I keep doubling the number I make, but the demand grows to meet the expanded supply. Easy Beer Mac and Cheese. I have a very important, life-altering question.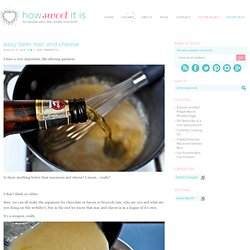 Is there anything better than macaroni and cheese? I mean… really? I don't think so either. Stuffed Buffalo Chicken Meatballs with Cheesy Ranch Centers – Regular and Super Hot. Now with Football season kicking off *get it.. kicking off..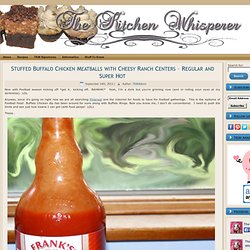 BAHAHA! * Yeah, I'm a dork but you're grinning now (and or rolling your eyes at my dorkiness). LOL Anyway, since it's going on right now we are all searching Pinterest and the Internet for foods to have for football gatherings. This is the epitome of Football food! Quick and Easy Snowy Chocolate Pinecones Recipe. Many, many years ago, I took my nieces on a lit­tle nature walk, and I remem­ber watch­ing as the youngest one picked up a pinecone and tried to eat it!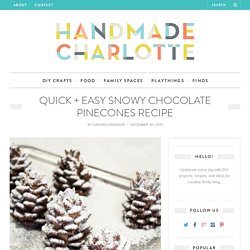 I can only imag­ine how prickly the scales were on her tiny tongue. Here's an idea for a pinecone snack that's sure to make curi­ous taste­buds happy. Made with dry cereal and a peanut but­ter mix­ture, it's part-healthy, part-sweet, and 100% fun. This would be a great edi­ble craft for kids to make this win­ter when the snow is fly­ing and cabin fever has set in. No bak­ing required—just mix and assemble. 50 greatest cult classic movies of all time. 20.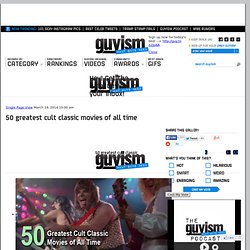 'Blade Runner' Hey, look, Harrison Ford! But be warned, this isn't Star Wars. Cuban Sandwich Dip. About a year or so ago, I was on a mission to change every famous sandwich into a dip.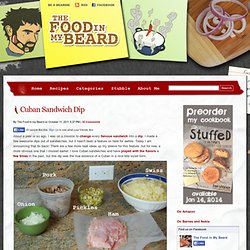 I made a few awesome dips out of sandwiches, but it hasn't been a feature on here for awhile. Today I am announcing that its back! There are a few more neat ideas up my sleeve for this feature, but for now, a more obvious one that I missed earlier. I love Cuban sandwiches and have played with the flavors a few times in the past, but this dip was the true essence of a Cuban in a nice bite sized form. Stuffed Pizza Rolls. We sometimes call this "Inside-Out" pizza too. They're garlicky, cheesy little pizza dough balls filled with all of the yummy toppings you'd put on a pizza. To eat, just pop one off and dunk it in marinara sauce. Don't you love finger food? ~Caramel Snickerdoodles. Hmmm, where do I begin? Should I start with the warm flaky & tender, Cinnamon Sugar coated Crescent Nugget filled with oozing Caramel?!
Or should I start with how easy these are and probably the most delicious and impressive thing I've ever made with only 3 ingredients? 10 Awesome Food Hacks That Every Home Cook Should Know - LOLS.me. This has been come to be known around our office as 'crack bread' because it's so addictive and never lasts long. And it's so simple you can figure it out just from the picture.
Get a nice crusty loaf of bread and cut it criss-cross. Not stuff the openings with your favorite cheese (we like Havarti), and top with green onions. Cheesecake mashed potato bites with caramel gravy. It's not Thanksgiving or Christmas without mashed potatoes and gravy, right? Well now you can eat it for dessert, too. These cheesecake bites look just like mini mounds of mashed potatoes, topped with caramel gravy and chocolate pepper flakes. Make plenty, because everyone will want seconds. Ingredients: Pulled-Pork Macaroni and Cheese with Caramelized Onions and Four Cheeses. Bacon-wrapped Jalapeno Chicken Bites. 610K+Add bacon to anything and it will fly off the table. That's what a caterer once told me and I believe it. Certainly applies here. Whether you're planning a cookout this weekend or cooking indoors (rain predicted here in Texas), grill up a few of these sizzling treats for a quick appetizer or serve as an entree. I can't think of a better way to celebrate the Fourth of July than with a big plate of these spicy and cheesy, smoky and crispy chicken nuggets.
18 Microwave Snacks You Can Cook In A Mug. Top Awesome 20 Christmas Easy Food Hacks | Easy Food. Tiramisu Recipe : Giada De Laurentiis. All-Star Holiday Cookie Recipes : Recipes and Cooking. Punchfork — The best new recipes from top food sites. 10 Bets That You Will Always Win.
Party drinks. Oreo and Peanut Butter Brownie Cakes. Mac and Cheese Cups. Caramel Tart-Caramel Tarts-Chocolate Tart-Chocolate Tarts-Pasta Frolla. 3 Ingredient Oreo Truffles. Red Velvet Cake in a Jar. Rainbow Cake in a Jar. Bacon Wrapped Jalapenos Recipe. Baked Egg Boat recipe. Buttered Beere 1588 Recipe. Buffalo Chicken Rolls. The Portal Two (Portal 2 cocktails) Ingredients:... Thai Recipes Home Style from Temple of Thai. Oreo Cookies n Cream No Bake Cheesecake. Monkey Bread with Bourbon Crème Anglaise | Apartment Therapy The Kitchn. Authentic Thai Chicken Curry Recipe | International Recipes. The Pastry Affair - Home - Garlic Parmesan Pull-Apart Bread. Mini Peanut Butter and Nutella Cheesecakes | Just Everyday Me.
Copycat Recipe: Chocolate-Dipped Beer Marshmallows | Apartment Therapy The Kitchn. Chocolate Chip Cookie Dough Truffles. The best new recipes from The Kitchn | punchfork.com. Graham Cracker S'mores Cookies. Spice "Cake Batter" Shots Recipe.
---