Food stuffs
Recipes and Cooking Inspiration – Kitchen Daily. Executive Summary: Eat your fruits and vegetables! | EWG's 2012 Shopper's Guide to Pesticides in Produce™ Home EWG's 2012 Shopper's Guide to Pesticides in Produce ™ Eat your fruits and vegetables!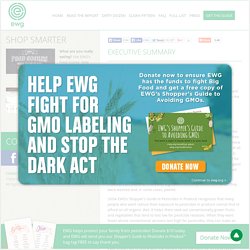 The health benefits of a diet rich in fruits and vegetables outweigh the risks of pesticide exposure. Use EWG's Shopper's Guide to Pesticides ™ to reduce your exposures as much as possible, but eating conventionally-grown produce is far better than not eating fruits and vegetables at all. The Shopper's Guide to Pesticides in Produce ™ will help you determine which fruits and vegetables have the most pesticide residues and are the most important to buy organic. You can lower your pesticide intake substantially by avoiding the 12 most contaminated fruits and vegetables and eating the least contaminated produce. - StumbleUpon. Mogami 8 Blended Wholegrain Rice - 5lbs | 8 Blended Wholegrain Rice - 5lbs by Mogami. Disclaimer: Important Information: Product information accessed through this website is obtained from claims made by the products' manufacturers on its labels.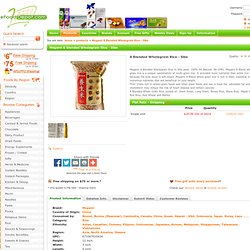 Please note that, on occasion manufacturers may alter their labels, thus we cannot guarantee or ensure the accuracy, completeness, and/or timeliness of any product information. We recommend that you do not rely solely on the information presented on our website and that you always read the label carefully before using or consuming a product to obtain the most accurate information. Making Japanese candy. Over 100 Quick and Easy Recipes. We Have Preparation and Cooking Times of 30 Minutes or Less The majority of recipes we offer can be both prepared and cooked in 30 minutes or less, from start to finish.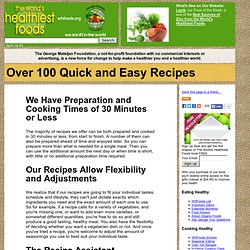 A number of them can also be prepared ahead of time and enjoyed later. So you can prepare more than what is needed for a single meal. Then you can use the additional amount the next day or when time is short, with little or no additional preparation time required. Big chocolate. Red Velvet Rice Krispies Treats Hearts for Valentine's Day. You may have noticed I share a lot of Rice Krispies Treats, especially around the holiday.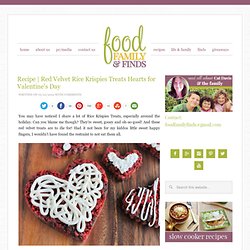 Can you blame me though? They're sweet, gooey and oh-so-good! And these red velvet treats are to die for! Had it not been for my kiddos little sweet happy fingers, I wouldn't have found the restraint to not eat them all. If you're making these to just eat, no need to get fancy but if you're making them for a special occasion like Valentine's Day, you'll want to check out Wilton's selection of cookie cutters. Alcohol. Sugarcrafter. 30 Meals In 30 Minutes Or Less. Chocolate Chip Cookie Dough Cheesecake. Caramelized Chicken with Jalapeno Cream. Want to know how to make one heck of a delicious chicken dish?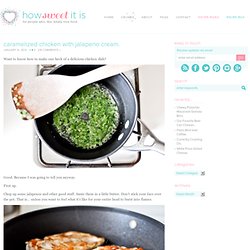 Good. Because I was going to tell you anyway. First up. Chop up some jalapenos and other good stuff. Blue-Eyed Bakers - Blue Eyed Bakers. Braided Spaghetti Bread » The official blog of America's favorite frozen dough. We are carb lovers at our house, so when I saw the Braided Spaghetti Bread recipe in the Rhodes Home Baked Family Favorites with frozen dough cookbook I knew we would love it.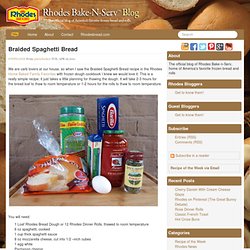 This is a really simple recipe; it just takes a little planning for thawing the dough. It will take 2-3 hours for the bread loaf to thaw to room temperature or 1-2 hours for the rolls to thaw to room temperature. Thai Recipes Home Style from Temple of Thai. Welcome to our Thai recipes section.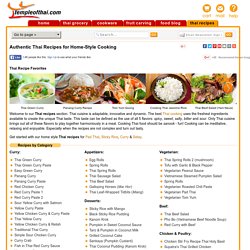 Thai cuisine is adaptable, innovative and dynamic. The best Thai cooking uses the freshest ingredients available to create the unique Thai taste. This taste can be defined as the use of all 5 flavors: spicy, sweet, salty, bitter and sour. Food, Recipes, Videos and banter. Cheap Healthy Food – Cheap Healthy Meals. Dinner in 15 Minutes Flat - Make Your Selections. 2.8 Hours Later. A brownie by any other name… Love brownies.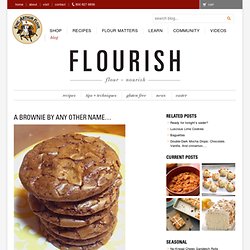 Love their shiny, flaky top that shatters into micro-thin shards that shower onto your fingers as you eat. Love their dark, gooey center. Their "chocolate nirvana" flavor. Sometimes can't deal with the bake, wait to cool, cutting into squares messiness and fuss of brownies. Want something I can enjoy within 5 minutes of its exit from the oven. Red Velvet Cheesecake Brownies. Red Velvet Cheesecake Brownies These Red Velvet Cheesecake Brownies are rich, decadent and so perfect for Valentine's Day!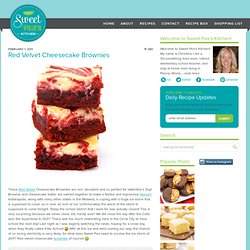 Brownie and cheesecake batter are swirled together to make a festive and impressive dessert. Indianapolis, along with many other states in the Midwest, is coping with a huge ice storm that is supposed to cover us in over an inch of ice. How To Make Perfect Brownies. I've tried lots of brownie recipes: Boxes, scratch, frosted, plain, nuts, chips, fudge … Each of them has something to like, but depending on my mood I might want a change of pace.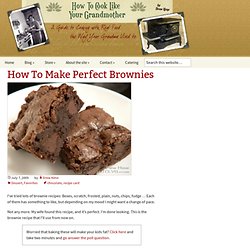 Not any more. My wife found this recipe, and it's perfect. Global Food Disparity: A Photo Diary. In an increasingly globalized world, it's still sometimes shocking to see just how disparate our lives are compared with other human beings around the world. A book of photographs by Peter Menzel called "Hungry Planet: What the World Eats" ("©Peter Menzel www.menzelphoto.com. Ten Speed Press, published in 2005) makes a relevant point with great irony: at a time when hundreds of millions of people don't have enough to eat, hundreds of millions more are eating too much and are overweight or obese. Baked Eggs in Bread Bowls. This was our breakfast Sunday morning. Aren't they cute? They were very, very good. It's the whole egg and the toast combo all together in one nice package. These are so easy to make and wouldn't they be splendid on a brunch buffet table?
The best part, you can easily make two, ten, a hundred, whatever your needs are at the moment. Peanut butter pretzel bites « Two Tiny Kitchens. Salty and sweet. Crunchy and melt-in-your-mouth. Peanut butter and chocolate. Better-Than-Crack-Brownies. Snowball Cookies | Favorite Holiday Cookies. Homemade Tater Tots. 50 Smoothies : Recipes and Cooking. iVillage.com: Health, Beauty, Pregnancy, Entertainment, Women's Community and More. Coca-Cola Cupcakes. 10 Interesting Junk Food Facts. Planting A Pineapple. Nutella Mug Cake.
---