Trends
NCADV partners with Cellular Recycler for the collection of used cell phones and select digital electronics.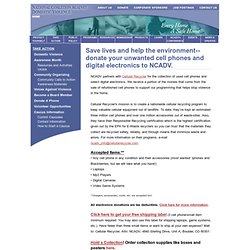 National Coalition Against Domestic Violence
tp://blog.kissmetrics.com/social-media-statistics/
Prashant Suryakumar is a Social Media Engagement Manager at Mu Sigma and is currently focused on social media analytics.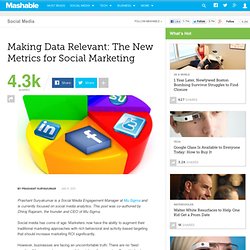 How Will Technology Disrupt the Enterprise in 2011?
We just looked at some potentially disruptive technologies that fall outside the usual domain of the enterprise.
Publications Pew: Two-Thirds of Web Users Buy Online Content 12/30/2010
news and directories for media, marketing and online advertising professionals
If the popular misreading of Mayan mythology is correct, we have fewer than two more years left on this Earth.
Every new technology has its skeptics.
Rise of the networked enterprise: Web 2.0 finds its payday - McKinsey Quarterly - Organization - Strategic Organization
Internet users from all age groups increased their use of social networking from December 2008 to May 2010, with use by people 18 to 33 rising to 83 percent, from 67 percent.
Social Networking Gains Among Older Americans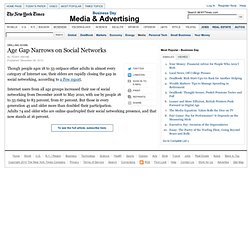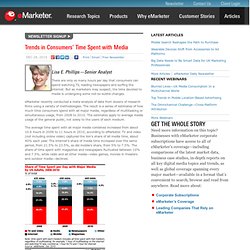 There are only so many hours per day that consumers can spend watching TV, reading newspapers and surfing the internet.
Trends in Consumers' Time Spent with Media
7 Social Media Trends for 2011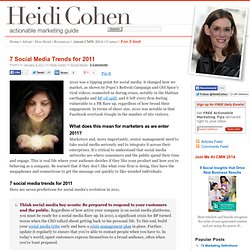 2010 was a tipping point for social media: it changed how we market, as shown by Pepsi's Refresh Campaign and Old Spice's viral videos; connected us during crises, notably in the Haitian earthquake and BP oil spill ; and it left every firm feeling vulnerable to a PR flare up, regardless of how broad their engagement.
Welcome to this morning's edition of "First To Know," a series in which we keep you in the know on what's happening in the digital world. We're keeping our eyes on five particular stories of interest today. 1 Million Apps Downloaded From Mac App Store on Day 1
The Top 5 Stories in Tech, Business & Social Media This Morning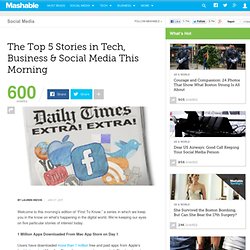 January brings us into a new year, a time when many organizations are re-evaluating their strategic initiatives and priorities. Curious to know what items top the list, we asked you in December what your organization's top priority was for 2011. Here are the results.
Enterprise Collaboration Tops List of 2011 Organizational Priorities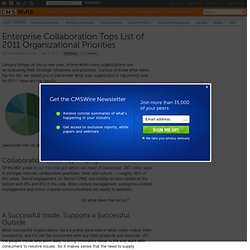 Heidi Cohen | January 10, 2011 | 23 Comments <a href="http://ad.doubleclick.net/jump/clickz.us/analytics/actionable-analysis;page=article;artid=1935424;topcat=analytics;cat=actionable-analysis;static=;sect=site;tag=facebook;tag=twitter;tag=groupon;tag=amazon-com;tag=nielsen;pos=txt1;tile=8;sz=2x1;ord=123456789?"
(Editor's note: Gary Halliwell is the co-founder of NetProspex.
6 social media business trends to watch out for in 2011
Erik Qualman | January 5, 2011 | 18 Comments <a href="http://ad.doubleclick.net/jump/clickz.us/social/social-media;page=article;artid=1934793;topcat=social;cat=social-media;static=;sect=site;tag=facebook;tag=twitter;tag=ftc;tag=google;tag=groupon;pos=txt1;tile=8;sz=2x1;ord=123456789?"
21 Social Media Predictions and Trends for 2011
Customer Strategy Trends to Watch in 2011