Trends
National Coalition Against Domestic Violence. NCADV partners with Cellular Recycler for the collection of used cell phones and select digital electronics.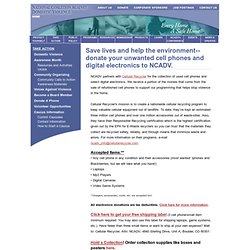 We receive a portion of the monies that come from the sale of refurbished cell phones to support our programming that helps stop violence in the home. Cellular Recycler's mission is to create a nationwide cellular recycling program to keep valuable cellular equipment out of landfills. To date, they've kept an estimated three million cell phones and over one million accessories out of waste-sites.
Making Data Relevant: The New Metrics for Social Marketing. Prashant Suryakumar is a Social Media Engagement Manager at Mu Sigma and is currently focused on social media analytics.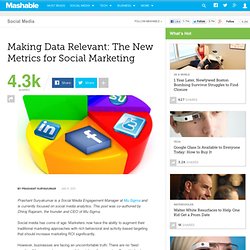 This post was co-authored by Dhiraj Rajaram, the founder and CEO of Mu Sigma. Social media has come of age. Marketers now have the ability to augment their traditional marketing approaches with rich behavioral and activity-based targeting that should increase marketing ROI significantly. How Will Technology Disrupt the Enterprise in 2011? We just looked at some potentially disruptive technologies that fall outside the usual domain of the enterprise.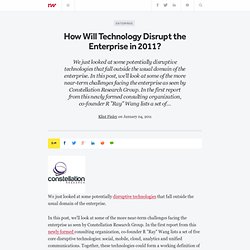 In this post, we'll look at some of the more near-term challenges facing the enterprise as seen by Constellation Research Group. In the first report from this newly formed consulting organization, co-founder R "Ray" Wang lists a set of five core disruptive technologies: social, mobile, cloud, analytics and unified communications.
Together, these technologies could form a working definition of "enterprise 2.0. " YouTube Trends. 40+ Things You Need to Watch in 2011. If the popular misreading of Mayan mythology is correct, we have fewer than two more years left on this Earth.
That leaves precious little time for the tech industry to develop and perfect of all the cool technologies that sci-fi authors have dreamed up over the years. Still, while a December 2012 apocalypse may spell doom for the commercial viability of hovercars, it doesn't mean that the next couple of years in tech will be dull — quite the contrary. 2011 is already shaping up to be a banner year for tech and web innovation. Below is a list of over 40 websites, apps, companies, gadgets and technologies that the editors of Mashable think that you should keep an eye on over the coming year. None of them let you zoom through the air over traffic, but they're definitely all worth a look.
Rise of the networked enterprise: Web 2.0 finds its payday - McKinsey Quarterly - Organization - Strategic Organization. Every new technology has its skeptics.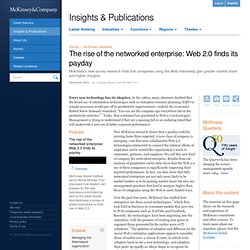 In the 1980s, many observers doubted that the broad use of information technologies such as enterprise resource planning (ERP) to remake processes would pay off in productivity improvements—indeed, the economist Robert Solow famously remarked, "You can see the computer age everywhere but in the productivity statistics." Today, that sentiment has gravitated to Web 2.0 technologies. Management is trying to understand if they are a passing fad or an enduring trend that will underwrite a new era of better corporate performance. Social Networking Gains Among Older Americans. Internet users from all age groups increased their use of social networking from December 2008 to May 2010, with use by people 18 to 33 rising to 83 percent, from 67 percent.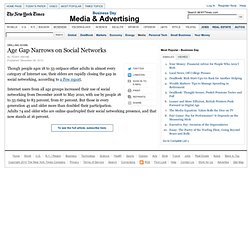 But those in every generation 45 and older more than doubled their participation. Adults 74 and older who are online quadrupled their social networking presence, and that now stands at 16 percent. Teenagers, by contrast, cut back on traditional blogging by 50 percent from 2006 to 2009. Trends in Consumers' Time Spent with Media. There are only so many hours per day that consumers can spend watching TV, reading newspapers and surfing the internet.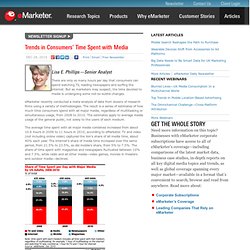 But as marketers may suspect, the time devoted to media is undergoing some not-so-subtle changes. eMarketer recently conducted a meta-analysis of data from dozens of research firms using a variety of methodologies. The result is a series of estimates of how much time consumers spend with all major media, regardless of multitasking or simultaneous usage, from 2008 to 2010. 7 Social Media Trends for 2011. 2010 was a tipping point for social media: it changed how we market, as shown by Pepsi's Refresh Campaign and Old Spice's viral videos; connected us during crises, notably in the Haitian earthquake and BP oil spill; and it left every firm feeling vulnerable to a PR flare up, regardless of how broad their engagement.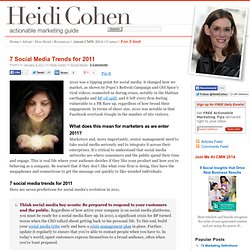 In terms of sheer size, 2010 was notable in that Facebook overtook Google in the number of site visitors. What does this mean for marketers as we enter 2011? Marketers and, more importantly, senior management need to take social media seriously and to integrate it across their enterprises. The Top 5 Stories in Tech, Business & Social Media This Morning. Welcome to this morning's edition of "First To Know," a series in which we keep you in the know on what's happening in the digital world.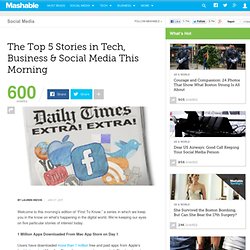 We're keeping our eyes on five particular stories of interest today. 1 Million Apps Downloaded From Mac App Store on Day 1. Enterprise Collaboration Tops List of 2011 Organizational Priorities. January brings us into a new year, a time when many organizations are re-evaluating their strategic initiatives and priorities.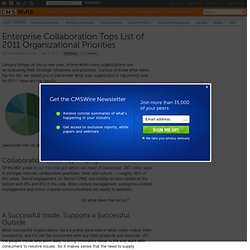 Curious to know what items top the list, we asked you in December what your organization's top priority was for 2011. Here are the results. 7 Top Online Marketing Trends for 2011 [Data Included] Heidi Cohen | January 10, 2011 | 23 Comments inShare319 Social media's influence expands. Shovel and Twitter in hand during the post-Christmas Snowpocalypse, Newark Mayor Cory Booker showed that 2011 will be about being connected, showing up, and responding to customers' needs. Like Mayor Booker, online marketers will require more than social media marketing. Further, as Mayor Booker demonstrated, an integrated approach is essential for achieving your goals. 6 social media business trends to watch out for in 2011.
(Editor's note: Gary Halliwell is the co-founder of NetProspex. He submitted this story to VentureBeat.) Social media has become increasingly important to businesses small and large over the past couple of years. It is, however, a field that changes almost constantly. And few companies seem to realize that social media goes far beyond sites like Facebook, Twitter and LinkedIn.2011 will be just as turbulent, but I've put together six trends that should help entrepreneurs make the most of this exciting marketing opportunity. 21 Social Media Predictions and Trends for 2011.
Erik Qualman | January 5, 2011 | 18 Comments inShare333 What companies will thrive or implode? What trends will take off or die? Here's one view. Facebook will go public and make the current $50 billion dollar valuation look like a bargain. Customer Strategy Trends to Watch in 2011.
---