Spiritual Growth
Teaching Thoreau In a Hyper-Connected World. Teaching Strategies Rennett Stowe Walden Pond.
77 Of The Worlds Most Popular Quotes | Famous Quotes | Love Quotes | Inspirational Quotes | QuotesNSmiles.com. We have carefully handpicked a selection of 77 Of the worlds most Popular Quotes for your enjoyment!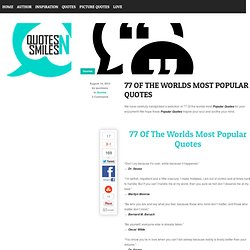 We hope these Popular Quotes inspire your soul and soothe your mind. "Don't cry because it's over, smile because it happened." ― Dr. Seuss "I'm selfish, impatient and a little insecure. The Search for Breadcrumbs. 30 Transforming Wayne Dyer Picture Quotes | Famous Quotes | Love Quotes | Inspirational Quotes | QuotesNSmiles.com. August 08, 2013 by quotesns in Picture Quotes 3 Comments Wayne Dyer is an Internationally renowned Self-Help Author and Motivational speaker.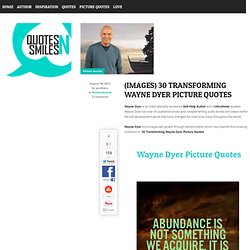 Wayne Dyer has over 30 published books and complementing audio books and videos within the self development genre that have changed the lives of so many throughout the world. Wayne Dyer encourages self growth through transformation which has inspired this amazing collection of 30 Transforming Wayne Dyer Picture Quotes Wayne Dyer Picture Quotes We hope you enjoyed these 30 Transforming Wayne Dyer Picture Quotes. 21 Feel Good Picture Quotes For A New Beginning | Famous Quotes | Love Quotes | Inspirational Quotes | QuotesNSmiles.com. February 12, 2013 by quotesns in Picture Quotes 2 Comments Tagged: emerson quotes , new beginning quotes , paulo coehlo quotes , Start Again , starting again quotes , Zig Ziglar Quotes Sometimes all you need in life is to Start Over, A New Beginning!
Life can be as great or as miserable as you make it so what are you waiting for? I Hope this collection of Feel Good Picture Quotes For A New Beginning help to inspire you. We hope these Picture Quotes For A New Beginning were helpful and thank you for visiting QuotesNSmiles. 10 Important Lessons an 83 Year Old Holocaust Survivor Taught Me (And You Should Learn Too!) Fun & Inspiring Archives. Pause for a Cause with Mindful in May Today's video is more than a cute cartoon (though I find it adorable!)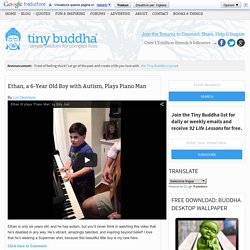 –it's an introduction to a global meditation campaign for social good. Mindful in May is a one month online meditation campaign delivered to your inbox daily in May, to motivate you to bring a new healthy habit into your life, while raising money to help nearly one billion people on the planet who struggle daily without access to clean, safe drinking water. 50 Dalai Lama Quotes To Enrich Your Life | QuotesNSmiles - Quotes Full Of Love & Inspiration. The Dalai Lama is the 14th and current Dalai Lama, as well as the longest lived incumbent.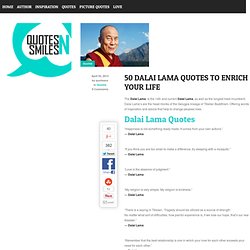 Dalai Lama's are the head monks of the Gelugpa lineage of Tibetan Buddhism. Offering words of inspiration and advice that help to change peoples lives. Dalai Lama Quotes. DeepakChopra.com. Help is at the ready. Will you accept it? A while back, I was dealing with a toothache for several days.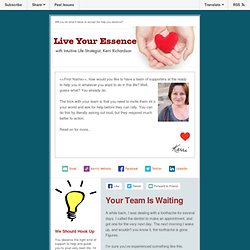 I called the dentist to make an appointment, and got one for the very next day. The next morning I wake up, and wouldn't you know it, the toothache is gone. Figures. I'm sure you've experienced something like this. Maybe your hair comes out perfectly on the day you're scheduled to have it done, or that weird noise your car has been making disappears on your way to the mechanic. Tao Essentials. Why the Inside Matters. 5/15/13 at 09:00 am | 3 Comments I'm in the middle of what has become my annual Canada tour and it's such a pleasure to feel all the love from my spiritual kinspeople here.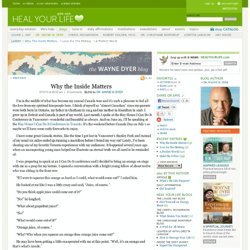 I think of myself as "almost Canadian" since my parents were both born in Ontario, my father in Chatham in 1914 and my mother in Hamilton in 1916. I grew up in Detroit and Canada is part of my world. Last month I spoke at the Hay House I Can Do It Conference in Vancouver—wonderful and beautiful as always. The Accidental Theologist | Just another WordPress.com weblog. Coming Home to Compassion - Upaya Zen Center. "How To Make an Optimum Choice In Any Moment!" By Aine Belton. By Aine Belton Choice can open the door to a whole new life, not only at cross-roads on your path, but in each moment, giving you access to the bountiful palate with which to paint your world.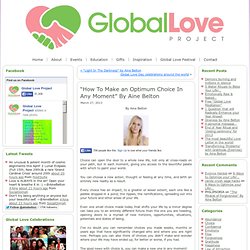 You can choose a new action, thought or feeling at any time, and birth an entirely new reality as a result. Every choice has an impact, to a greater or lesser extent, each one like a pebble dropped in a pond; the ripples, the ramifications, spreading out into your future and other areas of your life.
Resilience
El presidente en su laberinto. Affirmations | Daily Affirmations | Inspirational Articles on Life | Personal Growth Training | Social Media Help. When you fly in to Tulsa Oklahoma you can see the entrance of Oral Roberts University from the plane.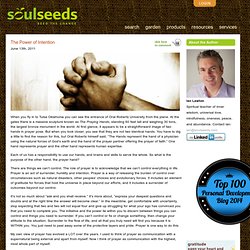 At the gates there is a massive sculpture known as The Praying Hands, standing 60 feet tall and weighing 30 tons, the largest bronze monument in the world. At first glance, it appears to be a straightforward image of two hands in prayer pose. But when you look closer, you see that they are not two identical hands. You have to dig a little to find the reason for this, but Oral Roberts himself said, "The Hands represent the hand of a physician using the natural forces of God's earth and the hand of the prayer partner offering the prayer of faith." One hand represents prayer and the other hand represents human expertise. Soulseeds » Soulseeds | Affirmations | Daily Affirmations | Inspirational Articles on Life | Personal Growth Training | Social Media Help. QUIZ. 20 'Epiphanies' for a Happiest 2013 and beyond!… By Aine Belton With the below I am not intending to claim absolutes in any way, more share awarenesses that have rung true for me personally, been ever healing and always helped to awaken and return me to happiness and love.
These need not be your 'truths', of course – accept only what resonates. (If you follow me on twitter you may recognize some of the below as tweets I share www.twitter.com/AineBelton). 1. How to Live the Life You Want - Charting Your Life. 10 Secrets to Happiness I learnt from Andrew Matthews | Personal Development Blog by Yee Shun-Jian. Welcome to RichGrad.com - THE award-winning Personal Development Blog that has touched more than a million lives since July 2007 Sign up for my Free Personal Development Newsletter to receive tips on overcoming your fears, building your confidence & leading a richer life!
"What is more important than being happy?" Andrew Matthews asked the audience in a seminar I attended 6 weeks back. Expect The Best | Lolly Daskal. 5 Affirmations for An Empowered Holiday. Affirmations, or positive statements repeated over and over, can help create new patterns of thinking. Just like negative statements repeated over a lifetime have the power to implant feelings of low self-esteem, repeating positive words to ourselves (and to others) can have an uplifting, empowering effect. As we enter the holiday week, we sometimes observe old patterns of thinking emerge. Here's five affirmations that will empower you to reveal the most loving, honest, compassionate, authentic version of you possible to the people you love most, including yourself. I WILL BE BRAVE. Repeat this affirmation to encourage yourself to be brave enough to let your guard down, open your heart, and let your light shine.
10 Ways to Create Lasting Happiness. In my last post, I suggested that those who sought happiness during the holiday season do what Jenn Flaaa, author of the Happiness Handbook, appropriately called the "Happy Dance." However, if this time of year and dealing with all your relatives is still making you depressed enough to take to your bed with a box of chocolates watching reruns of Family Feud — better, I suppose, than actually participating in one – perhaps you also need to explore your spiritual side. To that end, I sought advice from Louix Dor Dempriey, a spiritual master who has spent decades helping people to become happier through his seminars, workshops, and retreats at his eponymous foundation. "Happiness is one of the things that everyone wants," he begins," but we are not quite sure how to get it. 10 Lessons from 10 Quotes that Changed My Life. Sutta & Sutra - Urban Dharma. 9 Daily Habits That Will Make You Happier.
The YOU MATTER Manifesto. 30 Challenges for 30 Days of Growth. 37 Inspirational Quotes That Will Change Your Life. The Dalai Lama's 18 Rules For Successful Living. 4 Essential Ingredients For Raising Your Standards – Bella Life. This Emotional Life. From Fitzgerald to Reagan, 5 Letters of Fatherly Advice from History's Greatest Public Dads. Want To Get Happy? Detach From These 4 Things. "Ego versus Soul" by Aine Belton. 12 Relationship Truths I Wish I Knew 12 Years Ago. 12 Relationship Truths I Wish I Knew 12 Years Ago. Blue Zones | Live Longer, Better.
5 Transcendental Truths for a Way Better Life! A Liberal Decalogue: Bertrand Russell's 10 Commandments of Teaching. Hermann Hesse on What Trees Teach Us About Belonging and Life. What about me? - home. Slow Food International - Good, Clean and Fair food. 15 Ways to Be Irresistibly Attractive.
About | HOLSTEE. - StumbleUpon. Inspiration. 33 Life Lessons No School Really Taught Me. 12 Tough Truths that Help You Grow. Intent. Video Gallery. - StumbleUpon. 50 Life Lessons - Chocolate, Purple And Making Peace With The Past. 7 Ways To Let Go of What's Ailing You. 12 Most Transferable Real Life Skills to Social Media. Zen and Learning to let go… Social and Emotional Curriculum: Sharing Your Gift. Painted Path. The Organized Artist Company. 57 Ways to Spread Kindness and Brighten a Day « Charity Ideas Blog. 12 Most Glass Half Full Reasons to Be an Optimist. 100 Most Inspiring People on Twitter - Hat Toss. Mary Kay Andrews: Reinventing Myself. Inspiration. PSICÓLOGA EMOCIONAL.
Seven Habits to Incorporate Today to Be More Successful Tomorrow. Christine Kane's Blog — Mentor to People Who Are Changing the World. Ann-Tran | Inspiring the World Through Social Media. Amy Neumann: Share the Joy: 12 Days of Giving -- #12DaysOfGiving. Why Twitter Matters: Tomorrow's Knowledge Network. TEDxBerkeley - Nipun Mehta - Designing For Generosity. The InnerNet: Home of Nipun Mehta. Fred Luskin Explains How to Forgive.
100 Tips About Life, People, and Happiness. Millennial CEO. Nelson Mandela's Top 9 Fundamentals for Changing Your World. 15 Amazing Commercials That Will Inspire the Greatness in You. Psychology Today: Health, Help, Happiness + Find a Therapist. Great Minds - Inspiration that Fuels Growth.
What Will Matter by Michael Josephson. A Robert Brault Reader. 50 Questions That Will Free Your Mind. 40 Ways to Use Time Wisely. You should question and doubt. Locus of Control - Are you in charge of your destiny? - Career Development from MindTools. Gandhi's Top 10 Fundamentals for Changing the World.
---