Permaculture & Gardening
Get flash to fully experience Pearltrees
Potatoes in a Woodrow Style Mandala Bed Compost , Food Plants - Annual , Land , Plant Systems , Rehabilitation — by Grahame Eddy November 1, 2011 A technique for mounding potatoes in a mandala bed without importing soil, with the benefit of improving fertility and increasing organic matter. by Grahame Eddy I like to mound my potatoes by pushing soil up against the sides of the growing plants eventually creating quite a big mound. The theory is that I can get a greater harvest from the same space.
Community Garden & Market Ideas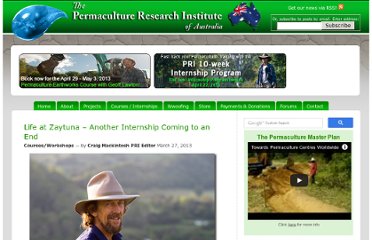 Life at Zaytuna – Another Internship Coming to an End Courses/Workshops — by Craig Mackintosh PRI Editor March 27, 2013 Geoff Lawton, above the PRI's Zaytuna Farm Photos © Craig Mackintosh Some of you may have noticed I've been a little intermittant in my (visible) work for you all of late…. I thought I'd better let you know I'm still alive and well, and that the reason for my tardiness in posting is due to travelling. I'm now, as the photo above indicates, at the PRI's Zaytuna Farm, working on an update to last year's Zaytuna Farm Video Tour .
How a Single Women Transformed Her Urban Garden into a Productive, Organic, Tropical Paradise For Sale , Urban Projects — by Nicola Chatham November 30, 2011 You don't have to know her street number to find Rosina Buckman's place. All you need is the street name.
I n the mid-1980s, our family set out to do the seemingly impossible: To create a new revolution in sustainable urban living.