Food
Münchner Schnittlauchsalat. Schnittlauch treibt im Frühjahr relativ früh aus.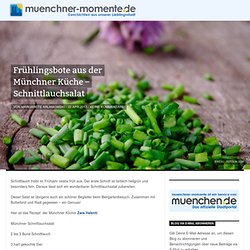 Der erste Schnitt ist farblich hellgrün und besonders fein. Daraus lässt sich ein wunderbarer Schnittlauchsalat zubereiten. Dieser Salat ist übrigens auch ein schöner Begleiter beim Biergartenbesuch. Crispy Yogurt Chicken. I love chicken legs.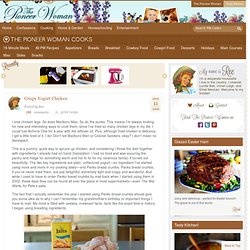 So does Marlboro Man. So do the punks. This means I'm always looking for new and interesting ways to cook them, since I've fried so many chicken legs in my life, I could fuel Airforce One for a year with the leftover oil. Orange Chicken Recipe. Today I'm back with yet another Chinese-American dish – Orange Chicken.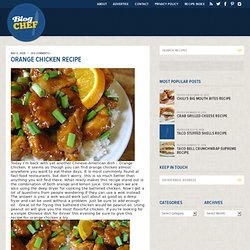 It seems as though you can find orange chicken almost anywhere you want to eat these days. It is most commonly found at fast food restaurants, but don't worry, this is so much better than anything you will find there. Honey Sesame Chicken. Somehow I have gotten on this Asian kick lately and I'm loving every bit of it.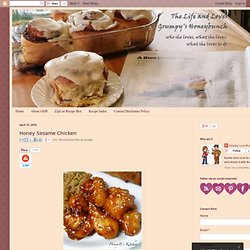 I am finding out just how easy making these meals are and they all are so yummy! I'm also pretty darn proud of myself for totally keeping to my meal plan this week. Mom's apple cake. My mother makes the best apple cake, and has for as long as I can remember.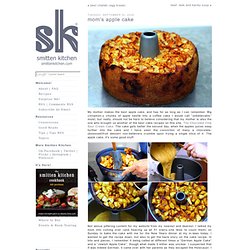 Big cinnamon-y chunks of apple nestle into a coffee cake I would call "unbelievably" moist, but really, should not be hard to believe considering that my mother is also the one who brought us another of the best cake recipes on this site, The Chocolate Chip Sour Cream Cake. The cake gets better the second day, when the apples juices seep further into the cake and I have seen the conviction of many a chocolate-obsessed/fruit dessert non-believers crumble upon trying a single slice of it. The apple cake, it's some good stuff. Grilled Cheese Academy. Baked Eggs in Bread Bowls. This was our breakfast Sunday morning.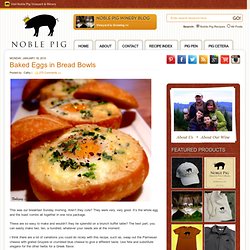 Aren't they cute? They were very, very good. Grilled Cheese Sandwiches Slideshow. Steak au Poivre - The Showstopper. I have a comment on this comment, then I have a comment for the OP.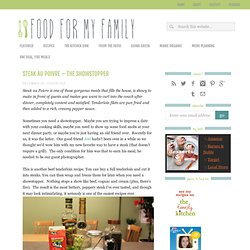 To Amy: Removing to foil is simply a way to keep the steaks warm whilst resting (FOR 5 MINUTES AT LEAST… ALWAYYYS!). When the OP says remove to foil, he/she doesn't mean to wrap them tightly. Balsamic BBQ Glazed Chicken. A homemade balsamic bbq sauce is used to glaze chicken as it's grilling.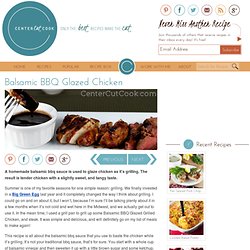 The result is tender chicken with a slightly sweet, and tangy taste. Summer is one of my favorite seasons for one simple reason: grilling. We finally invested in a Big Green Egg last year and it completely changed the way I think about grilling. I could go on and on about it, but I won't, because I'm sure I'll be talking plenty about it in a few months when it's not cold and wet here in the Midwest, and we actually get out to use it. Magic Sauce Recipe. I call this magic sauce.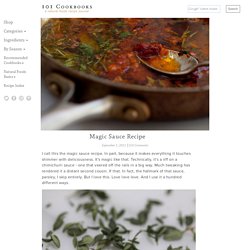 In part, because it makes everything it touches shimmer with deliciousness. It's magic like that. Sweet Potato Gnocchi with Gouda Cheese Sauce. This morning I was looking at my home page and I realized that there is a lot of orange sweet potato and pumpkin going on.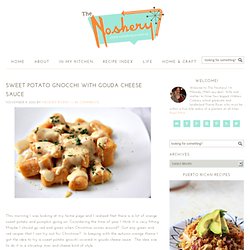 Considering the time of year I think it is very fitting. Maybe I should go red and green when Christmas comes around? Got any green and red recipes that I can try out for Christmas? In keeping with the autumn orange theme I got the idea to try a sweet potato gnocchi covered in gouda cheese sauce. Baked Eggs with Bacon and Spinach. Do y'all remember the scene in Runaway Bride (that's an Oscar contender if I've ever seen one…) where Julia Roberts realizes that she doesn't know how she likes her eggs? You know, because she's always turning herself into the girl that the guy she's marrying wants to be with? Yeah. That's not me. Bacon-wrapped Jalapeno Chicken Bites - StumbleUpon. 610K+Add bacon to anything and it will fly off the table. That's what a caterer once told me and I believe it.
Certainly applies here. Whether you're planning a cookout this weekend or cooking indoors (rain predicted here in Texas), grill up a few of these sizzling treats for a quick appetizer or serve as an entree. I can't think of a better way to celebrate the Fourth of July than with a big plate of these spicy and cheesy, smoky and crispy chicken nuggets. Get Off Your Butt and BAKE! & Impressive recipes made simple - StumbleUpon. 100 Ways to Cook… - StumbleUpon. Parmesan Roasted Potatoes - StumbleUpon. Ok fine. I'm officially ready to make the transition to fall. And I thought, what better way to do it than with my all time favorite Parmesan Roasted Potatoes! These are like candy. 100% addictive. Once you stop, you just can't stop. If you knew the amount of potatoes we consumed in a week, you'd be shocked.
Baked Egg Boat recipe - StumbleUpon. Breakfast is my favorite meal. I like to drink iced coffee and watch the cream climb its way down the chunky ice cubes in a dazy before the caffeine hits. I like to order bacon with whatever I'm eating. I like eating potatoes with ketchup. I like eggs over easy, and fluffy scrambled eggs.
I pretty much like everything there is to like about breakfast. - StumbleUpon. Lunch Sandwich Round-Up - KitchenDaily - StumbleUpon. Chicken Parmigiana. Jamaican Banana Fritters - ThatsSoYummy.com - StumbleUpon. How to Make Proper Barbecue Chicken | The Paupered Chef - StumbleUpon. Pepperoni Pizza Puffs - StumbleUpon. Scalloped Hasselback Potatoes | Tasty Kitchen Blog - StumbleUpon. Slutty Brownies - StumbleUpon.
---