Patterns
Dresden Plate Tutorial - Beginner Block Quilting Series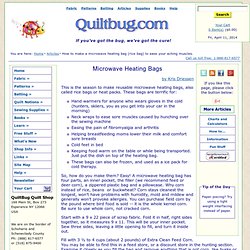 How to make a microwave heating bag (rice bag) to ease your aching muscles.
This is the season to make reusable microwave heating bags, also called rice bags or heat packs. These bags are terrific for: Hand warmers for anyone who wears gloves in the cold (hunters, skiiers, you as you get into your car in the morning) Neck wraps to ease sore muscles caused by hunching over the sewing machine Easing the pain of fibromyalgia and arthritis Helping breastfeeding moms lower their milk and comfort sore breasts Cold feet in bed Keeping food warm on the table or while being transported.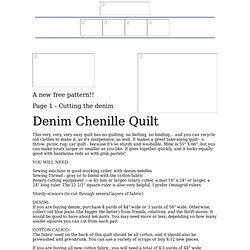 Denim Chenille Quilt This very, very, very easy quilt has no quilting, no batting, no binding… and you can recycle old clothes to make it, so it's inexpensive, as well. It makes a great take-along quilt - a throw, picnic rug, car quilt - because it's so sturdy and washable. Mine is 55" X 66", but you can make yours larger or smaller as you like. It goes together quickly, and it looks equally good with bandanna reds as with pink pastels!
Denim Chenille Quilt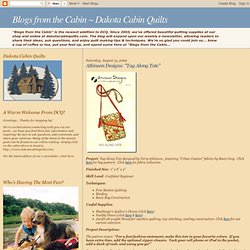 Project : Tag Along Tote designed by Terry Atkinson, featuring "Urban Couture" fabrics by Basic Grey. Click here for bag pattern. Click here for fabric collection.
Atkinson Designs: "Tag Along Tote"
Denim Chenille Quilt