Patterns
Easy Quilt Patterns - Quilt Patterns for Beginners. A collection of easy quilt patterns for beginning quilters.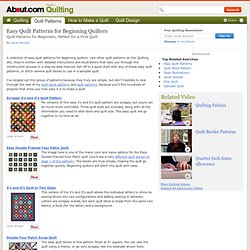 Like other quilt patterns on the Quilting site, they're written with detailed instructions and illustrations that take you through the construction process in a step-by-step manner. Get off to a quick start with any of these easy quilt patterns, or stitch several quilt blocks to use in a sampler quilt. Free Quilt Patterns ~ Stitchin' Post. Grammy Quilts » Baby Quilt Patterns. Grammy | May 25, 2009 Every baby deserves their own quilt, at least one new quilt.
With the arrival of my newest grandbaby, and short on time, I was tempted to put together a rag quilt. However, I just found this free quilt pattern this uses scraps of flannel that is quick, easy and could be modified to be 'ragged' if I wanted. I love the bright and bold colors used in their sample quilt shown in the image to the left, which I think is perfect for babies. Borders. After many ( MANY...I mean MANY) requests...here are some border instructions for you!
Note that you still need to decide how big you want your borders, and how you would like to plan out your corners! Very seldom will your nice little pieced border units come out to the exact size of your pieced quilt top...and this is where the fun begins! No wonder quilters tend towards chocolate...we are always FUDGING! Pattern: Four-Patch. Skill Level INTERMEDIATE Finished Size 12" x 12" Download Instructions: Click here to download a .pdf with these block instructions.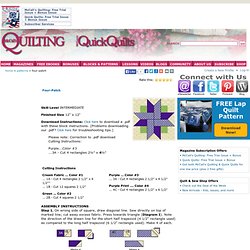 (Problems downloading our .pdf? Click here for troubleshooting tips.) Please note: Correction to .pdf downloadCutting Instructions: Rose of Sharon Quilt Pattern History With Two Free Patterns. I am the rose of Sharon, and the lily of the valleys.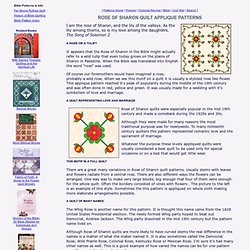 As the lily among thorns, so is my love among the daughters. A Rose or a Tulip? Free Quilt Patterns From Carol Doak. Free Paper Piecing Quilt Block Patterns from Piece By Number.
---