Photography
TES teaching resources Art - Photography
Rating:5 average ratingLast Updated:26 November, 2013Section:Resources Secondary Art - Photography Photography is a strong and visually engaging topic for pupils of art which can form the basis for excellent class projects, investigations and individual portfolios.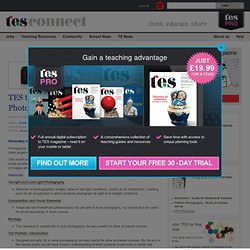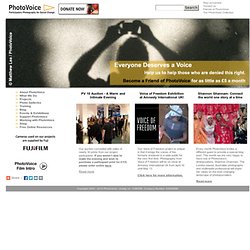 PV 10 Auction - A Warm and Intimate Evening Our auction concluded with sales of nearly 30 prints from our project participants. If you weren't able to make the evening and wish to purchase a participant print for £115, please order online here. Read more
PhotoVoice : photography charity
I love having travel photography from places I've been. I can't think of a better souvenir from an exotic location than a great photo to hang on my wall. Getting to a cool spot is only half the battle. Having a plan and being prepared will give you a much better shot at scoring an epic photo for your travels.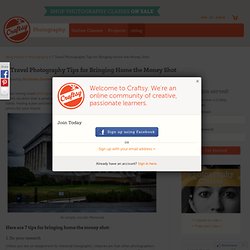 7 Travel Photography Tips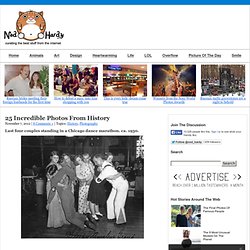 25 Incredible Photos From History
November 7, 2012 | 8 Comments » | Topics: History, Photography Last four couples standing in a Chicago dance marathon. ca. 1930. Three Princeton students pose after the Freshman, Sophomore snowball fight. 1893. Princeton, NJ. "Get the hell ot of my race and give me those numbers."
Follow Me...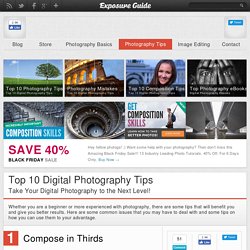 Compose in Thirds To use the rule of thirds, imagine four lines, two lying horizontally across the image and two vertical creating nine even squares. Some images will look best with the focal point in the center square, but placing the subject off center will often create a more aesthetically composed photograph. When a photograph is composed using the rule of thirds the eyes will wander the frame. A picture composed by the rule of thirds is more interesting and pleasing to the eye. Avoid Camera Shake
Top 10 Digital Photography Tips
Photographer's Girlfriend Leads Him Around the World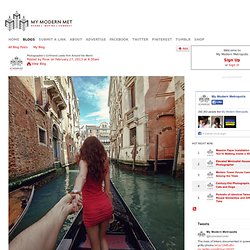 My Modern Metropolis Photographer's Girlfriend Leads Him Around the World Photographer Murad Osmann creatively documents his travels around the world with his girlfriend leading the way in his ongoing series known as Follow Me To. Chronicling his adventures on Instagram, the Russian photographer composes each shot in a similar fashion. We see each landscape from the photographer's point of view with his extended hand holding onto his girlfriend's in front of him.
As Photography lovers we allways keep an eye out for cool Photography Competitions. This time it's the Sony World Photography Awards. The Open Competition offers 10 diverse categories for you to enter, ranging from Action to Travel.
32 Stunning Photos from 2013 Sony World Photography Awards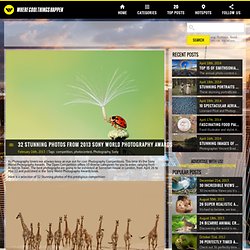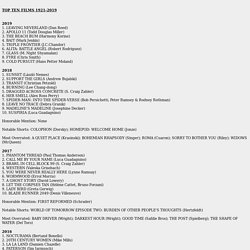 2013 1. UNDER THE SKIN (Jonathan Glazer) 2. BLUE JASMINE (Woody Allen) 3.
Top Ten Films 1930-2011
Interesting and very rare photographs, you may never see. The first McDonald's. Che Guevara and Fidel Castro. Capital of Brazil, on the beginning.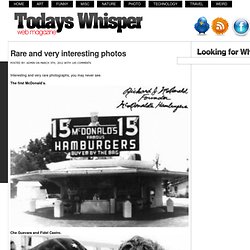 Rare and very interesting photos
Novartis "Reflections" Campaign on Photography Served
20 Captivating Photos Shot At Exactly The Right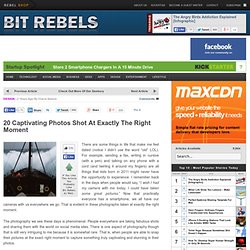 There are some things in life that make me feel dated (notice I didn't use the word "old" LOL). For example, sending a fax, writing in cursive (with a pen) and talking on any phone with a cord (and twirling it around my fingers) are all things that kids born in 2011 might never have the opportunity to experience. I remember back in the days when people would say, "I wish I had my camera with me today, I could have taken some great pictures." Now that practically everyone has a smartphone, we all have our cameras with us everywhere we go. That is evident in these photographs taken at exactly the right moment. The photography we see these days is phenomenal.
adorama.com Adorama Photography TV presents the Canon EOS-6D. Rich is back from Vegas and eager to share his experience with this great new Digital SLR from Canon. Join Rich as he takes you through a more in-depth review of all the functions of this reliable and cost efficient camera. The Canon EOS-6D falls between the Canon EOS-5D Mark III and the Canon EOS-7D in price and features. This is perfect for the photographer who likes a high quality, easy-to-use camera that has high ISO performance, fast auto-focus and great image quality.
Photography School on Vimeo
We've already showed you a bunch of cool ideas showing how you can hang your photos and art in creative ways. Now we're going to be more specific and show how you can organize family photos on your walls. In this gallery you'll find more than enough inspiration to make your own family photo display. Photos on walls are always great because they bring up memories and make these walls less boring so don't hesitate to try that out.
25 Cool Ideas To Display Family Photos On Your Walls
11 Pencil Vs. Camera Images
Our Earth is a beautiful place. Unfortunately most of us do not have the resources to personally visit all places on our planet and see what beauty they have to offer. That is where pictures come into play. Check out the following breathtaking pictures of beautiful landscapes from around the world.
25 Epic Photographs of Breathtaking Landscapes
17 Amazing Photographic Blog Posts
Most popular photography on StumbleUpon!
50 Images from National Geographic`s 2010 Photo Contest
99 Excellent Examples of Forced Perspective Photography | Photography
Portraits made using people as pixels
Photographer Martin Schoeller
Pictures of Moments Speak More than Thousand Words......
Early 1900s in Colour - All around the world
BACK TO THE FUTURE 2 (2011) : Irina Werning - Photographer
70 Photos That Will Take Your Breath Away
Beautiful Animal Photography examples | Widget lifer
25 Mind-Blowing Aerial Photographs Around the World
Best Street Art of 2011
36 Jaw-Dropping Nature Photos
Rune Guneriussen
Egypt - A photographic journey
Magical worlds of Manuel Sanchez