Funny stuff
HowOurCountryWorks.jpg (JPEG Image, 500 × 6696 pixels)
A Genius Pick Up Technique
If my brain were an imaginary friend
Horny Harry: Hilarious Harry Potter Memes that make Hermoine Cringe (20 Pics)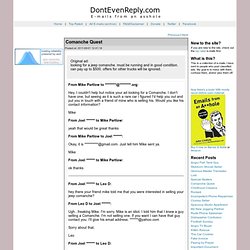 E-mails from an Asshole
From Mike Partlow to *********@*********.org: Hey, I couldn't help but notice your ad looking for a Comanche. I don't have one, but seeing as it is such a rare car I figured I'd help you out and put you in touch with a friend of mine who is selling his. Would you like his contact information?
Funny: Girls vs Boys
funny-animal-gifs-aniip4vo.gif (GIF Image, 225 × 275 pixels)
Earth-Mars-Moon-Human-Destruction.jpg (JPEG Image, 500 × 4266 pixels)
The Page Turner
My Collection of Funny Emails. Send funny emails to your friends!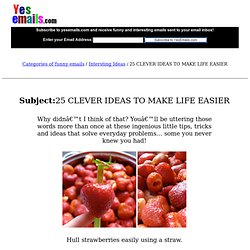 Why didn't I think of that? You'll be uttering those words more than once at these ingenious little tips, tricks and ideas that solve everyday problems... some you never knew you had! Hull strawberries easily using a straw.