Wow
28 Interesting General Facts
- StumbleUpon
Sometimes All You Need Is A Little Inspiration to Keep Rolling
I see Twins
[Note: This list of Einstein quotes was being forwarded around the Internet in e-mail, so I decided to put it on my web page. I'm afraid I can't vouch for its authenticity, tell you where it came from, who compiled the list, who Kevin Harris is, or anything like that. Still, the quotes are interesting and enlightening.] "Any intelligent fool can make things bigger, more complex, and more violent.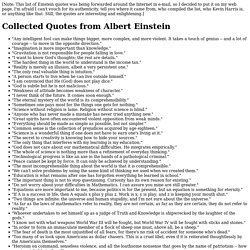 Facts - interesting, provocative, well-seasoned One out of ten children in Europe are conceived on an IKEA bed. Antarctica is the only continent without reptiles or snakes.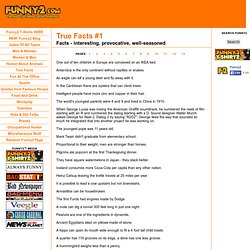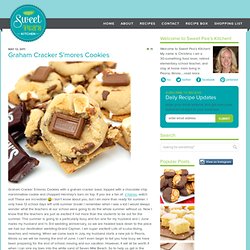 Graham Cracker S'mores Cookies Graham Cracker S'mores Cookies with a graham cracker base, topped with a chocolate chip marshmallow cookie and chopped Hershey's bars on top. If you are a fan of s'mores, watch out! These are incredible!
1. True wisdom and insight is always free. 2. Give your power over to no one. 3.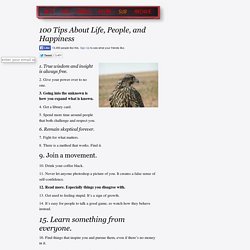 Dec 24/11 Surprise the Ones You Love (14 pics) Here are instructions for a very special gift for the people you love. Buy a Kinder Surprise. Carefully unwrap it, but be careful to not damage the package.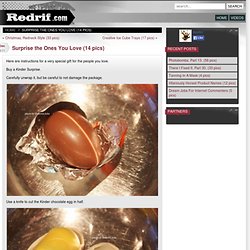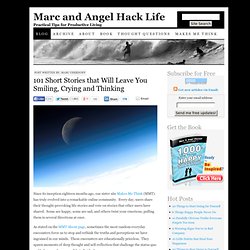 post written by: Marc Chernoff Email Since its inception eighteen months ago, our sister site Makes Me Think (MMT) has truly evolved into a remarkable online community. Every day, users share their thought-provoking life stories and vote on stories that other users have shared.