Minecraft
[size=150]Version 0.6_x may have a game freezing problem that crashes minecraft (though, be aware that the game also will freeze if you don't place the included Builders folder in the correct location).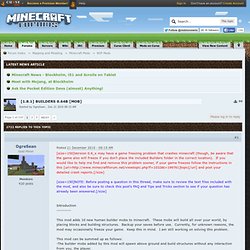 [WIP][MOD][MOB] Builders 0.4 (Beta 1.1_02) - Minecraft Forums
The Original Tower-Based Dungeon Adventure Mod!Battle Towers V3 for BETA 1.1_02 by KodaichiZero Battle towers are back and better than ever!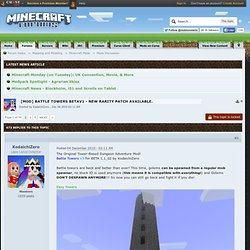 [MOD] Battle Towers BetaV1 - New Rarity Patch available. - Minecraft Forums
[MOD] Humans+ v0.9aa (BETA 1.1_02) [Collab you say?] - Minecraft Forums
Although Humans+ is inactive, I am not, be sure to check out my latest mod: Battle Music http://www.minecraft...topic/1945723-/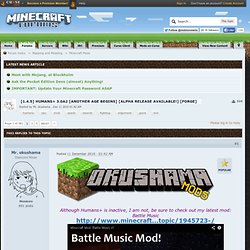 This pack is no more. Due to a change in tone concerning the modding community, all mod-packs, collaborations and compilations are henceforth banned. All progress towards improving Minecraft beyond a smorgasbord of .zip files, drag-and-drop and painful incompatibilities/black screens is now considered inappropriate, and so my pet project, the Minecraft Community Pack, is no longer workable.
[MOD COMPILATION] Minecraft Community Pack v1.31 [BETA v1.1] - Minecraft Forums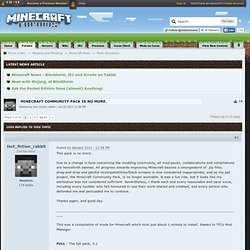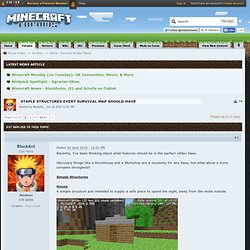 Recently, I've been thinking about what features should be in the perfect infdev base. Obviously things like a Storehouse and a Workshop are a necessity for any base, but what about a more complex stronghold?