Minecraft
[WIP][MOD][MOB] Builders 0.4 (Beta 1.1_02) - Minecraft Forums. [size=150]Version 0.6_x may have a game freezing problem that crashes minecraft (though, be aware that the game also will freeze if you don't place the included Builders folder in the correct location).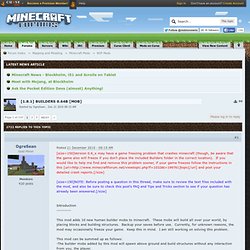 If you would like to help me find and remove this problem sooner, if your game freezes follow the instructions in this [url= and post your detailed crash reports. [/size] [size=150]NOTE: Before posting a question in this thread, make sure to review the text files included with the mod, and also be sure to check this post's FAQ and Tips and Tricks section to see if your question has already been answered. [MOD] Battle Towers BetaV1 - New Rarity Patch available. - Minecraft Forums. The Original Tower-Based Dungeon Adventure Mod!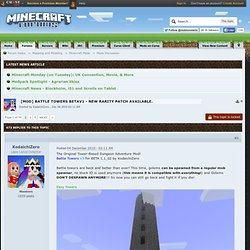 Battle Towers V3 for BETA 1.1_02 by KodaichiZero Battle towers are back and better than ever! [MOD] Humans+ v0.9aa (BETA 1.1_02) [Collab you say?] - Minecraft Forums. How about that then, There you were thinking to yourself that you are the only Human in your World..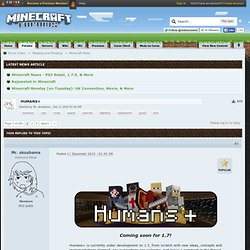 Well it turns out you were wrong! Humans+ adds a plethora of new Humans to your world, As well as an "alignment" concept of good and evil. [MOD COMPILATION] Minecraft Community Pack v1.31 [BETA v1.1] - Minecraft Forums. This pack is no more.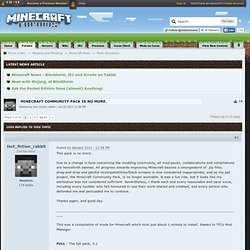 Due to a change in tone concerning the modding community, all mod-packs, collaborations and compilations are henceforth banned. All progress towards improving Minecraft beyond a smorgasbord of .zip files, drag-and-drop and painful incompatibilities/black screens is now considered inappropriate, and so my pet project, the Minecraft Community Pack, is no longer workable. Staple structures every survival map should have - Minecraft Forums. Recently, I've been thinking about what features should be in the perfect infdev base.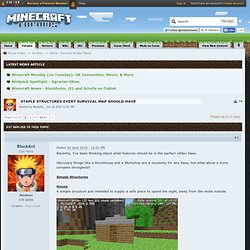 Obviously things like a Storehouse and a Workshop are a necessity for any base, but what about a more complex stronghold? Simple Structures House A simple structure just intended to supply a safe place to spend the night, away from the mobs outside. Workshop A workshop is where at least one permanent crafting table and furnace should be stationed (more if a certain aesthetic effect is desired). All tools will be crafted here, and all ores will be smelted here, so it should located somewhere that is easy to access in your settlement.
---