Travel
100 Natural Wonders Of The World. "I want to go to there" & KRISATOMIC. Neuschwanstein Castle in Bavaria, Germany by Luiz Pires There are so many places I want to see, I've been browsing and bookmarking and basically putting together travel porn (oh dear, that phrase isn't going to be good for my blog search results is it).
I'm going to Nice in may and maybe Davos in the summer, so that should satisfy me for the year. If I had unlimited funds I'd do a leisurely Trans Siberian Railway route through Russia and then travel around China and Japan. Shore Beauty: The World's 10 Most Amazing Beaches. Beaches mark the borders between sea and land, and as such have unique characteristics derived from both geological parents (no wonder everyone wants a beach home).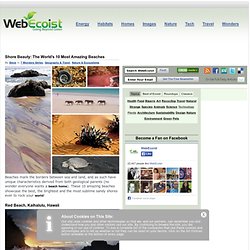 These 10 amazing beaches showcase the best, the brightest and the most sublime sandy shores ever to rock your world! Red Beach, Kaihalulu, Hawaii (images via: Patrick Smith and Xigre) Anderson Cooper 360: Blog Archive - 28 things I wish I'd known... The Palace of Happiness in Bhutan.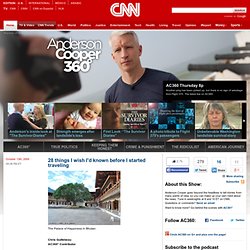 Chris Guillebeau AC360° Contributor When you first head off to places in the world that are a lot different from where you live, a number of things change. In Search of Ancient Ireland. Ireland Photo Tour. Iguasu_eng.html from airpano.ru - StumbleUpon. Mopeds in Mykonos | Travel for Love. I have a friend getting married soon who's honeymooning on the Greek Islands.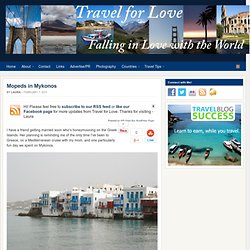 Her planning is reminding me of the only time I've been to Greece, on a Mediterranean cruise with my mom, and one particularly fun day we spent on Mykonos. Mom and I learned quickly that we did not want to be anywhere near the cruise ship tours where you get herded around town with 20 other people following a guide all day. When we landed in Mykonos we let the rest of the passengers rush to their tours and enjoyed a leisurely breakfast.
We got to talking to a nice couple who were also enjoying a later breakfast and avoiding the ship tours. Cindy and Phil mentioned they planned on renting scooters for the day and invited us to join them. How Cruise Lines Fill All Those Unsold Cruise Cabins. Last Updated: 4/06/2014 21:24 PST A luxury cruise is one of life's pure joys.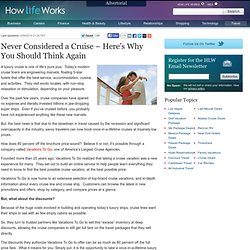 Today's modern cruise liners are engineering marvels; floating 5-star hotels that offer the best service, accommodation, cuisine, and activities. They visit exotic locales, with non-stop relaxation or stimulation, depending on your pleasure. Over the past few years, cruise companies have spared no expense and literally invested billions in jaw-dropping super ships. 515512main_prominence_Earthscale-033010-orig_full.jpg from nasa.gov. Earth View. Travel etiquette 101: body language. You step over someone's legs in Nepal and don't even realize you've committed a grave social taboo!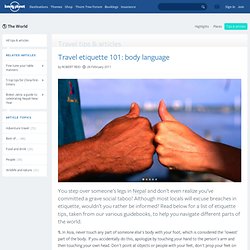 Although most locals will excuse breaches in etiquette, wouldn't you rather be informed? Read below for a list of etiquette tips, taken from our various guidebooks, to help you navigate different parts of the world. 1. In Asia, never touch any part of someone else's body with your foot, which is considered the 'lowest' part of the body. 20 free attractions in London - travel tips and articles - Lonely Planet - StumbleUpon. Who cares if London's hotels and restaurants tend to be on the expensive side?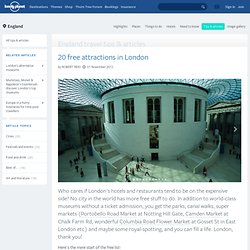 No city in the world has more free stuff to do. In addition to world-class museums without a ticket admission, you get the parks, canal walks, super markets (Portobello Road Market at Notting Hill Gate, Camden Market at Chalk Farm Rd, wonderful Columbia Road Flower Market at Gosset St in East London etc) and maybe some royal-spotting, and you can fill a life. London, thank you! Here's the mere start of the free list: 1. Sasha Cagen: Five Reasons to Travel Alone. During 2010, as I traveled alone through France, Brazil, Colombia and Argentina, I regularly encountered people who found it courageous of me to travel alone.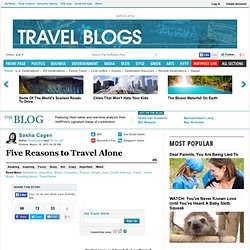 I remember a hairstylist in Bogota. As she blow-dryed my hair, she told me she couldn't picture it. I asked her why. She couldn't really say. So it goes. 515894main_AS14-66-9225HR.jpg from nasa.gov. Earthlights_dmsp_big.jpg from nasa.gov - StumbleUpon. Mappy - Mappy - plans, itinéraires, guide dadresses en Europe. Where The Hell Is Matt? Pack-like-a-pro-with-the-bundled-wrapping-method-301435.php from lifehacker.com.
1 день осени - #...madagaskar stone forest. Best Backpacking Gadgets for Your Summer Travels. If you're like many young students graduating from high school or college, you're probably planning a little time off -- perhaps a trip abroad in that great American tradition of backpacking.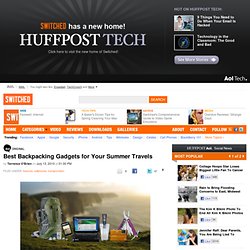 But stuffing whatever you happen to have lying around your room into a bag is a terrible idea for such a journey. You'll want to be properly prepared, and, if you're anything like us, that means making sure you've got the right tech tucked away in the deep recesses of that brand new 70-liter pack you picked up. Hotel Igloo Village. Catching one of nature's jaw-dropping light shows, the auroras, can be a chilly experience, especially in the northern hemisphere.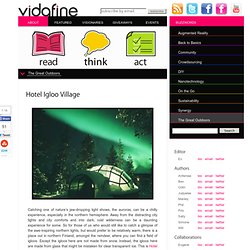 Away from the distracting city lights and city comforts and into dark, cold wilderness can be a daunting experience for some. So for those of us who would still like to catch a glimpse of the awe-inspiring northern lights, but would prefer to be relatively warm, there is a place out in northern Finland, amongst the reindeer, where you can find a field of igloos. Except the igloos here are not made from snow. Instead, the igloos here are made from glass that might be mistaken for clear transparent ice. This is Hotel Kakslauttanen, where the experience of viewing the northern lights can be done from a comfortable bed in a warm room with a special glass that keeps all the heat in. Pic_10008841_0570609.jpg from photo-cult.com.
What $1 buys around the world. At Lonely Planet, we're big fans of the travel bargain. After all, the first guide we produced was Asia on the Cheap - and then Southeast Asia on a Shoestring. Just recently we've had articles about countries that can still be travelled on the cheap and how to cope in Copenhagen if you're down to your last krone.
Little surprise then that we loved Contemporary Nomad's blog post about what $1 can buy you in the Philippines. The answer? Tourist-destinations.png from luggagepoint.com. MapCrunch - Random Google Street View. Gmaps Pedometer. 70 Majestic Countryside Photographs | Digital Photography Shots - StumbleUpon. What is the first thing that pops in your mind when you hear the word countryside? Green meadows, yellow hay, spectacular and breathtaking landscapes. Photographing the countryside has its own charm. Any place is your studio and you have a scene for photograph is every single direction. Countryside photography is something all of the photographers want to experience once in a while.
Londonist: London News, Food, Arts & Events. 20 Awesomely Untranslatable Words from Around the World. Eurail - Travel Europe by Train with your Eurail Pass. 43 Places. 49 Beautiful Shots Of Edinburgh | ScottishApartment.com - StumbleUpon. Edinburgh Apartments from ScottishApartment.com 49 Beautiful Shots Of Edinburgh We love, really love our city. There is something in Edinburgh for everyone, to prove this we have gathered 49 of our favourite photos of Edinburgh. Get Paid to Travel the World - Travel Writing Tips. Travel Writing — By Lost Girls on January 30, 2011 at 2:20 pm Be sure to check out our new Pitching 101 Series, including interviews with: BootsnAll editor, Katie HammelNew York Times' deputy travel editor, Monica DrakeThe Expeditioner's founder and editor-in-chief, Matt StabileGalavanting's managing editor, Joseph HernandezTravel Belles' publisher and editor, Margo MillureGo NOMAD's general edit Max HartshorneTravel Agent senior editor Joe PikeTravelingMom's editor Cindy RichardsRecommend's managing editor Paloma Villaverde de Rico Want to get paid to travel?
If you're interested in sharing your travel experiences, there are several travel websites that accept pitches from freelance writers. Here are a few of them, and what they pay per word or post. 25 Things You Didn't Know About Iceland | Iceland Travel Guide. Ill Tell My Ma. 100+ Things to Know If You're Going to Italy | Italy In SF. Europes Top 25 Castles - The Best Castles in Europe. In pictures: romantic travel destinations - StumbleUpon. 20 Things I've Learned From Traveling Around the World for Three Years. Quit Your Job, See the World | Hostels Worldwide - Online Hostel Bookings, Ratings and Reviews. 3012819_large.jpg from photosight.ru. Photoblog - Snow falling across Europe creates a wintry scene in Venice.
Fullmoonhike.swf from leecasalena.com - StumbleUpon. Iceland Information - StumbleUpon. The Packing List for Backpacking in Europe - General Itineraries - The... Thatched houses in England | World Travel. Backpack Europe on Budget--Backpacking and travel info for budget travelers. Germ26077.jpeg from terragalleria.com - StumbleUpon. ITALY Magazine | Travel to Italy - Italian People & Places - Italy... Earth View. FASTEN SEAT BELTS 2 - Travel by Continent - Asia. 10 Best Places to Live for Escaping World Conflict | Expatify - StumbleUpon. How to See the World: Art of Travel; European and World Backpacking; On$25 a... - StumbleUpon. BUG Europe - the Backpackers Ultimate guide to budget travel in Europe. Plitvice Lakes National Park, Croatia | Beautiful Places to Visit - StumbleUpon. Santorini.jpg from focusmag.gr - StumbleUpon. Fairytale-destinations from opentravel.com - StumbleUpon. Five-best-travel-sites-for-cheap-tickets from lifehacker.com - StumbleUpon.
Ireland's top 10 unusual places to stay - travel tips and articles - L... - StumbleUpon. Imagine Youre in Ireland.
---