CNC
Dank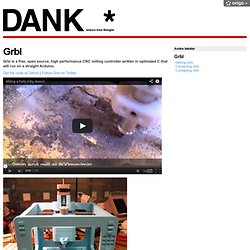 Grbl is a free, open source, high performance CNC milling controller written in optimized C that will run on a straight Arduino. Get the code at Github | Follow Grbl on Twitter MIT Center for Bits and Atoms designed a beautifyl snap fit CNC machine controlled by Grbl.
From Synthetos.com's Wiki The synthetos.com grblshield is a "out of box" solution for Simen Svale Skogsrud's grbl Arduino CNC Framework. You can find all needed information for acquiring, configuring and using grblshield below.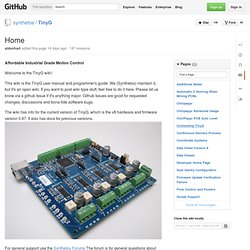 Projets: grblShield - Synthetos.com 's Wiki
GALLERIA FOTOGRAFICA BABY CNC KIT : GALLERIA FOTOGRAFICA BABY CNC KIT
playground - DirectionalMotorControlWithAL293D
New Arduino Mega CNC machine......(UPDATED) | Let's Make Robots!-Mozilla Firefox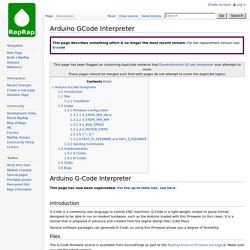 Arduino GCode Interpreter - RepRapWiki-Mozilla Firefox
From RepRapWiki This page describes something which is no longer the most recent version. For the replacement version see: G-code This page has been flagged as containing duplicate material that Darwin/Arduino GCode Interpreter also attempts to cover.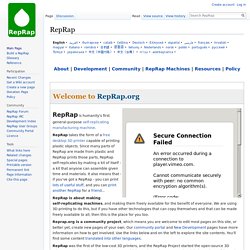 NEWS: Come to the Inside 3D Printing event in New York City ! The event runs from April 22-23 2013. We have arranged for reprappers (that's you!) to get a special 15% discount on admission - quote the code RRP15.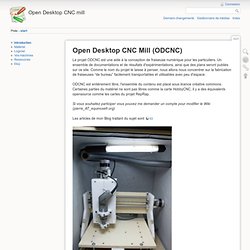 Le projet ODCNC est une aide à la conception de fraiseuse numérique pour les particuliers. Un ensemble de documentations et de résultats d'expérimentations, ainsi que des plans seront publiés sur ce site. Comme le nom du projet le laisse à penser, nous allons nous concentrer sur la fabrication de fraiseuses "de bureau" facilement transportables et utilisables avec peu d'espace. ODCNC est entièrement libre, l'ensemble du contenu est placé sous licence créative commons. Certaines parties du matériel ne sont pas libres comme la carte HobbyCNC, il y a des équivalents opensource comme les cartes du projet RepRap.
start – Open Desktop CNC mill
Merci Teiva pour ces infos, Je pense faire le projet que j'ai posté au dessus finallement. Il utilise également l'arduino Gcode interpreter pour l'application sur pc.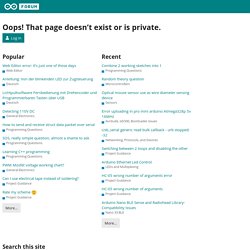 Besoin de conseils pour fraiseuse CNC-Mozilla Firefox
Bon... je suis en train de modifier Slice & Dice pour lire du "vrai" Gcode et pas des fichiers .xml. Pour l'instant j'ai les axes XYZ qui sont lus (en mode simulation) avec un fichier .nc (fichier type cnc Gcode). Demain je regarde comment je peux sommairement me faire ces trois axes physiquement et contrôler que ce que je fais fonctionne en "vrai". Mon autre soucis auquel je pense depuis le début est comment gérer la "pente" du fil chauffant par exemple pour faire une pièce conique.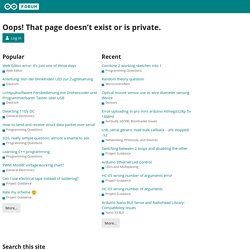 CNC de découpe de polystyrène au fil chaud-Mozilla Firefox
Luke's CNC Machine-Mozilla Firefox
cablage%20moteur