Food
Short Ribs Recipe: Beer Braised & Delicious. 50 Edible Gifts : Recipes and Cooking. 1.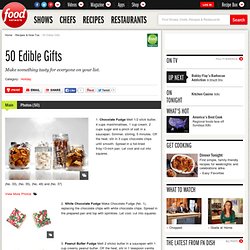 Chocolate Fudge Melt 1/2 stick butter, 4 cups marshmallows, 1 cup cream, 2 cups sugar and a pinch of salt in a saucepan. Simmer, stirring, 5 minutes. Off the heat, stir in 3 cups chocolate chips until smooth. How To Make Baked Garlic Cilantro Fries. These fries are a staple of AT&T Park home of the San Francisco Giants.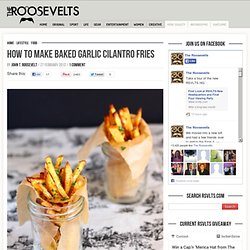 They taste as good as they look and can be made by even the most novice of chef's in under 30 minutes. Prep Time: 10 mins Cook Time: 20-25 mins Ingredients (2-3 servings) 5-6 yukon gold potatoes, cut into thin fries2 Tbsp olive oil1/4 – 1/2 tsp garlic powder1/2 – 3/4 tsp sea saltpepper1/4 c. loosely packed cilantro leaves, finely chopped.
Bread
How to Pipe Icing Roses. I baked this spring bouquet of cupcakes for my Weekend Baker post on the Cooking Channel blog.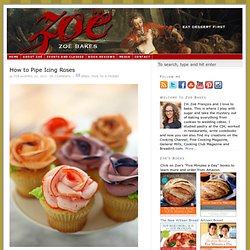 I was limited in space and wanted to go into a bit lot more detail on how to pipe the icing roses. Creating these flowers is not at all difficult, but it helps to have some simple tricks of the trade. With a little practice and the right tools you can easily recreate these flowers. The contrasting color that tips the petals is one of those easy tricks that takes them from ordinary roses to extraordinary.
Restaurants
Absolutely Awesome BBQ Sauce. For an Edible Container, Try Bacon Bowls. Naan. Cheesy Italian Monkey Bread from Pillsbury.com. This popular treat isn't just for breakfast anymore.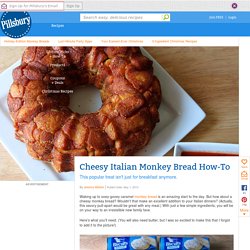 Waking up to ooey-gooey caramel monkey bread is an amazing start to the day. But how about a cheesy monkey bread? Wouldn't that make an excellent addition to your Italian dinners? (Actually, this savory pull-apart would be great with any meal.) With just a few simple ingredients, you will be on your way to an irresistible new family fave. Bacon and Cheddar Macaroni & Cheese - iVillage. Chinese dumplings and potsticker recipe.
Recipe: chinese dumplings and potstickers [warning: a long post] Do you know what that one recipe was that started you on your cooking passion?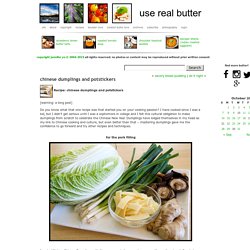 I have cooked since I was a kid, but I didn't get serious until I was a sophomore in college and I felt this cultural obligation to make dumplings from scratch to celebrate the Chinese New Year. Dumplings have lodged themselves in my head as my link to Chinese cooking and culture, but even better than that – mastering dumplings gave me the confidence to go forward and try other recipes and techniques.
Buffalo Chicken Rolls. I'm thinking we're very comfortable together at this point, me and you.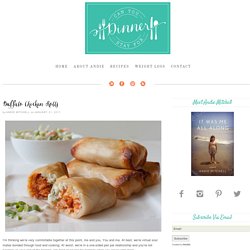 You and me. At best, we're virtual soul mates bonded through food and cooking. Chocolate raspberry layer cake with chocolate ganache frosting. I get excited for birthdays. it gives me an excuse to bake a cake. the problem is when i ask people what kind of birthday cake they want - they squish their face and say "cake?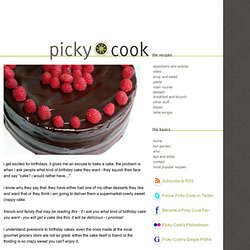 I would rather have.... ". i know why they say that. they have either had one of my other desserts they like and want that or they think i am going to deliver them a supermarket overly sweet crappy cake. friends and family that may be reading this - if i ask you what kind of birthday cake you want - you will get a cake like this. it will be delicious - i promise! Cheese Straws. If ever a snack food deserved a revival, it's the cheese straw.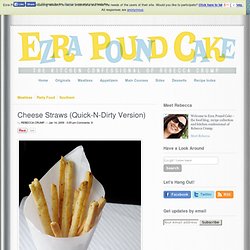 What should be as common as its orange finger-producing bastard cousin, the Cheez-It, has been relegated to bridal showers and church socials for at least 60 years as ladies insist on chilling and twisting the dough, running it through a cookie press or piping it through a star tip to create those fussy scallops. Who wants to go to all that trouble when you can just open a box of Cheese Nips? It doesn't have to be that way. Cheeseburger Macaroni.
This delicious, incredibly cheesy dish is another one of our favorite weeknight dinners.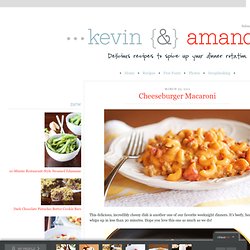 It's beefy, hearty and whips up in less than 20 minutes. Hope you love this one as much as we do! Start with one pound of lean hamburger meat, browned and drained. Add a package of taco seasoning. Homemade Chicken Nuggets. I have been meaning to make these chicken nuggets for quite a while.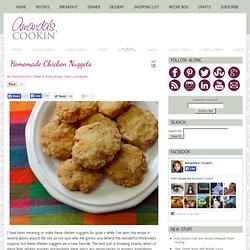 I've seen this recipe in several places around the net, so not sure who the genius was behind this wonderful McDonald's copycat, but these chicken nuggets are a new favorite. The best part is knowing exactly what's in these little chicken goodies and knowing there aren't any preservatives or mystery ingredients either. To give you an idea of how these taste, my husband came in and grabbed one off the plate.
After his first bite he made the "mmmm" sound and then exclaimed: Easy as hell pizza balls by *1stFrostfirewolf on deviantART.
Food to bbq. - StumbleUpon. OMG, Olive, Bacon and Cheese Bread! Are you looking for a quick lunch fix at work? Or simply a good dish everyone will love at home for dinner? Serve this olive, bacon, ham and cheese quick bread with few crisp salad leave. No cooking skills required. Food & wine | Recipe: Bacon Peanut Brittle. Makes 2 1/4 pounds 1/2 pound high-quality raw bacon (about 8 to 10 strips) 2 cups sugar 1 cup light corn syrup 1/2 cup water 2 cups salted peanuts. The Web's Best Recipes With Bacon. Seeing as how just about every recipe you come across these days includes bacon in one way or another, composing this list was a bit of a challenge. An awesomely delicious challenge, but still a challenge. After lots of searching, cooking and sampling, we can proudly say that these are The Web's Best Recipes With Bacon: The Manwich First off, make sure you buy some solid bread when you're making The Manwich.
Breakfast
Cinnamon Roses - Baking Glory - The very best of baking, recipes from all around the world, tested in my own kitchen. Visit our sister site JoCooks.com for more recipes. "Cinnamon Rolls" The Sequel! If you want to impress your guests with your fine cooking skills and great food presentation, I have just the thing. The only bad thing about this recipe is that people might not want to bite into these little things, afraid of destroying their beauty. Pumpkin Monkey Bread. September 23, 2011 | Print | E-mail | Filed under bread, pumpkin Monkey bread. It's almost as much fun to say as it is to eat, and with the arrival of autumn, I couldn't stop thinking about taking my usual recipe and kicking it up a notch with the addition of pumpkin – so, of course, I did. Making monkey bread has always brought with it feelings of nostalgia for me, which makes it one of my favorite sweets to share with family and friends.
In fact, the day after I made it, I invited a good friend over so that I could share it with her, along with some apple cider – a lovely way to spend an autumn afternoon, if you ask me! Even though it takes some time to make, most of it is hands-off time – like any yeasted bread, you can leave the dough to rise and go off and do other things while you wait. Oreo Stuffed Bundt Cake. Parmesan Roasted Baby Potatoes. Cooking-RibEye Steak with Gordon Ramsey in 1 Minute! Icings Recipes at Bake Decorate Celebrate! Cheese & Burger Society. Almond Coconut Candy Bars Recipe (Oh Nuts Blog) Hash-brown casserole | The Wanna be Country Girl.
Avocado Pasta Recipe. Top 10 Awesome Dips. 20 Make-You-Drool Bacon Recipes | Mom Spark™ - A Blog for Moms. Ice Cream Fridays: Brown Butter Candied Bacon Ice Cream. The One Black Bean Recipe You Must Make | Guy Gourmet | MensHealth.com. Broccoli parmesan fritters. Spicy Buffalo Cauliflower 'Wings'
S Newest Recipes:Corn and Blueberry Salad Recipe. America's Test Kitchen :: Watch Our Show. Artisan Bread in Five Minutes a Day & Back to Basics ~ tips and techniques to create a great loaf in 5 minutes a day. Steamed Fish - Easy Thai Steamed Fish Recipe. Chocolate Chip Cookie Dough Truffles | annie's cooking lab - StumbleUpon.
Martha Stewarts Cookies and Cream Cheesecakes Recipe | La Mia Vita Dolce - StumbleUpon. Fluffy Pancakes | Blogger For Hire - StumbleUpon. Cruft: Lasagna Cupcakes - StumbleUpon. Peanut Butter Oatmeal Sandwich Cookies Recipe. Cooks Illustrated: Home. Moist And Tender Oven Baked Bbq Ribs. Oven Baked Barbecued Ribs. Pineapple ginger smoothie | gimme some oven - StumbleUpon. - StumbleUpon. Dwarf Citrus Trees, Meyer Lemon, Kieffer Lime, Oranges - Order Online - Four Winds Growers.
The best taco seasoning recipe ever — Celebrities, Current Events, Health & Fitness, Northwest Indiana Mom Blog - StumbleUpon. Easy Mac and Cheese Muffins Recipe. ACCESORIES.
StillTasty: Your Ultimate Shelf Life Guide - Save Money, Eat Better, Help The Environment. Watermelon Lime Sorbet Slices. Valentine's Day Dessert: Cream Puffs with Vanilla Bean Pastry Cream. Elephantine: the baked mac and cheese. Potato Rings with Homemade Buttermilk Ranch. Pasta Pie. Recipes from Kevin & Amanda.
Bacon Wrapped Jalapenos Recipe. Italian Food Forever & Zucchini Fritters. Joy the Baker - Fried Guacamole. Sticky Balsamic Ribs. Brown Butter Double Fudge Chocolate Chip Cookie Dough Cookies. Cauliflower Crust Pizza & Stick a Fork in It.
Red Quinoa-Avocado Salad | Wegmans. The Mamma Mia. Susan Boyled Potatoes - The Amateur Gourmet. Gastronomers Guide: Simple Tiramisu. Death By Oreo Cupcakes. Chocolate Chip Lava Cookies | Kevin & Amanda's Recipes - StumbleUpon.
---