Women in Tech
Why Aren't There More Female Entrepreneurs? I'm often asked the question about why there aren't more women who are entrepreneurs.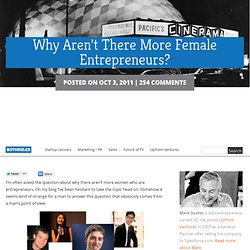 On my blog I've been hesitant to take the topic head on. Somehow it seems kind of strange for a man to answer this question that obviously comes from a man's point of view. But last week I noticed a blog post by a woman, Tara Tiger Brown, that asked the question, "Why Aren't More Women Commenting on VC Blog Posts?" TRUTH: Women-Led Startups Have Fewer Failures. Women own about 40 percent of the private businesses in the United States, according to the Center for Women's Business Research.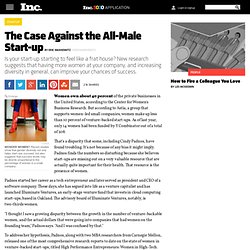 But according to Astia, a group that supports women-led small companies, women make up less than 10 percent of venture-backed start-ups. As of last year, only 14 women had been funded by Y Combinator out of a total of 208. That's a disparity that some, including Cindy Padnos, have found troubling. It's not because of any bias it might imply. Which female-founded tech companies have received funding.
Are Women Bad for Start-ups? You've Got To Be Kidding... Posted by Tom Foremski - August 7, 2011 By Vanessa Camones, PR veteran and founder of theMIX agency.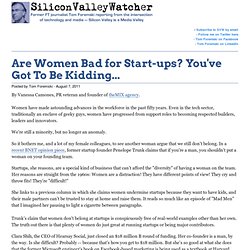 Women have made astounding advances in the workforce in the past fifty years. Even in the tech sector, traditionally an enclave of geeky guys, women have progressed from support roles to becoming respected builders, leaders and innovators. We're still a minority, but no longer an anomaly. Report: Women-owned or Led Firms are Becoming a Leading Entrepreneurial force in Technology : The Next Women. "New research shows what many have long suspected: women entrepreneurs are poised to lead the next wave of growth in global technology ventures.Cindy Padnos of Illuminate VenturesThis is conclusion from the very thorough research on entrepreneurial women in tech, called High Performance Entrepreneurs: Women in High Tech, performed by a team led by founder and CEO Cindy Padnos of Illuminate Ventures, a venture fund that focuses on women led companies.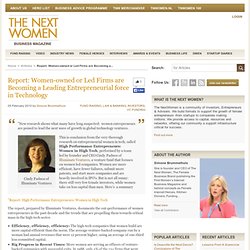 Women are more efficient, have fewer failures, submit more patents, and start more companies and are heavily involved in IPO's. But is not all sunny: there still very few female investors, while women take on less capital than men. The Big Shift: Challenge and Opportunity for Women. How are women affected by the longer-term changes that are transforming our business environment?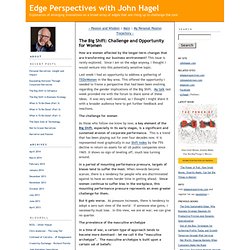 This issue is rarely explored. Since I am on the edge anyway, I thought I would venture into this potentially sensitive topic. Last week I had an opportunity to address a gathering of TEDxWomen in the Bay area. This offered the opportunity I needed to frame a perspective that had been been evolving regarding the gender implications of the Big Shift. My talk last week provided me with the forum to share some of these ideas. 2010: The Year of Whining About Women In Tech. Whining about the inequality of women in tech has been big for page views this year.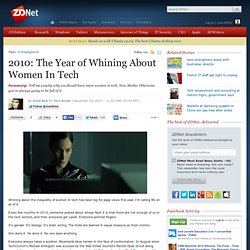 I'm calling BS on all of it. Every few months in 2010, someone posted about whose fault it is that there are not enough of us in the tech sectors, and then everyone got upset. Everyone pointed fingers. It's gender. It's biology. Deep Thoughts by Siobhan Quinn: The Women (I know) in Tech. Over the last few months there's been a lot of public discussion / accusation / explanation around why there are few women working at technology startups.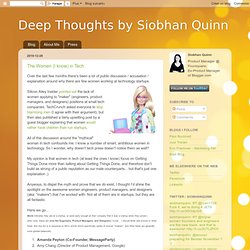 Silicon Alley Insider pointed out the lack of women applying to "maker" (engineers, product managers, and designers) positions at small tech companies. TechCrunch asked everyone to stop blamming men (I agree with their argument), but then also published a fairly upsetting post by a guest blogger explaining that women would rather have children than run startups. Prominent Web 2.0 Companies Do Not Have Any Women on Their Board of Directors | Kara Swisher | BoomTown | AllThingsD. In one memorable episode of the famous old short films "The Little Rascals," after not getting invited to a party, the Our Gang little dudes decided to form their own group, comically called "The He-Man Woman-Haters Club."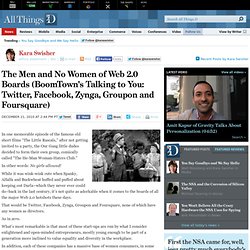 In other words: No girls allowed! While it was wink-wink cute when Spanky, Alfalfa and Buckwheat huffed and puffed about keeping out Darla–which they never ever could do–back in the last century, it's not quite as adorkable when it comes to the boards of all the major Web 2.0 hotshots these days. That would be Twitter, Facebook, Zynga, Groupon and Foursquare, none of which have any women as directors. Sol Tzvi. WomenInTech. Thoughtleaders: Where are the women in technology? Anita Borg In. Posted by Tom Foremski - September 22, 2006 In about two weeks, more than 1200 women plus a handful of men will meet in San Diego for the Grace Hopper Celebration of Women in Computing.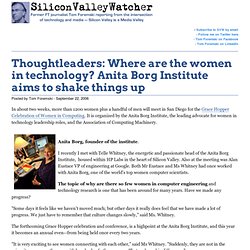 It is organized by the Anita Borg Institute, the leading advocate for women in technology leadership roles, and the Association of Computing Machinery. Anita Borg, founder of the institute. Anita Borg Institute for Women. Anita Borg on why there should be more women technologists. Posted by Tom Foremski - September 23, 2006 The late Anita Borg did a tremendous amount of work in highlighting the need for more women in technology.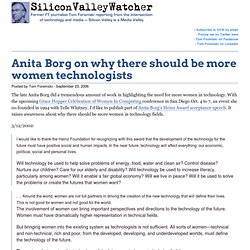 With the upcoming Grace Hopper Celebration of Women In Computing conference in San Diego Oct. 4 to 7, an event she co-founded in 1994 with Telle Whitney, I'd like to publish part of Anita Borg's Heinz Award acceptance speech. It raises awareness about why there should be more women in technology fields. I would like to thank the Heinz Foundation for recognizing with this award that the development of the technology for the future must have positive social and human impacts. Anita Borg essay. Anita Borg. Anita Borg (January 17, 1949 – April 6, 2003) was an American computer scientist. She founded the Institute for Women and Technology (now the Anita Borg Institute for Women and Technology) and the Grace Hopper Celebration of Women in Computing.
She was born Anita Borg Naffz in Chicago, Illinois.[1] She grew up in Palatine, Illinois; Kaneohe, Hawaii; and Mukilteo, Washington.[2]
Why So Few Women in Silicon Valley? CANDACE FLEMING'S résumé boasts a double major in industrial engineering and English from Stanford, an M.B.A. from , a management position at and experience as president of a small software company. But when she was raising money for Crimson Hexagon, a start-up company she co-founded in 2007, she recalls one venture capitalist telling her that it didn't matter that she didn't have business cards, because all they would say was "Mom." Another potential backer invited her for a weekend yachting excursion by showing her a picture of himself on the boat — without clothes.
When a third financier discovered that her husband was also a biking enthusiast, she says, he spent more time asking if riding affected her husband's reproductive capabilities than he did focusing on her business plan. Ultimately, none of the 30 venture firms she pitched financed her company. No Men Allowed: Girls In Tech Expands To New York, LA, And Beyon. Posted by Tom Foremski - December 4, 2008 "Women in the work place are very competitive with each other and that makes the glass ceiling twice as thick," says Adriana Gascoigne. She is the founder of Girls in Tech, a 1300 strong organization that seeks to empower women in the technology industry. Tech companies continue to be heavily male dominated and that's something that Girls in Tech hopes to change through networking, roundtables, and entrepreneurial workshops.
And only women are invited. "When women get together we can connect on a deeper level than if men are around," says Ms Gascoigne. : Girls In Tech : GirlGeeks.org - Online community for women and girls interested. Kay Koplovitz: We Need More Women Entrepreneurs. Posted by Tom Foremski - June 30, 2009 Kay Koplovitz calls for more women entrepreneurs during her acceptance speech at the SDForum visionary awards.
She said that women haven't had the access to capital and she urged Silicon Valley to "open your hearts" to more women entrepreneurs. Silicon Valley Has One Hand Tied Behind Its Back... Posted by Tom Foremski - August 28, 2009 Silicon Valley is an immensely creative and inventive place. I love working here and being involved in the conversations, the people, the companies that are making the future. Every day I meet people, I meet startups, that are relocating to here, from every and any place around the world. Women And How They Drive Silicon Valley Innovation.
---