Cars
Works of João Dias. Photoshop Car Rendering Tutorial Step 07. Interview: Richard Duff from GM. We have had the wonderful opportunity to interview Richard Duff of General Motors.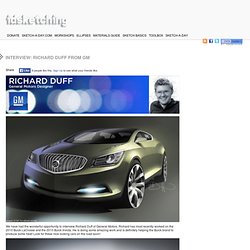 Richard has most recently worked on the 2010 Buick LaCrosse and the 2010 Buick Invicta. He is doing some amazing work and is definitely helping the Buick brand to produce some heat! Look for these nice looking cars on the road soon! 2011 Audi E-tron Spyder Hybrid Concept sketch | Auto Hybrid Cars. Speedpainting_01. The techniques of Mikael Lugnegård. Car Design Online | Sketching. This illustration of Ford's Mustang GT Coupe concept has most likely been developed from a sketch and then reworked in a programme such as Adobe Photoshop.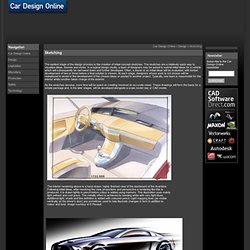 The image is particularly powerful because of its crisp lines and blurred movement effect. Creating this effect is arduous with traditional airbrush techniques but is far more straight-forward in Photoshop. Lugneg?rd Design. Mikael Lugnegard Traditional Sketch rendering. Website design and creation by Allan Macdonald.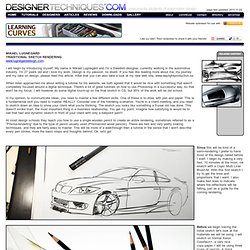 All rights reserved. Contact: info@designertechniques.com Michael Lugnegard - Interview What is your passion? What motivates you? Tutorials - Quick Sketch Technique. Stage 6 Now that you can begin to add colour to the design, the process is very similar to a side view sketch.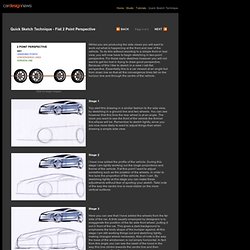 You can see that I have used a dark grey marker, in a similar manner as the side views, to colour all of the windows. The reason for using such a dark colour on these elements, and a light colour on the bodywork, is that it makes the sketch easier to read. At a glance you can get a feel for the shape and graphic of the vehicle, because of the strong contrast. Moog. Hand Drawing and Sketching Tutorials.
---