Baking
2-Minute Chocolate Chip Cookie For One. This is one of those 'I-need-a-cookie-right-now-or-I-die' recipes that can be prepared in almost no time.We all know that kind of situation, don't we?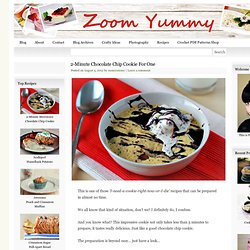 I definitely do, I confess.And you know what? This impressive cookie not only takes less than 5 minutes to prepare, it tastes really delicious. Peter Reinhart's Weblog. Recipe Reviews from Peter Reinhart's Artisan Breads Every Day at Cookbooker.com. Peter Reinhart's Artisan Breads Every Day distills the renowned baking instructor's professional techniques down to the basics, delivering artisan bread recipes that anyone with flour and a fridge can make and bake with ease.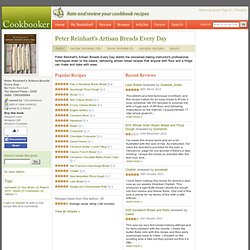 Lean Bread reviewed by Queezle_Sister The stretch-and-fold technique is brilliant, and this recipe makes for an easy bread to fit into a busy schedule. My DH decided to surprise me with a huge sack of AP flour, and following instructions on the internet, I supplemented 1T vital wheat gluten/C...read more » World's Best Flax Seed Bread Recipe. Why Should You Eat Flaxseed?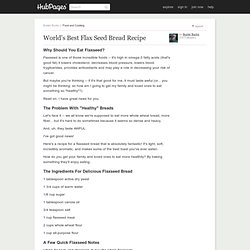 Flaxseed is one of those incredible foods -- it's high in omega-3 fatty acids (that's good fat) it lowers cholesterol, decreases blood pressure, lowers blood tryglicerides, provides antioxidants and may play a role in decreasing your risk of cancer. But maybe you're thinking -- if it's that good for me, it must taste awful (or... you might be thinking: so how am I going to get my family and loved ones to eat something so "healthy"?) Read on. Best No Knead Bread recipe. No Knead bread step by step. Artisan Bread in Five Minutes a Day. Back to Basics ~ tips and techniques to create a great loaf in 5 minutes a day. Note that there is an updated version of this post, click here to view.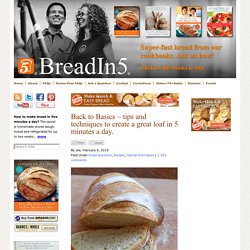 Recently we have seen lots of new readers on the website who are asking wonderful questions about how to perfect their loaves. First I'd like to say welcome to the site and thank you for trying the bread. As I bake through the basic Master recipe from ABin5 I will try to answer some of the most frequently asked questions and also introduce you to a few new pieces of equipment I've recently started to use that make the whole experience just a little easier. The goal is to create a large batch of dough that stores in the refrigerator for up to two weeks. That's why our method saves you so much time– all the mixing and prep is divided over four one-pound loaves.
Lovin' From the Oven. Artisan Bread in Five Minutes a Day. Someone Left The Cake Out In The Rain. Crusty Bread. I must begin by saying where the recipe originated, if in fact it originated anywhere...really.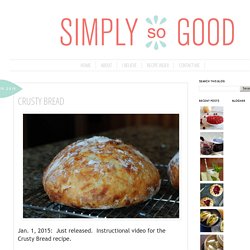 I think bread has been baked for centuries using flour, salt, water, and yeast or other form of leavening. As far as I know the recipe for "No-Knead" bread dough was printed in the New York times. I don't know what month, day, or year. The originator is Jim Lahey of Sullivan Street Bakery. That's all I know. Slutty Brownies. Now I don't want to over sell this, so I'm going to be conservative and simply say, that these are...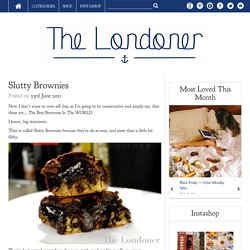 The Best Brownies In The WORLD. I know, big statement. They're called Slutty Brownies because they're oh so easy, and more than a little bit filthy. They're best served warm from the oven, with good quality vanilla ice cream (devastatingly I didn't have any in the freezer this time, so I guess I'll just have to make them again). They take about 45mins to make, including baking time. Chocolate Chip Lava Cookies. I am so in love with these darn chocolate lava cookies!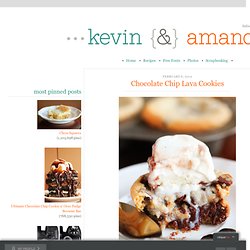 What is it about a warm, gooey chocolate chip cookie stuffed with decadent, rich, melted chocolate that makes it so irresistible?? Especially when topped with vanilla ice cream. Millionaire's Shortbread. Since one half of the blue-eyed baking squad is currently blogging from waaaay across the pond in London, we figured we'd bake you lovely duckies a British treat.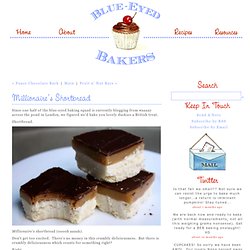 Shortbread. Millionaire's shortbread (ooooh aaaah). Don't get too excited. There's no money in this crumbly deliciousness. Irish Car Bomb Cupcakes Recipe. As I mentioned on Friday, I have been doing some experimentation with the beer and chocolate combination.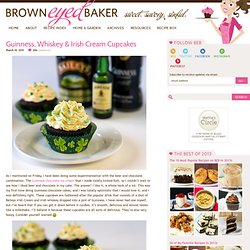 The Guinness-chocolate ice cream that I made totally kicked butt, so I couldn't wait to see how I liked beer and chocolate in my cake. The answer? I like it, a whole heck of a lot. This was my first time doing Guinness-chocolate cakes, and I was totally optimistic that I would love it, and I was definitely right. These cupcakes are fashioned after the popular drink that consists of a shot of Baileys Irish Cream and Irish whiskey dropped into a pint of Guinness. Chocolate Guinness Goodness Recipe at Epicurious. Editor's note: This recipe was developed by Shane Philip Coffey, the chef at Alias restaurant on New York City's Lower East Side.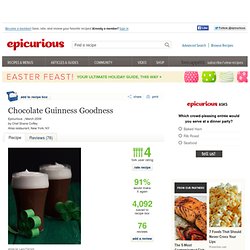 This rich and luscious dessert came about because I needed a special dessert for a St. Patrick's Day tasting menu. I was on a mission to use my favorite beer, Guinness, something I consider to be one of Ireland's gifts to the world. As the 17th of March drew closer, I looked for inspiration at my favorite Irish pub in Manhattan. Oreo Chocolate Chip Cookie Caramel Brownies | The Angieriver Show. OMG! It's been awile since I made something new and especially a cake from scratch. It's also been awhile since I've raved about a dessert. This pound cake is AMAZING! Seriously...so good! One-pan dark chocolate chunk skillet cookie. For some reason, I was craving this on Saturday. Nothing else would do. All I wanted was a warm, gooey, chocolate chip cookie, straight out of an iron skillet. Recipe: Guilt-Free Apple Pie in an Apple! | Lucille Roberts Blog.
The average person gains up to 10 lb. between Halloween and New Years. Who can pass up desserts all season long? Here's a guilt-free recipe for apple pie–in an apple! The Infamous Jacques Torres Chocolate Chip Cookies. Now, I have a chocolate chip cookie recipe that I swear by. I love it, I think it is incredible, and I haven't changed my mind about that. However, as much as it pains me to say it, these chocolate chip cookies by Jacques Torres are absolutely, without a doubt, the best chocolate chip cookies that I have ever made or tasted in my entire life. I guess that's why they call him Mr.
Cinnamon Toast Rolls. The USDA released its new food pyramid the other day (which is actually a plate now instead of a pyramid), and I am sorely disappointed to report that cinnamon rolls did not appear anywhere on that plate. I think by now most of us know what should be on our dinner plate in terms of healthy, well-rounded nutrient-laden meals, but it is my considered opinion that our breakfast plate should include cinnamon rolls now and then. And not just any cinnamon roll, mind you, but how 'bout a homemade cinnamon roll hybrid that is a cross between a cinnamon roll and cinnamon toast, is super easy to make and gosh darn delicious. In honor of their ancestry, I call these little gems cinnamon toast rolls, and here's all you need to make them…
Twix Cheesecakes.
---