Our Universe
Universe. There are many competing theories about the ultimate fate of the universe.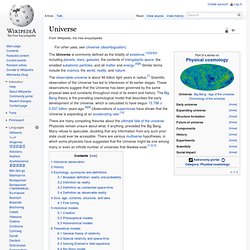 Physicists remain unsure about what, if anything, preceded the Big Bang. Many refuse to speculate, doubting that any information from any such prior state could ever be accessible. There are various multiverse hypotheses, in which some physicists have suggested that the Universe might be one among many or even an infinite number of universes that likewise exist.[11][12] Historical observation. Celestial Calendar at CalSky.
Science Friday: Rockets, Planets, Stars & Bears…oh my. By Kayla Iacovino , Filed under: Science/Technology , trackback Welcome back to Science Friday!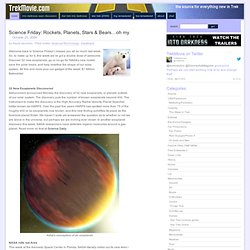 I missed you all so much last week. So, to make up for it, this week we've got a double dose of awesome. Discover 32 new exoplanets, go or no-go for NASA's new rocket, save the polar bears, and help redefine the shape of our solar system. All this and more plus our gadget of the week: $1 Million Batmobile! Space and NASA News – Universe and Deep Space Information. Science News. International Astronomical Union | IAU. Portal. Space Science. Windows to the Universe.
Picked Universe Pearltrees
Space Wallpapers. Outer Space. Science of the Universe. Extra-Terrestrial Life. Dimensions. Space Simulations and Sky Charts. Quadrants of the Celestial Sphere (Constellations) Supergalactic Coordinate System. Galaxies. General Planetary Features. Stars. Big Bang. Early Universe. Universe Documentaries. Unified Fiel Theory. Astro-E2 mission. Home. Missions. Skip to main content NASA Missions Loading ...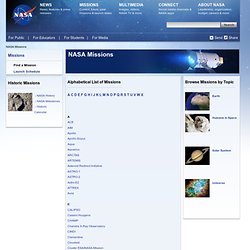 Historic Missions › NASA History › NASA Milestones › Historic Calendar Alphabetical List of Missions. Science and Space Facts, Science and Space, Human Body, Health, Earth, Human Disease - National Geographic. Space news and outer space articles from New Scientist - New Scientist Space. Cookies on the New Scientist website close Our website uses cookies, which are small text files that are widely used in order to make websites work more effectively.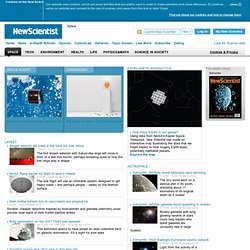 Space, Outer Space Information, Universe Facts, News, Photos. Tdarnell's Channel. Through the Wormhole: Is There an Edge to the Universe? It is commonly theorized that the universe began with the Big Bang 13.7 billion years ago.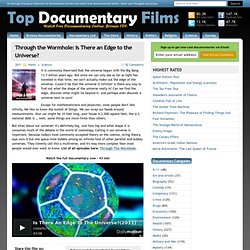 But since we can only see as far as light has traveled in that time, we can't actually make out the edge of the universe. Could it be that the universe is infinite? Is there any way to find out what the shape of the universe really is? Can we find the edge, discover what might lie beyond it, and perhaps even discover a universe next to ours? Science News. An Atlas of The Universe. Missions. Missions The National Aeronautics and Space Act of 1958 (Space Act) established NASA as an aerospace research and development agency that sponsors and conducts flight missions to obtain data in furtherance of its objectives.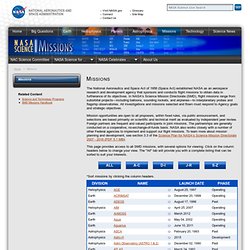 In NASA's Science Mission Directorate (SMD), flight missions range from suborbital projects—including balloons, sounding rockets, and airplanes—to interplanetary probes and flagship observatories. Through the Wormhole: How Does the Universe Work? With the help of massive machines called particle accelerators, scientists studied the subatomic realm and made discoveries about the forces that operate at that level.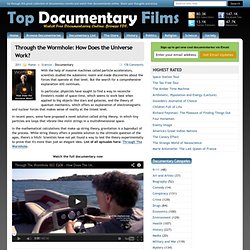 But the search for a comprehensive explanation still continues. In particular, physicists have sought to find a way to reconcile Einstein's model of space-time, which seems to work best when applied to big objects like stars and galaxies, and the theory of quantum mechanics, which offers an explanation of electromagnetic and nuclear forces that makes sense of reality at the tiniest level. NASA Science. Exploring the Universe. Better Living Through Astronomy::DeepAstronomy.com. Zooniverse - Home. Telescopes Help Discover Surprisingly Young Galaxy. NASA Telescopes Help Discover Surprisingly Young Galaxy PASADENA, Calif. -- Astronomers have uncovered one of the youngest galaxies in the distant universe, with stars that formed 13.5 billion years ago, a mere 200 million years after the Big Bang.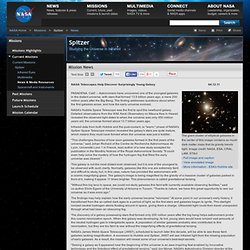 The finding addresses questions about when the first galaxies arose, and how the early universe evolved. NASA's Hubble Space Telescope was the first to spot the newfound galaxy. WISE Delivers Millions of Galaxies, Stars, Asteroids. Home.
---
eudora May 26 2013

Thanks, I hope I'll have some time soon to make a few additions :)

animoo May 21 2013

This is absolutely amazing, the effort you put into creating this I can't even begin to imagine. Love it!
---