Classroom
Online Video Lectures and Course Materials ? Open Yale Courses. Visual Quantum Mechanics. World History for Us All. Academic Earth | Online Courses | Academic Video Lectures. TED: Ideas worth spreading. Find, share & upload documents. Get better grades | wePapers. Videos on the People, Issues, and Ideas Changing the P. Arts & Letters Daily - ideas, criticism, debate. Big Think — Get to know — Experts and Ideas. Open Culture. Learning about the world through photography.
 [The Internet Encyclopedia of Philosophy] Speech Accent Archive. Online Video Lectures and Course Materials — Open Yale Courses. MIT. Project Syndicate - A World of Ideas. Since 1994, Project Syndicate has provided readers with original, engaging, and thought-provoking commentaries by those who are shaping the world's economics, politics, science, and culture.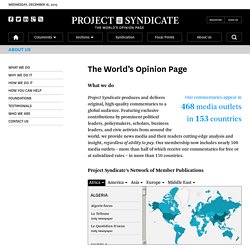 Our mission is to render complicated ideas in a language that educated readers everywhere can use to make informed choices, while providing a platform for the world's foremost statesmen, policymakers, intellectuals, and activists to reach a global audience without public relations and political hype. Project Syndicate's members include more than 500 newspapers and other publications in 154 countries, and our commentaries reach 300 million readers. Our unique non-profit content-distribution model enables us to reach newspapers and other media in the developing world that commercial syndication services ignore or neglect.
Project Syndicate - A World of Ideas. Today I Found Out. Less Wrong. 100 Incredible Lectures from the World's Top Scientists | Best C. Posted on Thursday June 18, 2009 by Staff Writers By Sarah Russel Unless you're enrolled at one of the best online colleges or are an elite member of the science and engineering inner circle, you're probably left out of most of the exciting research explored by the world's greatest scientists.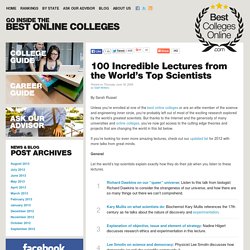 But thanks to the Internet and the generosity of many universities and online colleges, you've now got access to the cutting edge theories and projects that are changing the world in this list below. Free online speed reading software | Spreeder.com. Spreeder is a free service provided by 7-Speed-ReadingTM.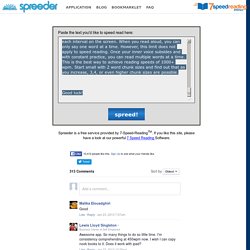 If you like this site, please have a look at our powerful 7 Speed Reading Software. Spreeder.com is a free online speed reading software designed to improve your reading speed and comprehension. TeacherLINK @ Utah State University.
---