Origami, pliage
B.Light Design » Blog Archive » Look Ma, I'm famous. Pop up flower. DIY :: Origami Christmas Tree. Starstruck at Christmas « Kate's Creative Space. Regular followers will know of my obsession with all things paper, and with projects which take very little time or specialist skill.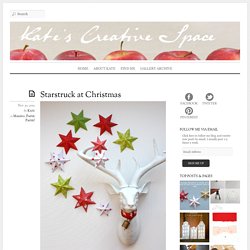 As Christmas draws ever closer, I've been experimenting with different types of festive stars and bring you some simple projects to try today. My usual reassuring criteria apply; these had to be things I could a) get right the first time – or very occasionally the second; b) could do in front of the TV, merlot in hand, and c) look far more elegant and skilled than the actual labour would suggest. I hope you'll agree! Below you'll find my instructions on how to make each of these stars; the classic 5-point Amish barn stars, 6-point folding stars and concertina or snowflake stars, which look beautiful hung in windows. Little giftbags and advent-calendar. Hi, and welcome to my "home for Christmas, day 2!!!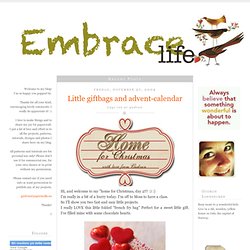 :) :)I'm really in a bit of a hurry today. I'm off to Moss to have a class.So I'll show you two fast and easy little projects.I really LOVE this little folded "french fry bag" Perfect for a sweet little gift. I've filled mine with some chocolate hearts. Here are easy step-by step pictures, how to fold this bag: Start with a square piece of double sided patterned paper.
Paper Flowers – Anyone Can Do That | FindInspirations.com. Japanese Kusudama, this tutorial is featured on Craftuts Anyone can do that, I assure you.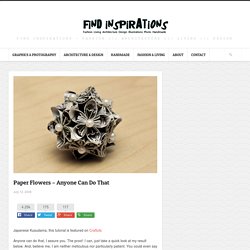 The proof: I can, just take a quick look at my result below. And, believe me, I am neither meticulous nor particularly patient. You could even say I'm the opposite. Skull-A-Day 4.0 - Tutorial - #27: Skullflake (Snowflake Skull) I love making snowflakes every Winter to decorate the windows.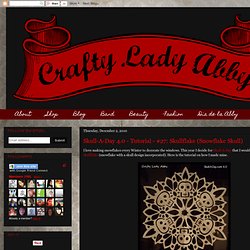 This year I decide for Skull-A-Day that I would make a skullflake (snowflake with a skull design incorporated). Here is the tutorial on how I made mine. Paper - I used standard white computer paper, but you can use something fancier like origami paper, which would add color and additional patterns to the snowflake.
Comment fabriquer un sachet à graines ? Je vous propose aujourd'hui différentes méthodes pour fabriquer vous-même vos sachets en papier pour conserver vos graines.
L'année dernière, je vous avais proposé un article intitulé Comment faire soi-même ses graines. Je vous propose aujourd'hui 2 vidéos vous montrant différents pliages pour confectionner vos sachets et mettre vos graines à l'intérieur. Lorsque je conserve des graines pour moi, j'utilise en général d'anciens pots de compléments alimentaires, mais lorsque je veux donner, offrir ou échanger des graines, j'utilise de beaux petits sachets que je confectionne moi-même. Voici la méthode que j'utilise : Voici une autre méthode, proposée par Terre Vivante, pour faire des sachets plus grands :
Origami Magic Ball (Dragon's Egg by Yuri Shumakov) Paper Airplane - How to Make Origami Airplanes. I am often asked. Indoor Boomerang. Mini Staple Sailplane. This instructable, inspired by the proliferation of micro-sized paper airplanes, contains instructions for building a miniature sailplane out of paper and a staple.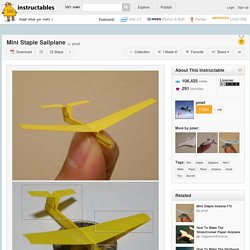 It has a fuselage measuring 40 millimeters, a wingspan of 60 millimeters, and a height of 7 millimeters. Despite its small size, it has surprisingly good aerodynamics, which is due to the fact that it shares similar dimensions and attributes with full-size sailplanes. This includes: - High aspect-ratio (long and thin) wings for increased lift with less induced drag - Slender and streamlined fuselage for less drag - T-tail empennage/stabilizers for effective pitch and yaw stability - Dihedral for roll stability. Structural Packaging. Kaleidocycles. What is a Kaleidocycle?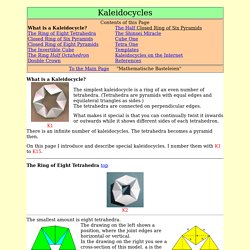 There is an infinite number of kaleidocycles. The tetrahedra becomes a pyramid then. On this page I introduce and describe special kaleidocycles. Origami - MM's Modular Mania. Make-a-Flake - A snowflake maker by Barkley Interactive. Paperkraft.net - Free Papercraft, Paper Model, & Papertoy. Papertoys clemper. Paperbot - Paper Robot to Print Out and Make. Look out puny human!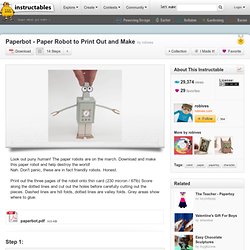 The paper robots are on the march. Download and make this paper robot and help destroy the world! Paper dinosaur. Gói quà dễ thương chỉ trong 5' Gift bags made from envelopes. The event for which I needed that non-Satanic craft was this past weekend.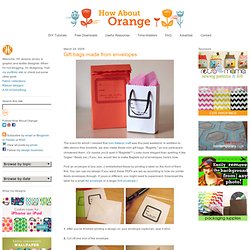 In addition to little demon-free booklets, we also made these mini gift bags. "Baglets," as one participant christened them.
---