Animation/Cartoons
ZooBurst. LandingPage. Flipbook! - Maker. Photo Effects and Photo Editing with One Click - BeFunky.com. MAKE BELIEFS COMIX! Online Educational Comic Generator for Kids of All Ages. Write Comics. Pikikids. Comic Creating Community. Pixton® - Faire un dessin - Créer Bande Dessinée.
GoAnimate for Schools and Educators. Wondersay - Animate text with style. DoppelMe - Free Dynamic Avatars. ToonDoo - World's fastest way to create cartoons! Witty Comics - Make a Comic. Comic Creator. The Comic Creator invites students to compose their own comic strips for a variety of contexts (prewriting, pre- and postreading activities, response to literature, and so on).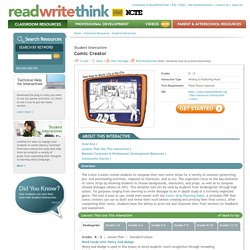 The organizers focus on the key elements of comic strips by allowing students to choose backgrounds, characters, and props, as well as to compose related dialogue (shown at left). This versatile tool can be used by students from kindergarten through high school, for purposes ranging from learning to write dialogue to an in-depth study of a formerly neglected genre. The tool is easy to use, made even easier with the Comic Strip Planning Sheet, a printable PDF that comic creators can use to draft and revise their work before creating and printing their final comics. After completing their comic, students have the ability to print out and illustrate their final versions for feedback and assessment. Web Comic Strip Creator - Chogger. Create Your Own Comic | Marvel Super Hero Squad | The Official Web Site.
MAKE BELIEFS COMIX! Online Educational Comic Generator for Kids of All Ages. Stage'D! Comic Master. Atmosphir. Scratch. Science Explorer: Flipsticks: Make-it-yourself cartoon animation kit!
My Avatar Editor. BuiLD YouR WiLD SeLF. Home | Zimmer Twins. GoAnimate - Make your own cartoons and animations easily. Our to. Xtranormal | Text-to-Movie. Little animation for kids.
---
nikkibass Oct 16 2011

Hi there! I would really love to link my cartoon Mars TV to one of your glorious trees, but since i am so new to this site i have no clue how to. Also, i feel certain the decision is yours not mine, so i will leave the idea with you and hope that you accept or that i hear from you. Here's hoping....

dreagusproductions Oct 10 2011

We are looking for someone to take our shows and make them into either a manga or anime. Check with us for more details. If you can help send us a message paranormal.parodies@yahoo.com

rrivarola Oct 10 2011

You're too kind. Thanks!
I hope that, somehow, you may find useful.
See you soon.
RR

gepocock Oct 10 2011

I am new to pearltree and your pearls are truly great.

harshrrao Jul 4 2011

great collection
i m starting to learn animation basically i want to learn how to add animation in video like this... help on this thank

bakytbek Jun 30 2011

That's really great. I like it.

pachoagua Jun 29 2011

que buena pagima ,es un banco de trabajo muy interesante, MIL GRACIAS
---